The Maverick Minute: Apple AppJam Internship
Chancellor Jeffrey P. Gold, M.D., chats with sophomore computer science major Carly Cameron about the AppJam internship and her visit to Apple Park in Cupertino, California.
published: 2019/12/20
contact: University Communications
phone: 402.554.2358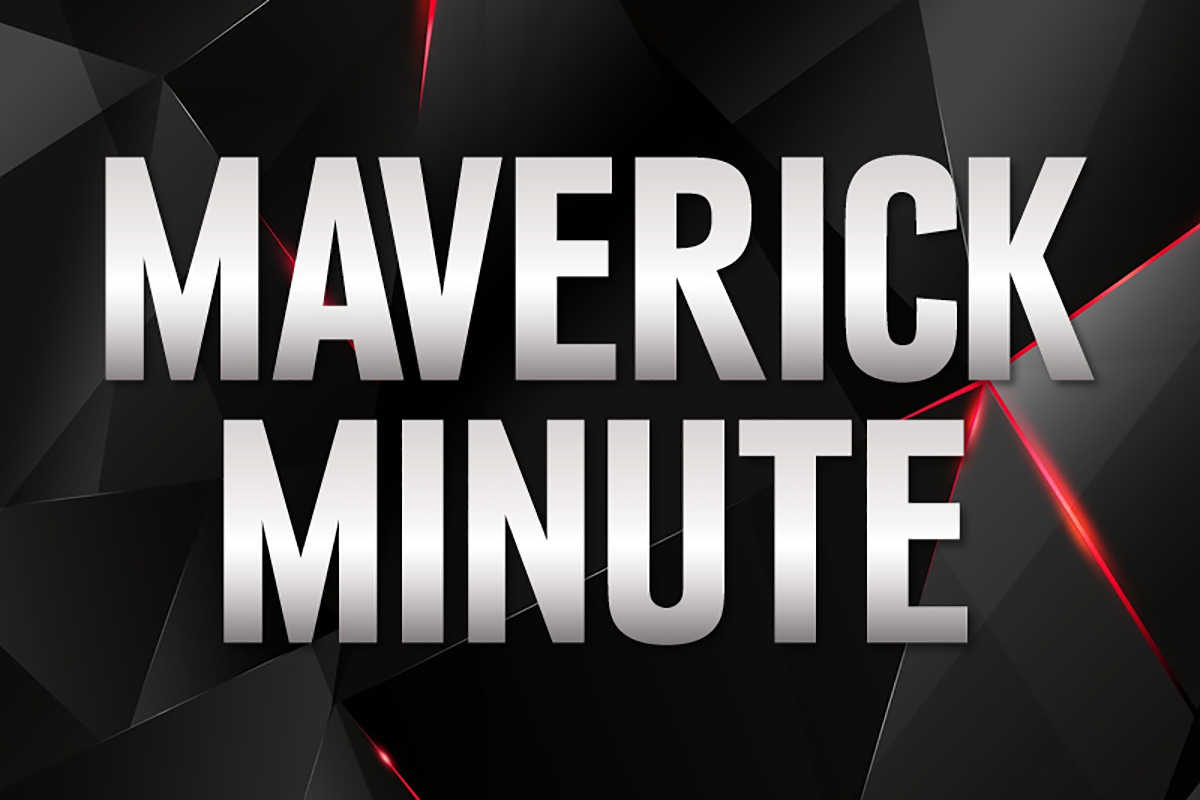 In November 2019, students from the Walter Scott, Jr., Scholarship Program traveled to Cupertino, California, to meet with Apple, Inc. executives and present a mobile application they developed over the summer.
Sophmore computer science major Carly Cameron spoke to UNO Chancellor Jeffrey P. Gold, M.D., about the visit and her experience participating in the Apple AppJam internship.
Jeff Gold: Hello. I'm Jeff Gold and welcome to this "Maverick Minute." Thanks so much for being with us today. Today, we have a very special guest, and that's Ms. Carly Cameron. Carly is a sophomore in our Scott Scholars Program and a major in Computer Science and a minor in Cybersecurity. Wow, that's a lot Carly. Thanks so much for being with us today. And we could talk a lot about computer science and Scott Scholars, but the focus today is really to talk about the AppJam project that you were involved with last summer and your recent visit, as I understand, to the Apple World Headquarters in Cupertino, California. How was that?
Carly Cameron: Oh yeah. That was a really fun experience. We got to go to Apple, which was really nice and we were blessed to be able to do that. And once, we were there, we were able to tour their facilities, and then, we presented our apps to them and they gave us some feedback on how to make them better and what improvements we could do. And then, we were also able to tour their Enterprise Design Lab and see how their developers work with their clients use their, sort of, design thinking process to make apps for Apple.
JG: So, tell us a little bit about the project itself. So, it started last summer right, and at that time you were just finishing your first year as a Scott Scholar. So, when did you find out that it was even possible to participate in this program last summer?
CC: We found out pretty late. It was about April, May that we were given the call to participate in this internship. And the Scott Scholar Program really just wanted to have an opportunity for a high-impact internship that didn't just focus on the technical skills, but also focused on developing your essential skills, like communication, conflict resolution, presentation skills-
JG: And design thinking?
CC: Thank you, yes. And design thinking, of course. So, we were tasked with building two apps: one for the UNMC Healing Arts Program and then another for the Maverick Food Pantry here on campus. And we used the design thinking process to sort of empathize with our clients and come up with a solution that we thought would best fit the needs of the user.
JG: So, let's talk about both of those apps just very briefly. It started off at the food pantry app. What was the purpose of that?
CC: The purpose of that was to make a streamlined process for people at UNO to receive food requests. So what you can do is, you can go into the app and then it has pictures of the food items that the food pantry has and you can click on them and add them to your cart essentially. And then, it will send that to the food pantry staff, and then they will have the bag of food waiting for you when you get here, so then it, sort of, streamlines the process and it also gives information about the food pantry, additional resources on campus and some recipes that you can make including the food items here.
JG: And does it provide some things like nutritional information about the food or anything like that?
CC: Yes, it does. It'll have pictures of all the labels on the back, so you can see what sort of dietary restrictions-
JG: So very practical, very functional. And what about the project you did for the Med Center? I know I've seen various versions of that, but tell us a little bit about what that is and how that came to be.
CC: So the Healing Arts Program features a lot of art within the Fred and Pamela Buffett Cancer Center, and so one problem they were having is users didn't really know a lot about the information behind the artwork or artists, their stories. So, we created the app to display all the artwork within the hospital. It has a map, so you can decide where to go and what artwork you will see. You got to find it first. And so then, you can see more details about that art. You can also see events that are happening with the Med Center area, so to get patients out of their room-
JG: Artistic events, etc.
CC: And then, we also have information about the artists themselves, if you want to learn more, and then we feature videos on that app as well, so you can see a little bit more about the program.
JG: So when you say you emphasize, which of course is the first step in the D thinking program. Did that mean you actually got to talk to patients or staff or people in the Cancer Center or in the Med Center to better understand what the impact of the app might be on patients and their families.
CC: Yeah. We ended up talking with the Executive Director of the program, and she gave us an in-depth, similar to the one you'd get with a docent led tour. So, she, sort of, was the brains behind the whole app and she kind of showed us her vision of what she thought the app needed to be like. And then, we are continuing to go back and emphasize and we have set up a visit with them, for once the app is out, when you want to go talk to patients themselves in the rooms and see what they think, and then get feedback from them and make changes.
JG: So that's for version two?
CC: Yes.
JG: So when does version one hit the streets, so to speak?
CC: We're planning on launching in January.
JG: Wow. That's absolutely amazing. Well, we could talk about this forever, but I just want to thank you and your team and congratulate you and tell you we're very much looking forward to January, when the app comes out. You know, I had a ton of feedback from the Apple people, who said it was a phenomenal presentation, not only because of the quality of the technical work that you did and the design thinking that went into it, The presentation skills, the conflict resolution skills, the leadership skills that you and your team demonstrated were really incredible. Great job. You make UNO so proud of you. Thank you.
CC: Thanks.
JG: Thanks for being with us today and thank you for being with us today on this very special "Maverick Minute."
About the University of Nebraska at Omaha
Located in one of America's best cities to live, work and learn, the University of Nebraska at Omaha (UNO) is Nebraska's premier metropolitan university. With more than 15,000 students enrolled in 200-plus programs of study, UNO is recognized nationally for its online education, graduate education, military friendliness and community engagement efforts. Founded in 1908, UNO has served learners of all backgrounds for more than 100 years and is dedicated to another century of excellence both in the classroom and in the community.
Become a fan of UNO on Facebook and follow UNO's Twitter updates. 
Contact Us
If you have a story idea, news tip, or other question, please email the UNO News team at unonews@unomaha.edu.