Witness: The Art of Samuel Bak
published: 2019/08/05
contact: Sam Petto - University Communications
email: unonews@unomaha.edu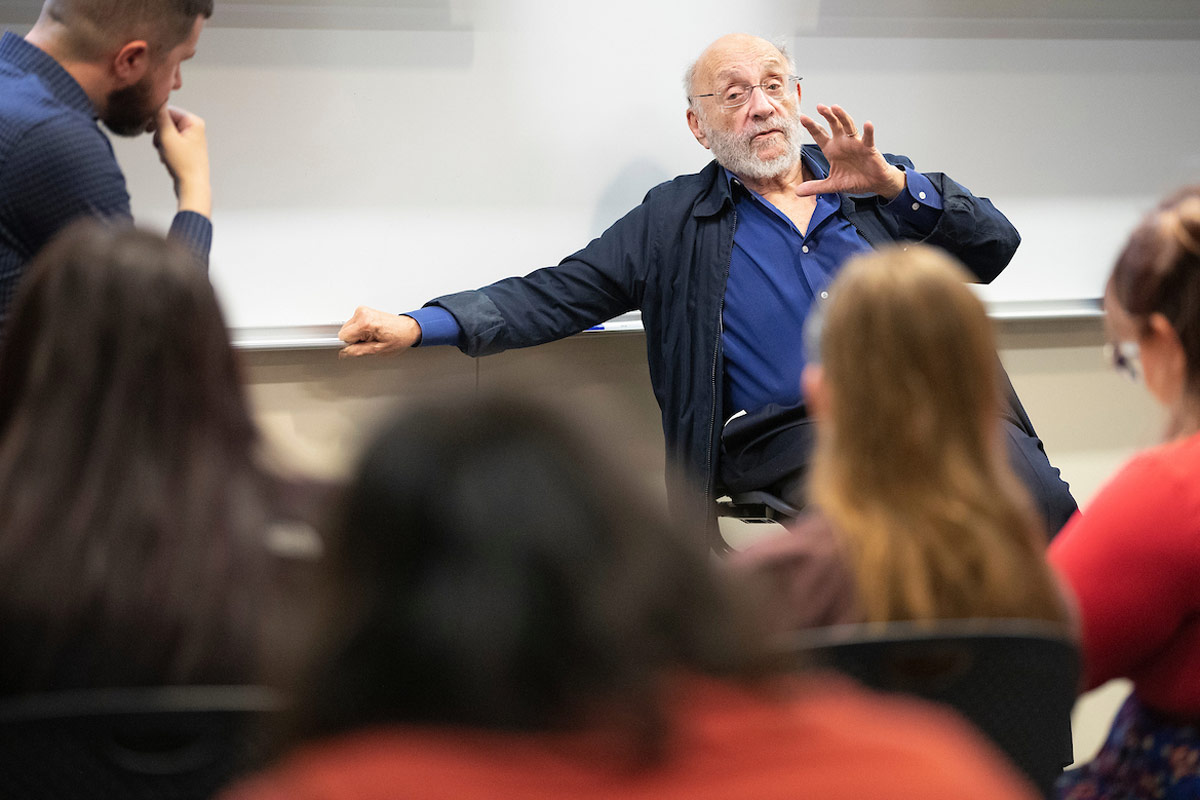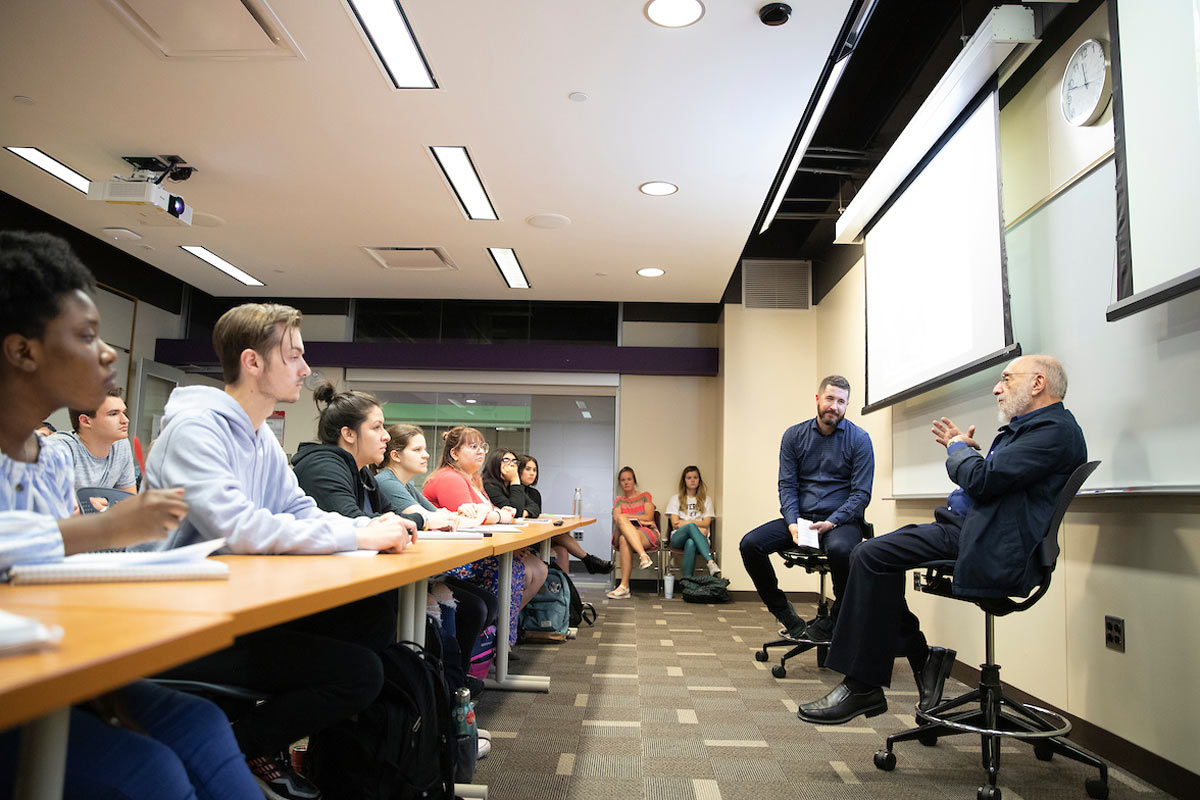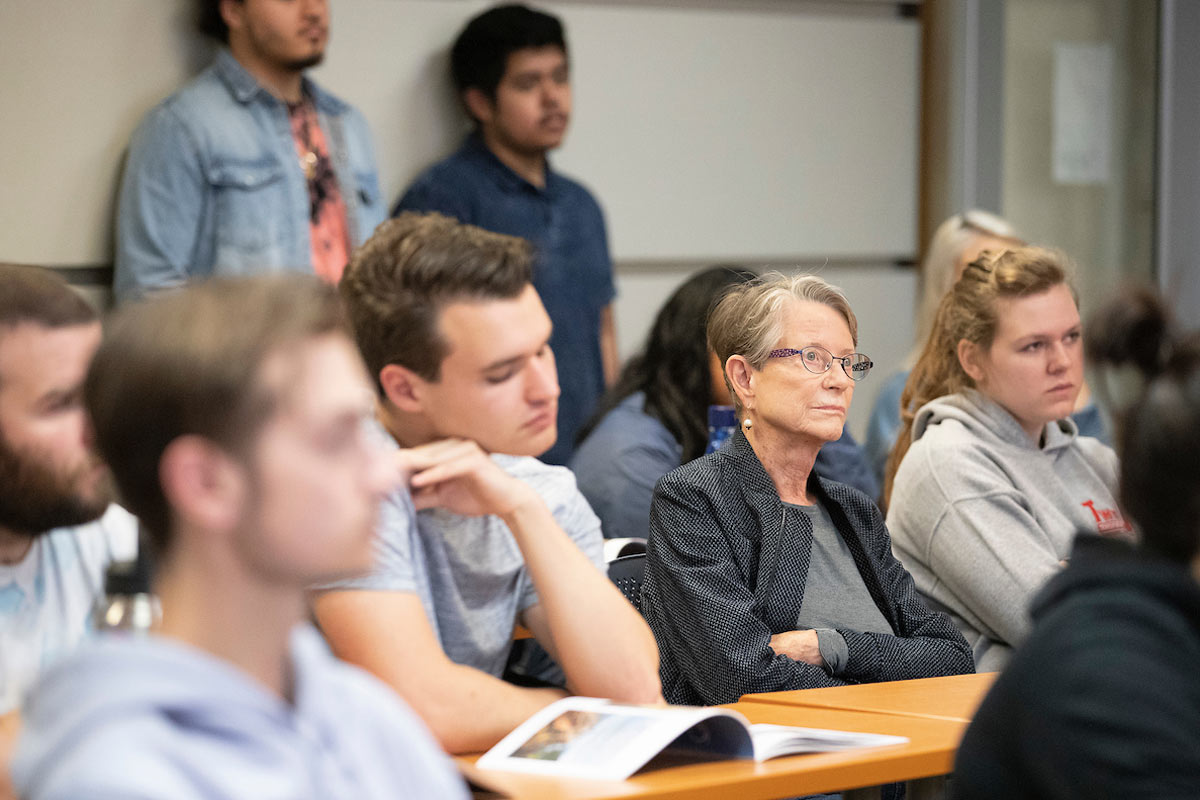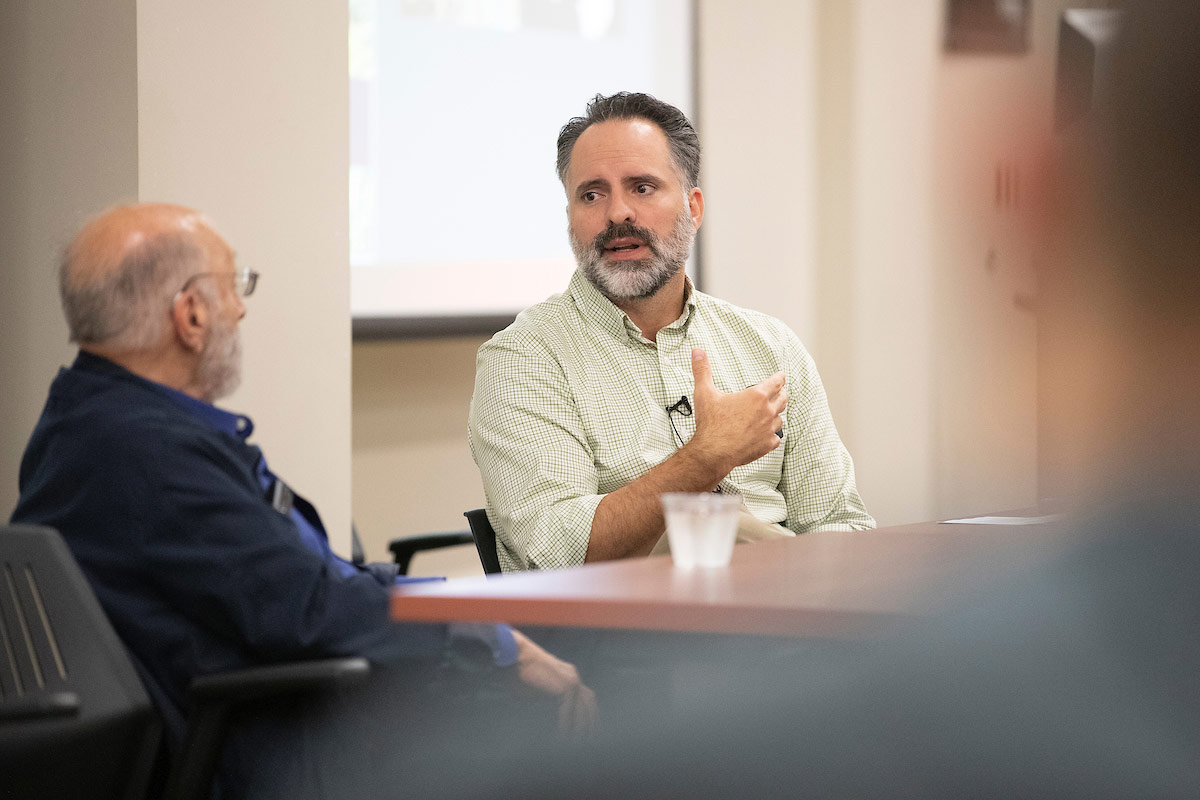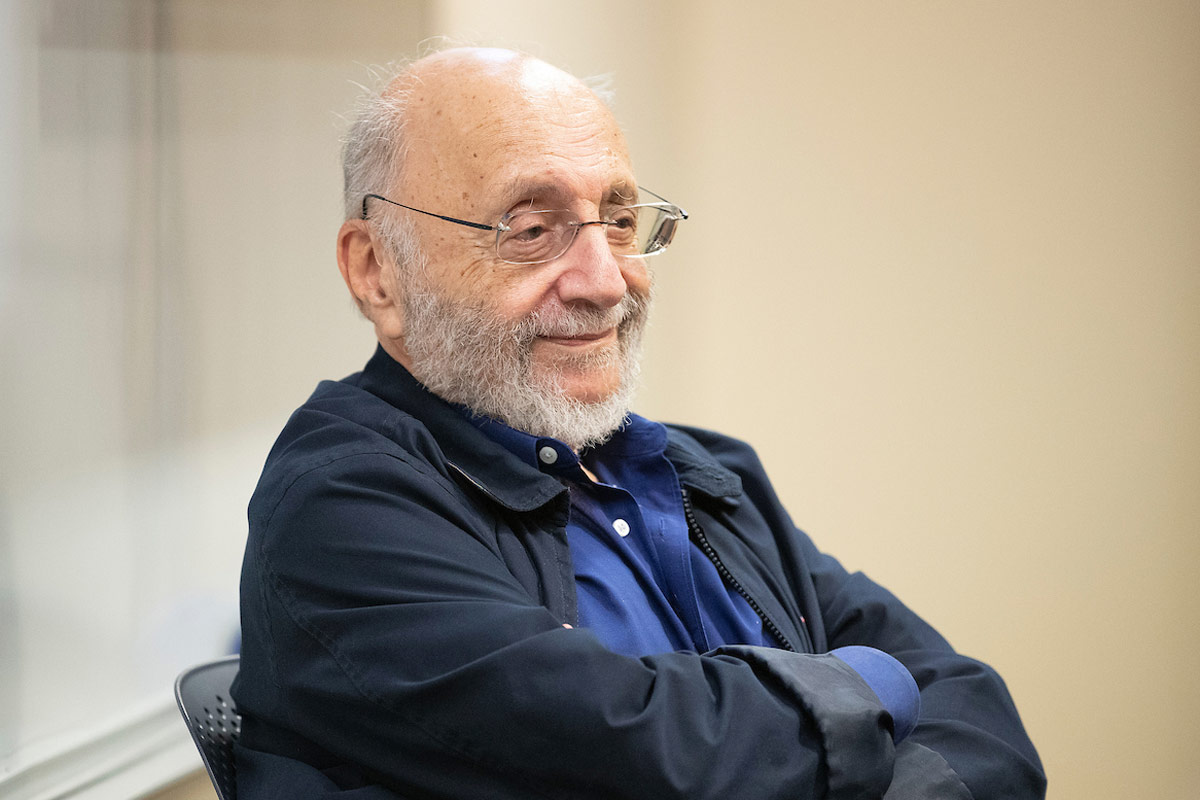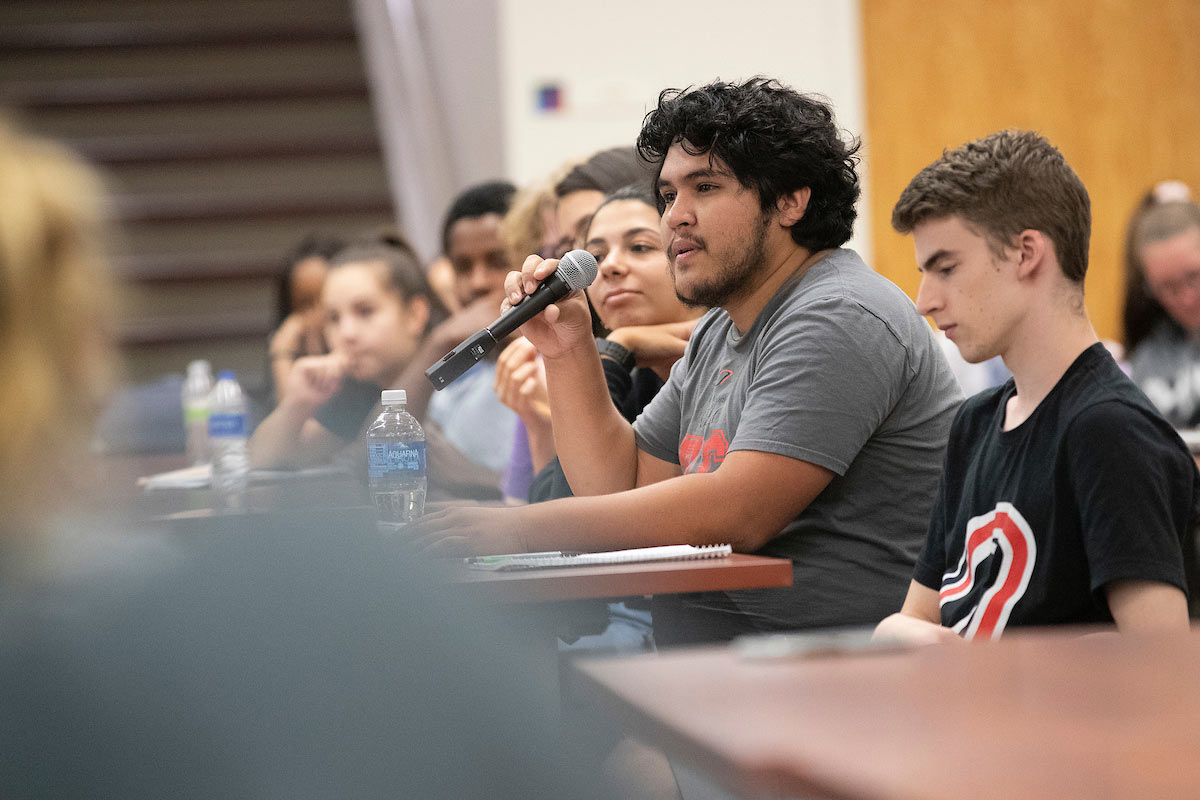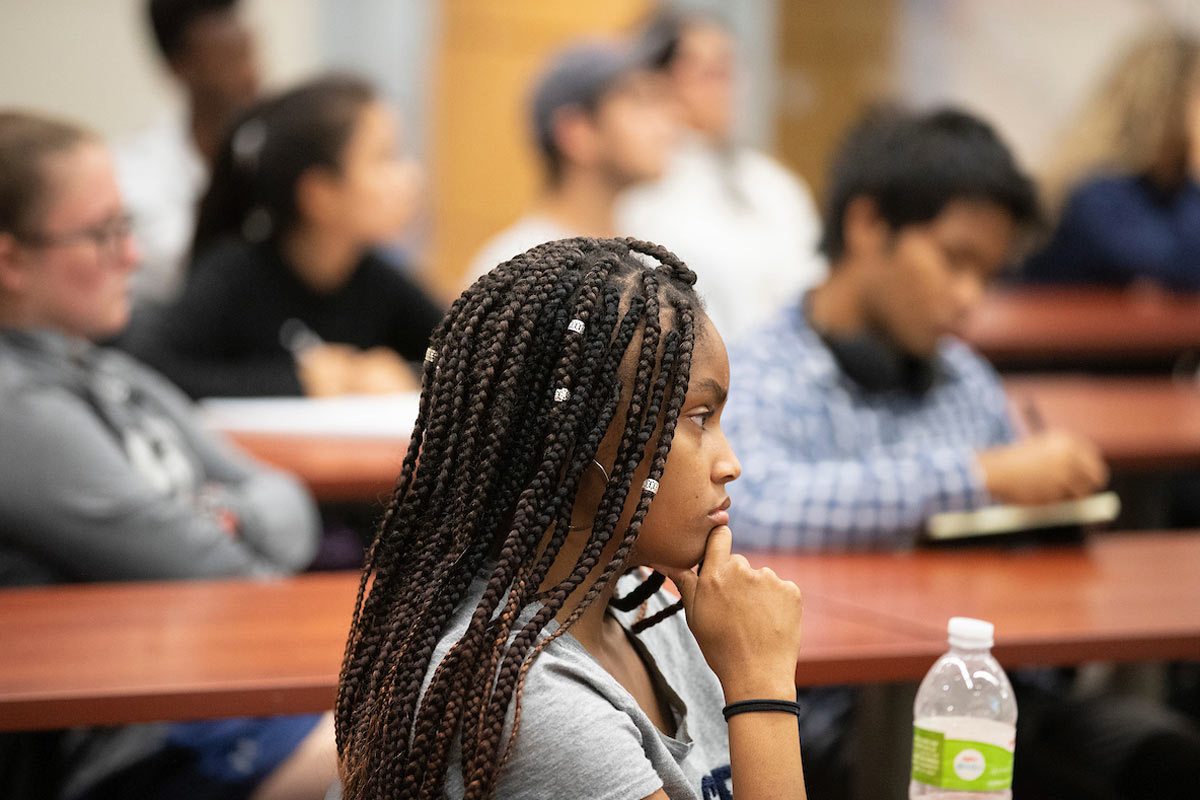 Renowned artist and Holocaust survivor Samuel Bak will visit the University of Nebraska at Omaha (UNO) this September in tandem with a showing of 70 of his creations. Thanks to the UNO Sam and Frances Fried Holocaust and Genocide Academy and the Natan and Hannah Schwalb Center for Israel and Jewish Studies, the showing and a series of related public events will be free and open to the public.
Jump to section:
The Exhibition
Bak in Conversation
Witness: A Goldstein Symposium on Art and Human Rights
Special Goldstein Lecture
School Visits
---
THE EXHIBITION
"Witness: The Art of Samuel Bak," opens Tuesday, Sept. 3 in the UNO School of the Arts' Art Gallery, housed in the Weber Fine Arts Building. The collection spans five decades of Bak's artistic journey, featuring pieces that have been shown in major museums and galleries in cities such as Tel Aviv, New York, Paris and Rome. The art will be on display through Thursday, Nov. 14.
Bak's art visualizes his Holocaust experience and Jewish life through the ages. His art melds different styles, often featuring surreal imagery.
"Most of my paintings, seemingly realistic, attempt to intrigue and interrogate their beholders. What do all those icons and symbols mean? What is the story behind this strange universe? I am looking forward to the encounter with the public of my forthcoming exhibition at UNO," Bak said. "My art is anchored in my personal story of survival, in which the specific events point to the universal premises of the human condition."
BAK IN CONVERSATION
Community members have an opportunity to hear from the artist himself. Bak will visit campus in late September to headline an event and participate in related human rights programming.
A conversation featuring Bak is set for Wednesday, Sept. 25 at 7 P.M. in the Strauss Performing Arts Center, preceded by a reception beginning at 6 P.M. Both events are free and open to the public, no tickets or registration required.
"This will be an evening of rich discussion and discovery," said Mark Celinscak, Louis and Frances Blumkin Professor of Holocaust and Genocide Studies and executive director of UNO's Sam and Frances Fried Holocaust and Genocide Academy. "Samuel Bak creates deeply symbolic and evocative worlds and invites us all to confront, interrogate and repair."
"Even-Handed" by Samuel Bak, image courtesy of Pucker Gallery
WITNESS: A GOLDSTEIN SYMPOSIUM ON ART AND HUMAN RIGHTS
Thursday, Sept. 26, UNO's Goldstein Center will welcome scholars from across the world to participate in a free symposium on the intersection of contemporary art and human rights, inspired by Bak's lifework. The symposium runs from 9 A.M. through 4 P.M. in the Barbara Weitz Community Engagement Center (rooms 201, 205, 209). No registration is required.
Gary Phillips, author of "Just Is in the Art of Samuel Bak," will deliver a lunchtime keynote at noon in the UNO Art Gallery. Hank Greenspan, a psychologist, oral historian and playwright, will present on "The Witness as Dramatist" at 2 P.M. Philosopher Lewis Gordon will close the symposium with an afternoon keynote at 3 P.M. on the topic of "Art and the Right to a Livable Life."
A more detailed schedule is forthcoming. Email goldsteincenter@unomaha.edu for questions.
SPECIAL GOLDSTEIN LECTURE
A special Goldstein Lecture on Human Rights will take place the evening of Sept. 26, featuring former South African judge Richard Goldstone. Goldstone became a national figure during South Africa's transition from apartheid. He then became the Chief Prosecutor of the United Nations' International Criminal Tribunals, investigating war crimes in the former Yugoslavia and Rwanda. More details about his lecture are available online. Goldstone and Bak will be among guests at a public reception before the Goldstein Lecture.
SCHOOL VISITS

Funds are available to bus high school and middle school students to UNO to experience Bak's art and engage with trained docents. Teachers interested in this opportunity should email Jeremy Menard, Weber Art Gallery Curator and Visual Resource Manager, at jmenard@unomaha.edu.
About the University of Nebraska at Omaha
Located in one of America's best cities to live, work and learn, the University of Nebraska at Omaha (UNO) is Nebraska's premier metropolitan university. With more than 15,000 students enrolled in 200-plus programs of study, UNO is recognized nationally for its online education, graduate education, military friendliness and community engagement efforts. Founded in 1908, UNO has served learners of all backgrounds for more than 100 years and is dedicated to another century of excellence both in the classroom and in the community.
Follow UNO on Facebook, Twitter, Instagram, TikTok, LinkedIn, and YouTube.