Chancellor Gold Provides Update to UNO
'The long and the short of it is I need to hear from you. The strength of our university is the strength of our people.'
2017/06/07
contact:  University Communications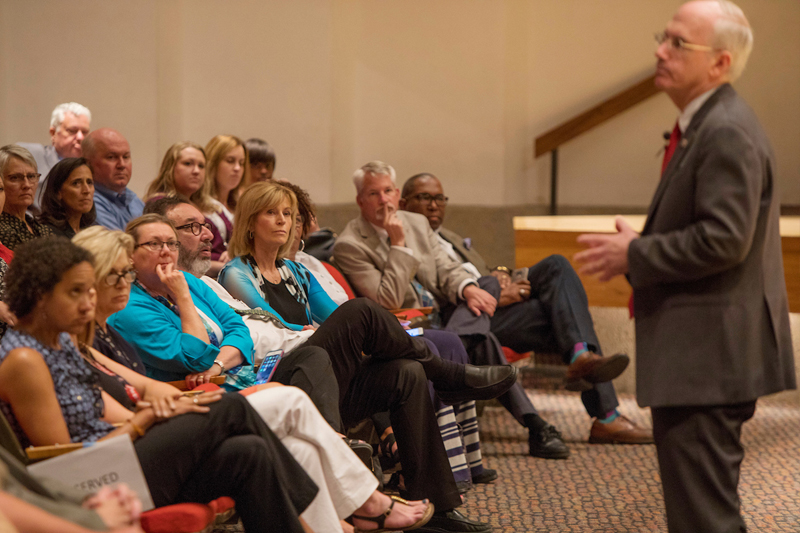 Strauss Performing Arts Center – Chancellor Jeffrey P. Gold, M.D., provided an update on the university's budget challenges and offered a vision for the future during a town hall meeting on Wednesday, June 21.
Several hundred faculty, staff and students were in attendance, with more watching a live stream of the event.
The discussion focused on the University of Nebraska system's budget shortfall, brought on by fiscal challenges facing the State of Nebraska.
Dr. Gold explained that the system's budget, which was approved by the Board of Regents in June, includes $27 million in reductions over the next two years. Of that amount, roughly $5 million in cuts are expected to take effect in the coming fiscal year, with the rest coming in the second year.
As shared in January, a Budget Response Team has been identifying cost-saving strategies. Cuts are expected to result in the decrease of more than 100 positions across the University of Nebraska system over the next two years– through attrition and retirement wherever possible. It may not be until August when those groups' recommendations are finalized and shared, Dr. Gold said.
Dr. Gold said that while cuts will be made and efficiencies will be identified, growth will be key for navigating current and future financial difficulties.
"You can't cut your way to greatness," he said. "We have remarkable untapped growth potential to get through this and to come out of this budget cycle far greater, far stronger than we have ever been."
Dr. Gold said UNO can't afford to slow its "incredible upward momentum" and that he will rely on the input of the entire Maverick community in identifying key opportunities for growth.
The long and the short of it is I need to hear from you. The strength of our university is the strength of our people.
- Chancellor Jeffrey Gold
"The long and the short of it is I need to hear from you. The strength of our university is the strength of our people."
Dr. Gold also addressed questions posed about his initial experiences in leading UNO and the University of Nebraska Medical Center. He said that while there are already many valuable strategic partnerships and clear potential for further collaboration, he foresees UNO and UNMC's distinct missions and brand identities remaining separate. University of Nebraska President Hank Bounds, University of Nebraska regents and community members share that vision, he said.
"I don't see a lot of overlap in academic programs, at least today. I see synergies. I see opportunities to bring people and programs together."
Dr. Gold shared a series of such short-term opportunities, including a streamlined student enrollment process, strategic joint faculty appointments, increased research collaboration, data sharing and many types of logistics.
He said that while UNO must consider its immediate fiscal challenges in a thoughtful, careful way, the university must not lose sight of what's in the horizon: continued growth and excellence.
Nebraskans can stay up-to-date on the university's budget efforts by visiting nebraska.edu/budgetplanning. During the town hall, Dr. Gold invited all members of the university community to contact him directly at jeffrey.gold@unomaha.edu with questions and feedback.
Contact Us
If you have a story idea, news tip, or other question, please email the UNO News team at unonews@unomaha.edu.
Our Campus. Otherwise Known as Omaha.
The University of Nebraska does not discriminate based on race, color, ethnicity, national origin, sex, pregnancy, sexual orientation, gender identity, religion, disability, age, genetic information, veteran status, marital status, and/or political affiliation in its programs, activities, or employment. Learn more about Equity, Access and Diversity.
scroll to top of page