This Week on Consider This - Marathon Training
Coming up on the next edition of "Consider This…" - Marathon Training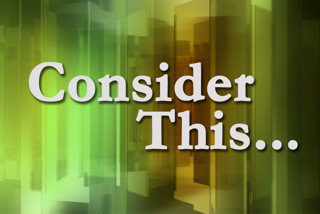 Consider This... 
"Marathon Training"
Host: 
Cathy Wyatt
Guests:
Mike Ewoldt | Event Manager, Peak Performance

Tim Kruger | Trainer, Peak Performance

Michele Frye | Marathoner, Omaha
Program Description:
Legend has it that the very first one of these happened in Greece back in 490 BC. If that's true, how did Pheidippedes do it?

Coming up on the next edition of "Consider This" Marathon Training.

Whether running then or now, there's definitely an art to mastering 26.2 miles. Perspectives from a manager, a trainer, and a women who has pounded her fair share of pavement.
---
Air Dates
NET1 (KUON-TV Channel 12 & KYNE-TV Channel 26):
Saturday, May 26, 2018 at 6:00 A.M.

Sunday, May 27, 2018 at 12:30 P.M.
NETHD (Cox 12 / CenturyLink 12):
Saturday, May 26, 2018 at 6:00 A.M.

Sunday, May 27, 2018 at 12:30 P.M.
NET World  / NET Connects (Cox 16):
Saturday, May 26, 2018 at 6:30 P.M.

Friday, June 1, 2018 at 12:00 P.M.
Programs are also archived on NET website at  netnebraska.org. Click on "Live & On-Demand" button, look for "Consider This" under Series.
The Knowledge Network (Cox 18 / CenturyLink 69):
Friday, May 25, 2018 at 8:00 A.M. & 7:30 P.M.

Monday, May 28, 2018 at 2:30 P.M. & 5:30 P.M.

Tuesday, May 29, 2018 at 9:30 A.M. & 3:30 P.M.

Wednesday, May 30, 2018 at 6:00 P.M.

Thursday, May 31, 2018 at 10:00 A.M. & 8:30 P.M.
TKN Viewer's Choice (Cox 18) FREE video-on-demand service during the following times:
Saturday & Sunday, 24 hours

Monday - Friday, Midnight to 7:00 A.M. & 10:00 P.M. to Midnight
Contact Us
If you have a story idea, news tip, or other question, please email the UNO News team at unonews@unomaha.edu.
Our Campus. Otherwise Known as Omaha.
The University of Nebraska does not discriminate based on race, color, ethnicity, national origin, sex, pregnancy, sexual orientation, gender identity, religion, disability, age, genetic information, veteran status, marital status, and/or political affiliation in its programs, activities, or employment. Learn more about Equity, Access and Diversity.
scroll to top of page