Fall Wellness at UNO
As the temperature drops and the days get shorter, the risk for the spread of illnesses like the flu increases. Learn about the resources UNO has to support your wellness through the fall months.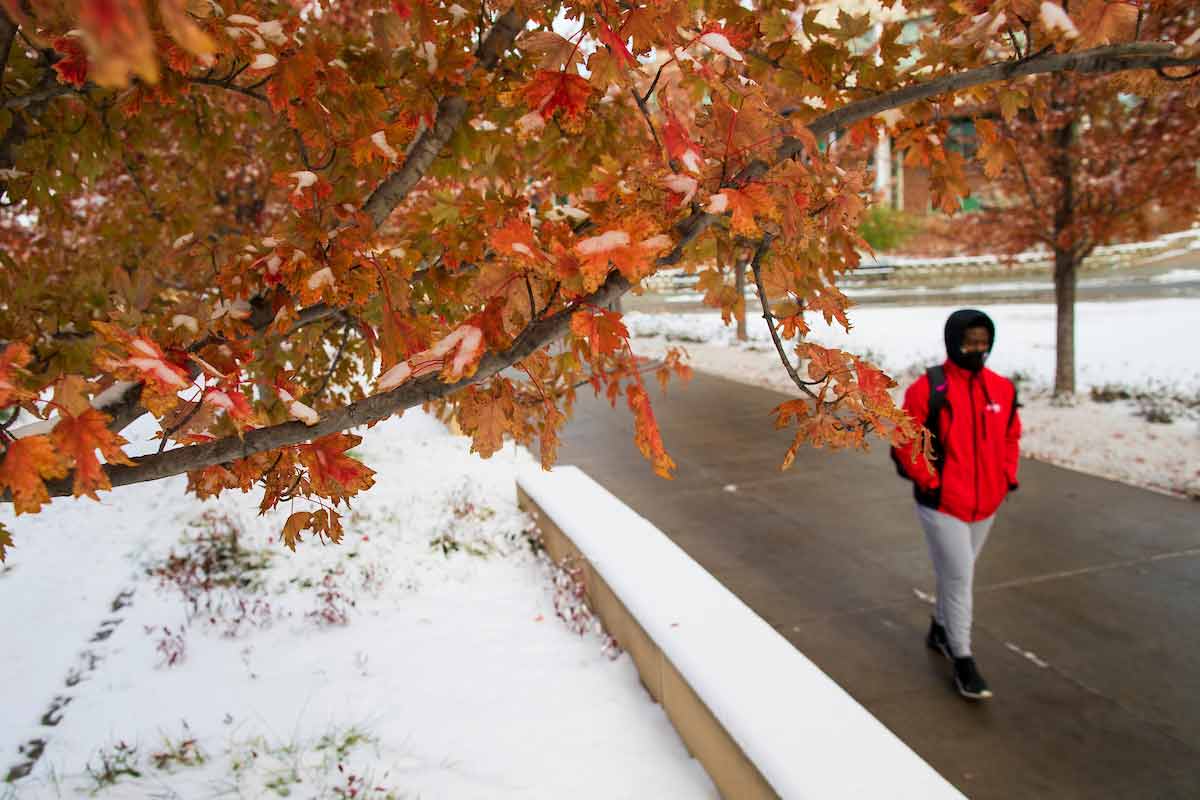 As the seasons change, so does our vulnerability to viruses like the flu and COVID-19, among other illnesses such as colds, coughs, and respiratory concerns.
This is why the Nebraska Medicine UNO Health Center and the UNO Office of Health Security want to make sure you are prepared to take the steps you need to keep yourself protected, which includes getting vaccinated for the flu and for COVID-19.
Here are details about how to stay safe this season:


---

Flu Information
Each year the risk for influenza infections – or the spreading of influenza – returns as summer turns to fall.
Vaccination against the flu helps you stay healthy and protects those around you from influenza. And, because the flu and COVID-19 have similar symptoms, the Nebraska Medicine UNO Health Center is highly recommending all students, faculty, and staff receive the flu vaccine to prevent respiratory illness on campus.
Flu shots are now available by appointment, Monday through Friday between 8 A.M. and 4 P.M., at the Nebraska Medicine UNO Health Center by calling 402.554.2374.
Drop-in visits are not being offered as a safety precaution. Additionally, off-site vaccination clinics are not available at this time; if this changes, the campus community will be informed.


For Students
Flu shots are available for all currently enrolled students at no cost.
Parental permission is required for students who are 18 years of age or younger in order to receive a flu shot at the Nebraska Medicine UNO Health Center.
If you are 18: You can either bring a completed Power of Attorney form to your appointment or a staff member will call a parent or legal guardian at check-in. If you have already submitted a Power of Attorney form to the Nebraska Medicine UNO Health Center, you do not need to bring a duplicate copy with you.
If you are 17 (or younger): A staff member will call a parent or legal guardian at check in.


For Employees
There is a cost for flu shots at the Nebraska Medicine UNO Health Center, which can either be billed to the employee's insurance or paid out-of-pocket. NOTE: Most insurance plans, including the UNO's health benefits plan, covers 100 percent of the cost of a flu shot.
About this year's flu shot
The Nebraska Medicine UNO Health Center will be giving FLUARIX Quadrivalent flu shots, which protect against four different flu viruses. The high-dose (65+) flu vaccine is not being offered this year.
Additionally, for individuals who are not currently vaccinated against COVID-19, the Centers for Disease Control and Prevention (CDC) says people who have not yet received their first COVID-19 shot can get vaccinated the same day that they get their flu shot. The Nebraska Medicine UNO Health Center offers the Pfizer vaccine series for those who would like to get vaccinated for COVID-19 on the same day as their flu shot.
Visit the UNO Health Center website to learn more about flu shots, including frequently asked questions.

COVID-19 Reminders
As the campus, Omaha community, and state continue to make progress in slowing the spread of COVID-19, it is important that our Maverick community stay vigilant on the actions and efforts that will help us protect ourselves and each other.
Because the fall and winter months have an increased risk for illness more broadly, that also means an increased risk for spreading COVID-19 to those who are not vaccinated or at high risk.
Be sure to check the Maverick COVID Response website for the latest updates and keep these tips and resources in mind to help keep our campus safe and healthy:
Get Vaccinated
COVID-19 vaccines are highly effective and safe and are the best opportunity to protect our Maverick community. All eligible students, staff, and faculty are strongly encouraged to receive their COVID-19 vaccinations if they have not done so already.
Here are resources for how to receive your vaccine, or booster dose, on campus or in the community.
Monitor Your Symptoms
Because many of the symptoms of viruses like influenza mimic the symptom of COVID, be sure to do a self-check daily using the 1-Check UNO app.
Common COVID symptoms include fevers or chills; fatigue; muscle or body aches; headaches; new loss of taste or smell; and a new or worsening cough.
Report Any Positive COVID Tests or Close Contacts
If you have symptoms of COVID-19, test positive for COVID-19, or come into close contact with someone who has tested positive, we strongly encourage you to fill out and submit a BRT form. Doing so allows the Office of Health Security to begin their contact tracing process, which promotes your wellness and the wellness of our campus community.
Continue Daily Prevention Steps
A great way to help slow the spread of COVID-19 is to continue to do the things you have been doing since the start of the pandemic.
This includes wearing masks, especially indoors and on public transportation; washing your hands frequently throughout the day; practice physical distancing of 6 feet or more when possible; avoid large crowds and gatherings; and disinfect high-touch surfaces daily such as tables, doorknobs, desks, keyboards, etc…
General Wellness Tips and Resources
Many of the steps for preventing the spread of flu and COVID-19 are similar, while vaccines are the best line of defense, here are some other key tips from the Nebraska Medicine UNO Health Center:
Get Tough on Germs
Wash your hands regularly using soap and warm water. Scrub for at least 20 seconds. If you cannot wash your hands, use alcohol-based hand sanitizer. Avoid touching your face as much as possible. Frequently sanitize high-touch surfaces in your living space regularly, including doorknobs, light switches, keyboards, and cellphones.
Stay Hydrated
Drinking enough water each day boosts your immune system and helps you fight viruses, like the flu and COVID-19. Aim to drink water equal to 2/3 of your body weight in ounces every day. Limit caffeinated beverages, which can cause dehydration.
Up Your Vitamin D Intake
Low vitamin D levels can make you susceptible to illnesses and negatively affect your mental health. Boost your levels by going for a walk outside, eating foods high in vitamin D like salmon and whole milk, and taking daily vitamin D supplements if recommended by your doctor.
Manage Dry Skin
Cold air and low humidity can cause dry, itchy skin. Protect your skin by limiting your shower or bath to no more than 10 minutes and choosing warm water over hot water. Immediately apply lotion or moisturizing cream after you dry off, and continue to apply lotion when skin feels dry. If your dry skin is persistent and bothersome, make an appointment to see a health care provider.
Stay Rested
A lack of sleep can lower your immune system and increase your likelihood of getting sick. Maintain a consistent sleep schedule every day and aim to get 7-9 hours of sleep per night. Learn More.

Additonally, wellness is not just physical wellness, but also overall well-being. This means mental, occupational, emotional, and spiritual aspects as well. UNO stands ready to assist the Maverick community at any time. Visit this page for a list of campus resources.
About the UNO Health Center
The UNO Health Center is open and ready to serve your needs. We offer in-person or teleheath based on your needs Monday through Friday from 8 a.m. to 4 p.m. Appointments are required for all forms of care.
Call 402.554.2374 to schedule an appointment. Learn more about what to expect at your visit and how we're keeping you safe.
About the University of Nebraska at Omaha
Located in one of America's best cities to live, work and learn, the University of Nebraska at Omaha (UNO) is Nebraska's premier metropolitan university. With more than 15,000 students enrolled in 200-plus programs of study, UNO is recognized nationally for its online education, graduate education, military friendliness and community engagement efforts. Founded in 1908, UNO has served learners of all backgrounds for more than 100 years and is dedicated to another century of excellence both in the classroom and in the community.
Follow UNO on Facebook, Twitter, Instagram, LinkedIn, and YouTube. 
Contact Us
If you have a story idea, news tip, or other question, please email the UNO News team at unonews@unomaha.edu.