A Conversation With A.T. and Tori: Diversity at UNO
Chief Diversity Officer A.T. Miller and Student Body President/Regent Tori Sims sat down to discuss important topics regarding DEAI efforts and resources at UNO.
published: 2022/08/15
contact: Office of Strategic Marketing and Communications
email: contact@unomaha.edu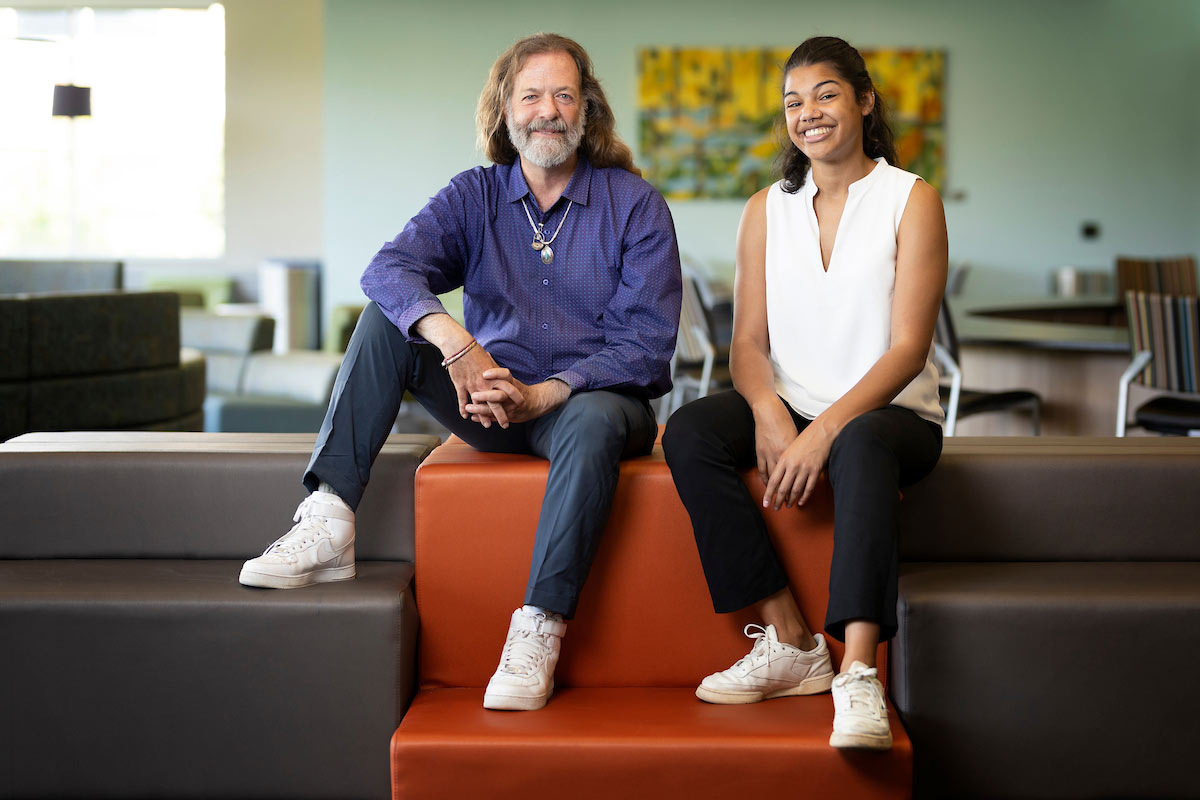 A.T. Miller (left), UNO's Chief Diversity Officer, and Tori Sims (right), UNO's Student Body President/Regent, discuss the importance of representation and acknowledging each other's pronouns.
An important aspect of any environment, especially a college campus like UNO, is that everyone feels welcome.
As we begin a new academic year, it is important for everyone to know the resources provided on campus, especially those accessible through UNO's Office of Diversity, Equity, Access and Inclusion (DEAI).

The Officer of DEAI at UNO works to develop, identify, and make available resources, information, and policies that encourage the PRESENCE of the varied campus constituencies that make UNO great, increasing the FAIR ACCESS of resources that UNO has to offer, and encouraging FULL PARTICIPATION that fosters social belonging and respect.
As UNO's first Chief Diversity Officer, A.T. Miller, Ph.D., is also resource for all students, faculty, and staff to identify needs and opportunities in advancing UNO's DEAI efforts. This summer they sat down with Tori Sims, UNO's Student Body President/Regent and a junior sociology major, to discuss the variety of resources, in addition to the Office of DEAI, that UNO makes available to all Mavericks and how we can each support each other and make each other feel welcome.
Previous Topics
In an earlier conversation, A.T. and Tori previously discussed the University of Nebraska System's Executive Memorandum No. 40, otherwise known as the University Policy on Chosen Name and Gender Identity.
As a result of this policy all Mavericks have the opportunity to identify their chosen name, gender identity, other important personal details as part of thieir official university record. This also highlights the overall importance of pronoun usage and recognition of others' pronoun choices.
Additional Resources
Students can make use of a variety of inclusion-focused resource centers - on campus and virtually.
All Mavericks can also refer any concerns or questions they may have to the university Ombuds.
Curious about how you can change your name or pronouns? UNO's Gender and Sexuality Resource Center has provided a resource guide and contact information for how to get the process started.
Want to be a supportive ally to UNO's LGBTQIA2S+ community? Take advantage of Safe Space and Ally Training.
Here is a listing of inclusive facilities across the UNO campus, including location of all-gender restrooms.
Need someone to talk to? Here are several campus groups organized by the Queer and Trans Services Student Agency.
About the University of Nebraska at Omaha
Located in one of America's best cities to live, work and learn, the University of Nebraska at Omaha (UNO) is Nebraska's premier metropolitan university. With more than 15,000 students enrolled in 200-plus programs of study, UNO is recognized nationally for its online education, graduate education, military friendliness and community engagement efforts. Founded in 1908, UNO has served learners of all backgrounds for more than 100 years and is dedicated to another century of excellence both in the classroom and in the community.
Follow UNO on Facebook, Twitter, Instagram, TikTok, LinkedIn, and YouTube.