Indigenous Dance, Song, and Cultural Traditions Presented Virtually at Annual Pow Wow
Native Americans and non-Natives came together, albeit virtually, to honor generations of tribal citizens at the annual Wambli Sapa Memorial Pow Wow.
published: 2021/04/19
contact: Brandon Bartling - University Communications
email: unonews@unomaha.edu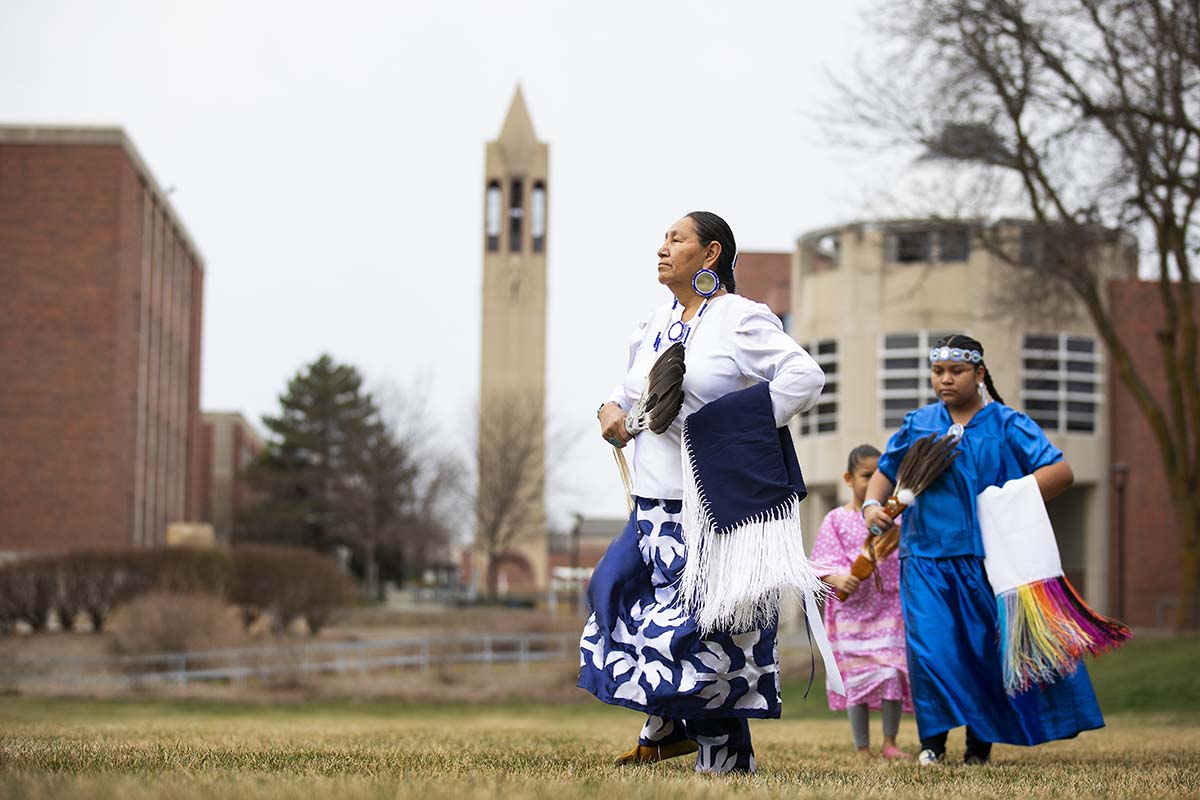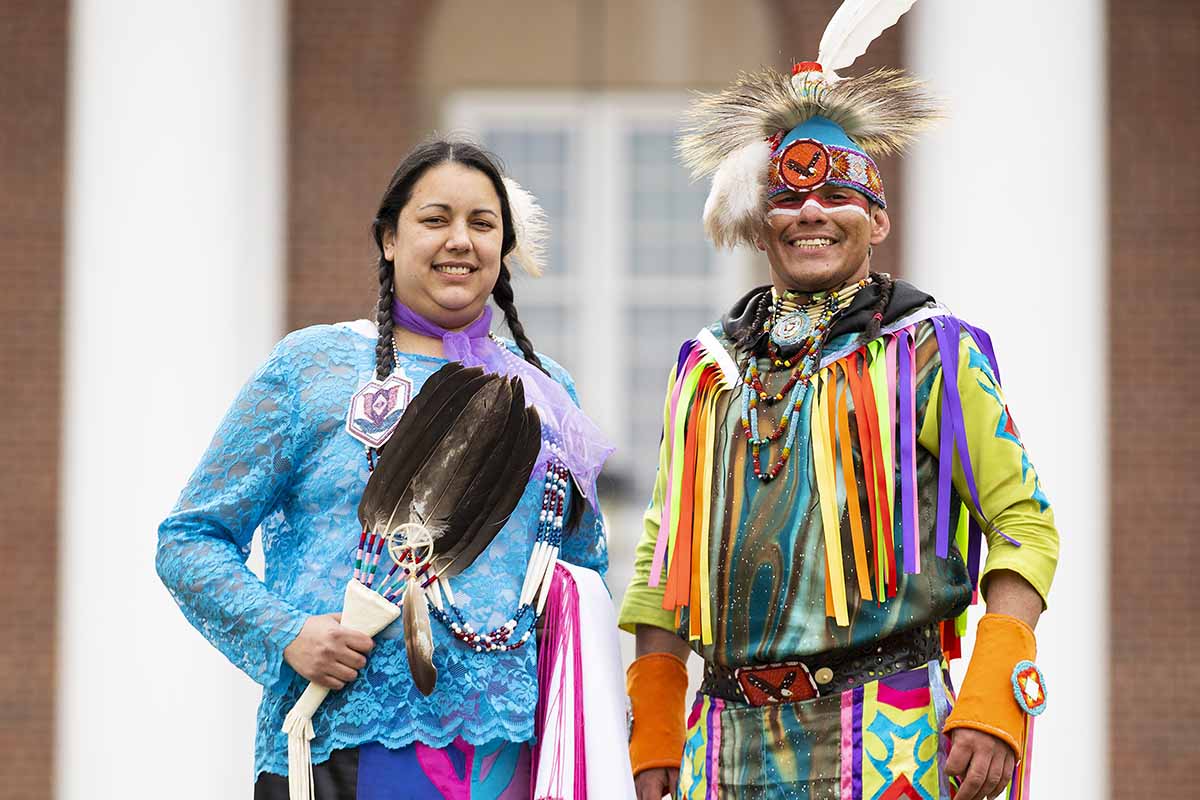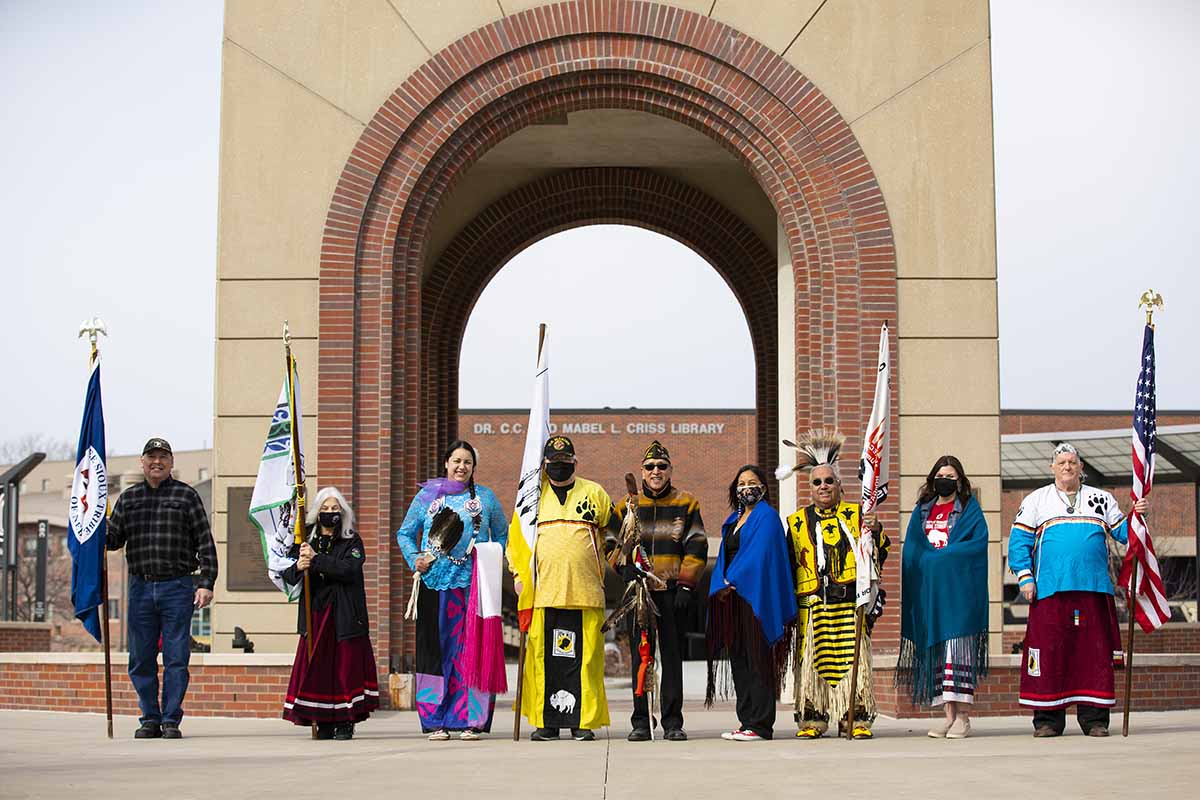 Indigenous song and dance; cultural traditions; and ceremonial clothing were plentiful on the UNO campus last week as Native Americans and non-Natives came together, albeit virtually, to honor generations of tribal citizens at the Annual Wambli Sapa Memorial Pow Wow.
This is the first time the annual Pow Wow has been celebrated and hosted virtually. The event premiered online on Saturday, April 17. It can be viewed below.
Representatives from the Ponca, Winnebago, Omaha, Santee, and Dakota Nation took part in the event. Whitney Rencountre II, representing the Crow Creek Sioux, served as celebration announcer. The event featured a welcome statement from Chancellor Jeffrey P. Gold, M.D.; prayer from Chairman of the Ponca tribe, Larry Wright; a Grand Entry; flag song and presentation; a variety of dance performances; and a discussion with Rhonda Free, the daughter of the Pow Wow's namesake, Fred LeRoy.
Bestowed with the honor and responsibility of being Head Man for the Pow Wow, Brandon Stabler of the Omaha tribe explained his role of getting everyone dancing while also remembering that the Pow Wow is a time for celebration and socializing. He also shared the history behind his style of dance: Grass dancing.
"Back in the tipi days, before they put up camp, they would ask the grass dancers to come out there and dance," Stabler said. "In all of our movements, we lay down the prairie grass in order to put up those tipis. That's where my style comes from."
Samantha Gallagher of the Otoe Missoura and Ponca tribes was honored as Head Woman for this year's Pow Wow. Her role traditionally involves leading women and girls into the arena. "You are a leader and you are looked up to," she said. "[It means] always being in the arena and dancing to every song to show honor to your tribe and your people." She displayed traditional women's dancing during the celebration and explained the importance of the ribbon skirt, beadwork, shawl, scarf, and plume she wore during the event.
"It's a big honor as a young woman to be pinned with a plume and be grateful for the honor that we're given."
Several styles of dance by both men and women were featured in the event, including grass dancing, fancy dancing, and traditional dancing. Host drum Up Stream Singers provided music featured during the Grand Entry, presentation of flags, and dance performances.
The Wambli Sapa Memorial Pow Wow honors the legacy of Ponca Tribal Chairman Fred LeRoy, a prominent Ponca leader and respected elder. LeRoy fought to have his tribe, the Northern Ponca, reinstated as a federally recognized tribe in the late 1980s after the United States government terminated recognition in 1966. Through his persistence, the tribe was reinstated on Oct. 31, 1990, when then-president George H.W. Bush signed the Ponca Restoration Act into law, firmly establishing the Ponca Tribe of Nebraska.
Taking an event like a Pow Wow into a digital space while maintaining the event's significance and honoring generations of Natives of all nations was no small task. The production entailed extensive coordination by event organizers, consideration, and planning to continue traditions that are typically carried on in-person, and multiple days of video production work.
While all involved were proud and excited to be able to carry on the tradition this year virtually, it's safe to say that the next celebration to be held in person will be even more memorable.
About the University of Nebraska at Omaha
Located in one of America's best cities to live, work and learn, the University of Nebraska at Omaha (UNO) is Nebraska's premier metropolitan university. With more than 15,000 students enrolled in 200-plus programs of study, UNO is recognized nationally for its online education, graduate education, military friendliness and community engagement efforts. Founded in 1908, UNO has served learners of all backgrounds for more than 100 years and is dedicated to another century of excellence both in the classroom and in the community.
Follow UNO on Facebook, Twitter, Instagram, TikTok, LinkedIn, and YouTube.