TRANScending Trans Narratives: Ally's Story of Resilience
Ahead of International Transgender Day of Visibility, UNO student Ally Nelson shares her story of how support from campus groups like TRANScend have been lifelines for her and other students in navigating school, life, and their own identities.
published: 2021/03/30
contact: Charley Steed - University Communications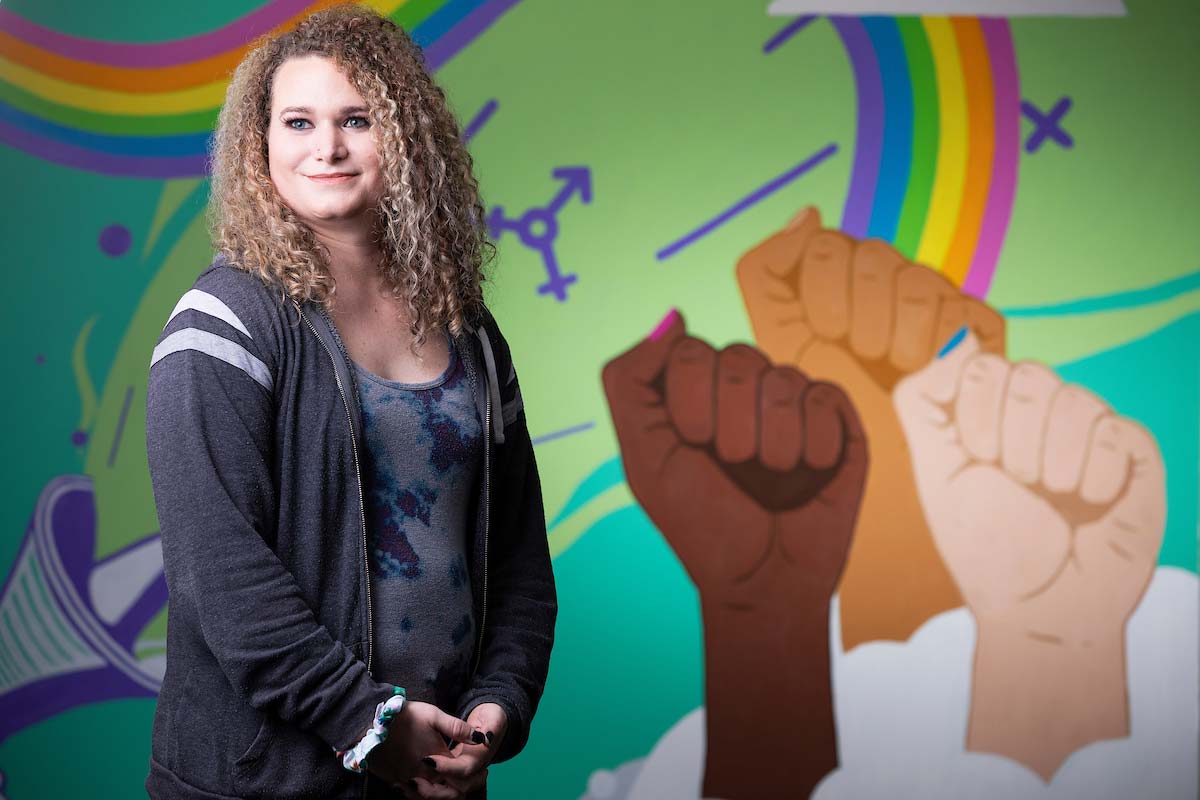 Ally Nelson remembers the exact moment when she needed to take control of her own future.
Just like any other day, she was on her way to class when a sudden and paralyzing fear set in, a flight-or-fight panic response that ultimately led her to TRANScend, UNO's student group for those who find themselves along the transgender spectrum; a place where she could finally be herself.
"I felt really alone until I found TRANScend. You can have all the cis, straight people in the world tell you that you're valid and you're not alone, but you don't realize it until you meet those other people [like you]."
Each year, March 31 marks International Transgender Day of Visibility, dedicated to raising awareness of the discrimination faced by transgender people, i.e. those whose gender is not the same as the sex they were assigned to at birth, worldwide and recognizing the contributions they make to society.
Nelson's story is not unique to those who are transgender, agender, genderqueer, or anywhere in-between. Like a lot of trans youths, she knew who she was at a young age but due to outside pressures, committed to strict gender roles.
TRANScend and the Queer and Trans Services office altogether has really been a lifeline for me. I've been able to go in there and share and talk to people and grow because of it.
- Ally Nelson, UNO Student
"You know, I was a people-pleaser, so I tried my absolute hardest to make my family proud," she says. "I tried to be the manliest thing on the planet; I lifted weights, I got huge, I joined the Marines, I was in fights… and it didn't matter. I tried and, still, at the end of the day, I wasn't happy and on some level I always knew why."
Jay Irwin, associate professor of sociology, and Jen Skidmore, student development director for the UNL College of Engineering, serve as facilitators for TRANScend. They say that individuals on the trans spectrum face unique barriers that others in the LGBTQ umbrella don't.
"Having a dedicated space for trans students where they can speak a similar language, not have to walk on eggshells, or worry about being misgendered is really beneficial for them," says Irwin, himself a trans man.
---
Read Jay Irwin's article in The Conversation: "Trans Day of Visibility offers chance for community to stand in solidarity and support."

Also, access these Transgender Day of Visibilty Resouces
---
Originally started by Skidmore's partner, Luke Wegener, when he was a graduate student at UNO, TRANScend allows trans students a space where they can talk about a range of topics - from medical advice to their favorite Pokémon character.
"When new people come to the group, we do say this is a space for gender non-binary, trans, questioning, etc… individuals facilitated by trans people and not an educational group," Skidmore says. "Though, we do encourage those who do have questions to reach out to the Gender and Sexuality Resource Center, our LezBiRealQueer weekly forums, ally training opportunities, and other ways to be involved."
Nelson says TRANScend, as a gathering space, is needed because students are surrounded daily by microaggressions and macroaggressions in the classroom, at home, and in society.
"It's rare, but I've had professors that avoid using pronouns altogether, or when they mess up and they choose not to correct them, being the authority in the class leads to other students piling on and misgendering you more and more. When it happened to me, I wanted to just run away and I left that classroom almost every day for a semester, went to my truck and cried."
Nelson says while UNO has largely been extremely supportive of her transition, it is the exception rather than the rule in society as a whole. Already in 2021, 17 states have introduced bills prohibiting healthcare for transgender youth, 27 states have introduced bills to ban transgender youth from competing in athletics, and many other bills have been introduced to impose restrictions on changes to identification documents, weakening workplace discrimination protections, and more.
"TRANScend and the Queer and Trans Services office altogether has really been a lifeline for me. I've been able to go in there and share and talk to people and grow because of it," Nelson says.
Irwin and Skidmore say that is ultimately why they hope more students who are in need of a space like TRANScend know that it exists on campus as a resource for them.
"It sounds so simple but it's so powerful," Irwin says. "You've got to put yourself out there to find trans community members and it's a different kind of navigation that folks have to walk, and it can be a scary one."
"I hope people can know that it really is better when you can finally come out and be yourself unapologetically," Nelson says. "There are sacrifices, but I think for me, and a lot of trans people, it's so much better on the other side."
"I didn't realize how depressed I was. I thought that was normal. My life got harder, in some ways, after I transitioned but it also got like a thousand times better. I'm living my best life and I'm never going back."


---
International Transgender Day of Visibility Resources
Tonight, be sure to catch the virtual presentation: Music as Healing Within the Trans Community: An Evening of Music and Storytelling with Dominique Morgan.


Are you a student, faculty, or staff member who is in need of support, resources, or information about issues related to LGBTQIA2S+? Visit UNO's LGBTQIA2S+ Programming, Resources, and Services page.


Faculty, staff, and graduate students are also encouraged to be part of the Out@UNMC and UNO
directory, providing visibility for those on campus who are part of the 

LGBTQIA2S+ spectrum at UNMC and UNO and are celebrated in the campus community!
About the University of Nebraska at Omaha
Located in one of America's best cities to live, work and learn, the University of Nebraska at Omaha (UNO) is Nebraska's premier metropolitan university. With more than 15,000 students enrolled in 200-plus programs of study, UNO is recognized nationally for its online education, graduate education, military friendliness and community engagement efforts. Founded in 1908, UNO has served learners of all backgrounds for more than 100 years and is dedicated to another century of excellence both in the classroom and in the community.
Follow UNO on Facebook, Twitter, Instagram, LinkedIn, and YouTube. 
Contact Us
If you have a story idea, news tip, or other question, please email the UNO News team at unonews@unomaha.edu.