Next Steps for UNO's Strategic Investment in Race, Class, Equity, Social Justice
The campus community is invited to recommend, review, and support new initiatives that can guide UNO forward in this important effort.
published: 2021/01/12
contact: Sacha Kopp - Office of Academic Affairs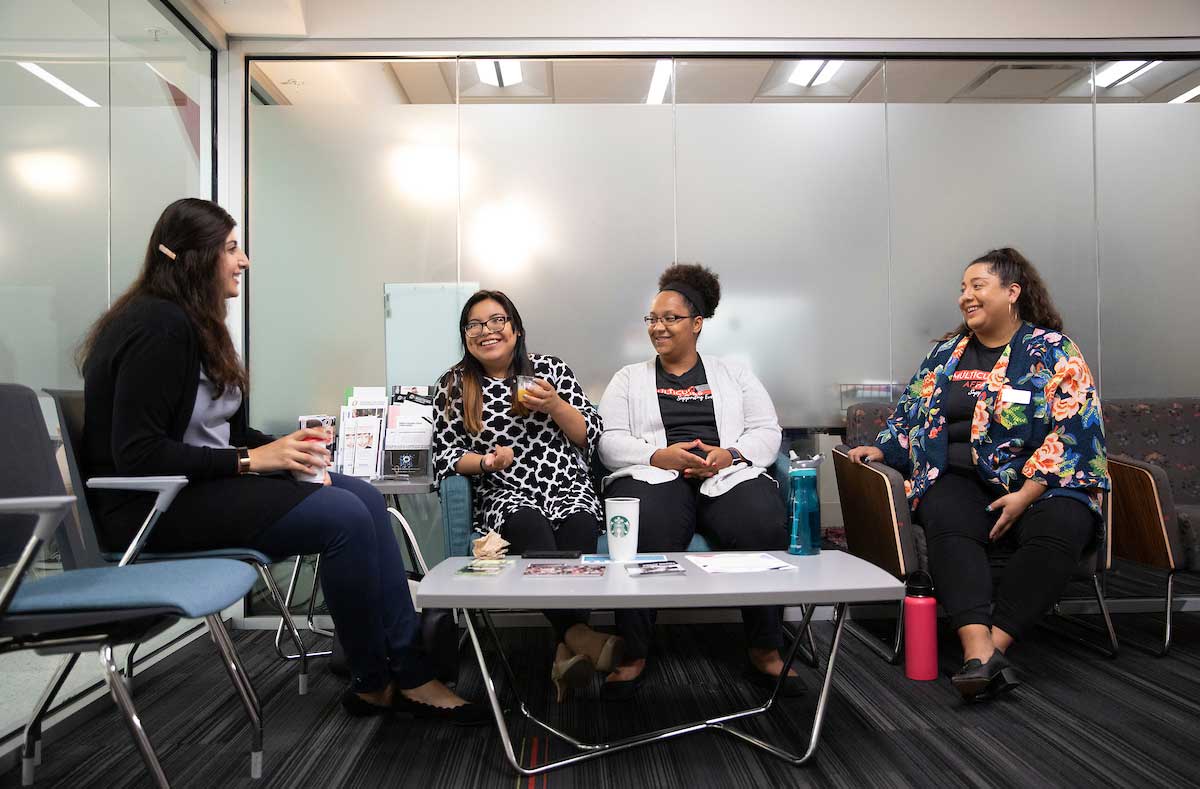 The following message was sent to the UNO campus community on Tuesday, Jan. 12, as a follow up to December's Strategic Planning Forum, "Inclusive Excellence: Diversity, Equity, Access, and Inclusion."
To review notes from the Forum or watch the Forum in its entirety, please visit the UNO Strategic Planning website.


---

Dear Colleagues,
Last semester, Chancellor Gold announced the creation of UNO's newest Strategic Investment theme: Race, Class, Equity, and Social Justice. At the December 17 Strategic Planning Forum we reviewed the process and opportunity for this effort. We are writing today to further outline the timeline and process for this important initiative:
Jan. 19 From 9 - 10 A.M.: We will hold an "Open Office Hour" for individuals or groups wishing to submit a proposal as part of this effort and may have questions. We can listen to specific ideas, offer suggestions, and relay information on potential collaborators who have been considering similar projects. This event will be held virtually through ZOOM using this link. We will be recording this session and making the recording available online for anyone who is unable to attend.
Feb. 1: Proposals are due by email to strategic.planning@unomaha.edu. All proposals will be posted to the UNO Strategic Planning website for review.
Feb. 1-15: Proposals will be read and commented upon by three separate groups during this period. These groups will include the academic deans; the UNO Faculty DEAI Committee; and the leaders of the Chancellor's Councils on the African American, Native American, Latin/x, and LGBTQ+ Communities.
Feb. 9 From 3 - 5 P.M.: We will host a UNO Campus Forum in which we will ask proposal proponents to give a brief, 5-10 minute, description of their project and its potential impacts. All members of the UNO community are welcome to attend and learn about these proposals. Afterwards, a questionnaire and rubric will be available on the UNO Strategic Planning website for participating faculty, staff, and students to offer feedback on each proposal that was presented.
Feb. 15 - March 1: An ad hoc committee of faculty, staff, and students will review the proposals and feedback on the questionnaire/rubric mentioned above and make recommendations to the Chancellor for funding. The committee, which we will co-chair, will consist of:
Jonathan Benjamin-Alvarado, Assistant Vice Chancellor for Student Success
Daniel Shipp, Vice Chancellor for Student Success
Jabin Moore, UNO Student Body President/Regent
Vanessa Hatfield Reeker, UNO Staff Advisory Council President
Makayla McMorris, Executive Director of University Communications
Melissa Berke, Associate Dean of the College of Communication, Fine Arts, and Media
Aileen Warren, Associate Vice Chancellor of Human Resources
Bob Bartee, Vice Chancellor for External Relations
Candice Batton, Assistant Vice Chancellor for Faculty Affairs
Deborah Smith-Howell, Associate Vice Chancellor for Academic Affairs and Dean of Graduate Studies
Vanessa Chavez-Jurado, UNO Student Body Vice President
Elliott Ostler, UNO Faculty Senate President
Sara Woods, Executive Assistant to the Senior Vice Chancellor for Community Engagement and Director of the Barbara Weitz Community Engagement Center
Brady DeSanti, Associate Professor of Religious Studies
Dele Davies, UNMC Senior Vice Chancellor for Academic Affairs
Lindsey Ekwereku, Senior Associate Athletic Director for Academic Success and Student Athlete Development
The UNO community has always been dedicated to its mission supporting DEAI and positive impacts on our community. That dedication and commitment was especially evident in the participation, comments, and feedback at our December Forum. With this initiative, we hope to further advance existing efforts, kick-start new initiatives, and bring together a variety of collaborations of complementary talents within our community.
With gratitude for all your efforts,

Sacha Kopp, Ph.D.
Senior Vice Chancellor for Academic Affairs


Cecil Hicks, Jr., SPHR, MBA
Associate Vice Chancellor for Diversity, Equity, Access, and Inclusion
About the University of Nebraska at Omaha
Located in one of America's best cities to live, work and learn, the University of Nebraska at Omaha (UNO) is Nebraska's premier metropolitan university. With more than 15,000 students enrolled in 200-plus programs of study, UNO is recognized nationally for its online education, graduate education, military friendliness and community engagement efforts. Founded in 1908, UNO has served learners of all backgrounds for more than 100 years and is dedicated to another century of excellence both in the classroom and in the community.
Become a fan of UNO on Facebook and follow UNO's Twitter updates. 
Contact Us
If you have a story idea, news tip, or other question, please email the UNO News team at unonews@unomaha.edu.