The First Line of Defense for Keeping Students on Track
Katie Hansen, from the School of Criminology and Criminal Justice, is just one of the many academic advisors who guide, shield and lead students to academic victory during times of uncertainty.
published: 2020/03/30
contact: Charley Steed - University Communications
email: cdreed@unomaha.edu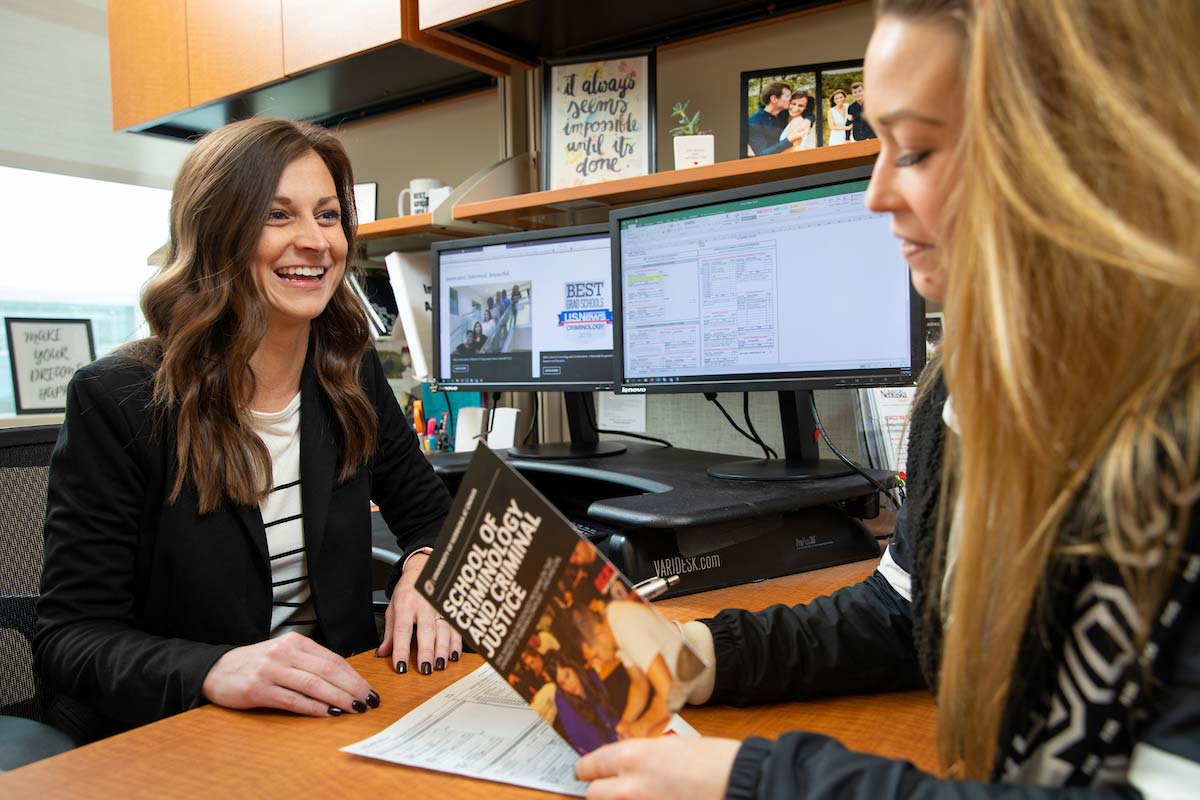 Questions about classes or advising for Summer 2020 or Fall 2020? Visit keeplearning.unomaha.edu for information and resources.


---
During this unprecedented time of the campus moving to remote teaching and learning, there can be a lot of uncertainty - especially if you are a student trying to prepare for the future.
However, it is just these kinds of scenarios that academic advisors like Katie Hansen, who advises students in the School of Criminology of Criminal Justice, prepares for. Hansen doesn't just protect students during these times of crisis, she paves the way for them to accomplish more than they ever thought possible.
Hansen, an Omaha native, originally wanted to pursue a career as high school teacher, but soon found that she had a passion for helping students who, just like her, were struggling to make sense of the unfamiliar world of higher education.
"As a first-generation student I knew that I wanted to get my degree and it was something I needed to really work hard for," she says. "I know that a lot of our students are in a similar situation and so I think that is what drew me to this position; because I have an idea of how they are feeling."
"A lot of students don't know where to go when they have an issue or when a challenge comes up and having at least one person that's there that they know they can go to that can help put those pieces together."
- - Katie Hansen, School of Criminology and Criminal Justice Advisor
Hansen joined UNO in 2016 after completing her master's degree in educational administration from the University of Nebraska-Lincoln and has already made a significant impact in her role.
"Sometimes students can bury their heads in the sand and if something goes wrong, rather than trying to fix it, they hide, which, unfortunately makes things get worse and worse," explains Samantha Clinkinbeard, Ph.D., associate professor in the School of Criminology and Criminal Justice and the school's undergraduate program coordinator. "Katie is good at helping bring those students back into the fold."
One student who couldn't have made it to graduation without Hansen was Lauren Doehass. She graduated from UNO in May 2019, but earlier that year, was impacted by the U.S. Government shutdown due to her job at the TSA.
That is when Hansen stepped in.
"Katie reached out to me because she knew I had been affected, as a TSA employee," Doehass says. "Thanks to the efforts of UNO faculty members, administrative staff and my advisor, I received a hardship support award and was able to push through a very stressful season."
Now, with COVID-19, Hansen says that there are even more variables; including moving to virtual meetings. However, there is always a way to meet a student where they are at.
"With the technology we have, online appointments can be almost as beneficial as in-person meetings," Hansen says. "When students are not able to attend an in-person advising meeting, they can set up a time to talk with their advisor on the phone or on video through Zoom. Students who are new to Zoom can reach out to their advisor for tips on how to work the program before their appointment."
Another question that has been raised by COVID-19 is what impact it will have on Summer and Fall courses. She says it's important for both students and faculty to know that even though courses may still continue to be held remotely for the forseeable future, that isn't impacting access to courses students need to take.
"The advice I would give the upcoming summer and fall semesters would be to review the class schedules in MavLink and reach out to their advisors to set up an appointment. Although we are not in our offices, we are still available to provide the same support and guidance our students are accustomed to."
Hansen says it is these kinds of unexpected crises show the importance of not just knowing where resources are located, but having personal connections across campus in order to help students at a moment's notice.
With more than 600 students in the program, and two advisors, Clinkenbeard says that Hansen's role has been just as important to faculty as it is to students.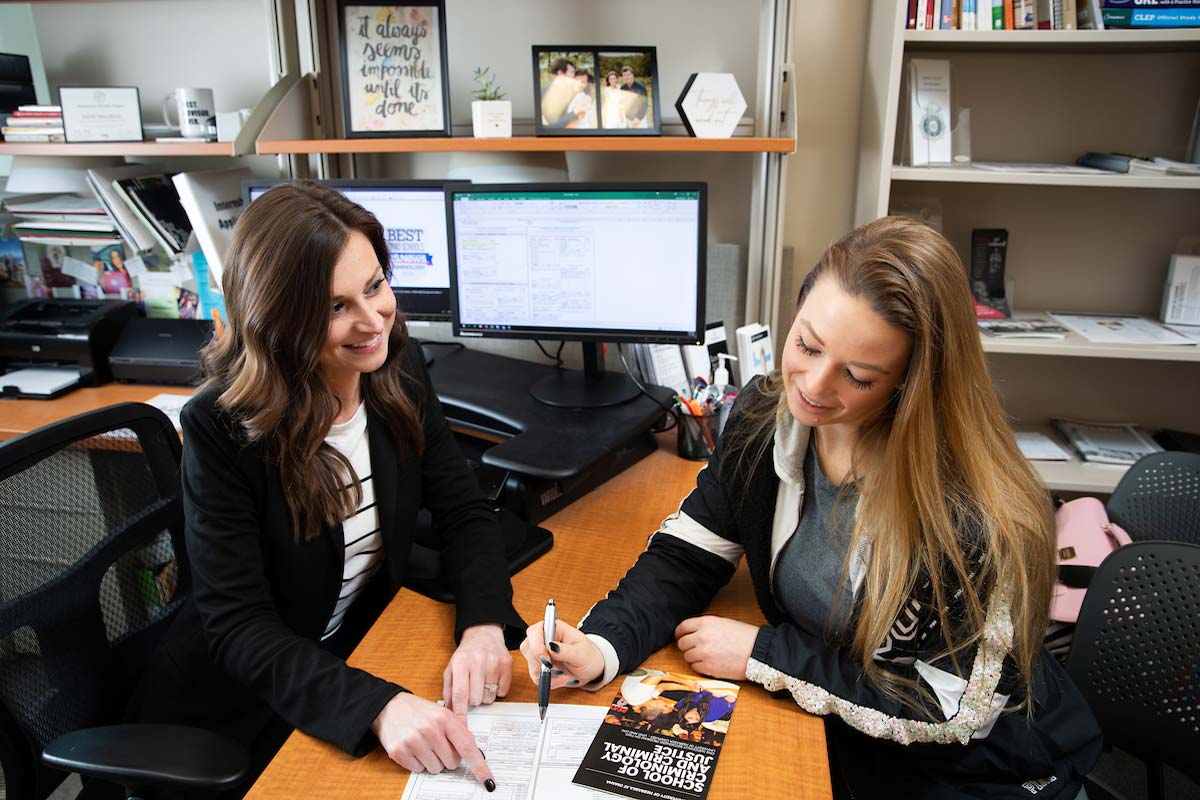 "A lot of students don't know where to go when they have an issue or when a challenge comes up and it's important for them to have at least one person that's there that they know they can go to, that can help put those pieces together."
Regardless of their role - as a student, faculty, staff member or even alumni, Hansen says she wants to be the person anyone can feel comfortable coming to if they need help.
"A lot of students don't know where to go when they have an issue or when a challenge comes up and having at least one person that's there that they know they can go to that can help put those pieces together."
That is why, she says, she truly appreciates working at UNO.
"One thing I've noticed, even in my first year, is how much of a community UNO is. Students may not realize it right away, but they are able to utilize so many different resources and, once they get there, they see that everyone here wants them to succeed."
Students with questions about advising during remote teaching and learning should visit keeplearning.unomaha.edu for helpful tips. Advising sessions can be scheduled at any time through MavTrack.
About the University of Nebraska at Omaha
Located in one of America's best cities to live, work and learn, the University of Nebraska at Omaha (UNO) is Nebraska's premier metropolitan university. With more than 15,000 students enrolled in 200-plus programs of study, UNO is recognized nationally for its online education, graduate education, military friendliness and community engagement efforts. Founded in 1908, UNO has served learners of all backgrounds for more than 100 years and is dedicated to another century of excellence both in the classroom and in the community.
Become a fan of UNO on Facebook and follow UNO's Twitter updates. 
Contact Us
If you have a story idea, news tip, or other question, please email the UNO News team at unonews@unomaha.edu.