May 2019 Chancellor's Forum Recap
UNO Chancellor Jeffrey P. Gold, M.D., spoke to the campus community on Tuesday, May 14, recapping recent commencement ceremonies, the next steps for the NU budget in the legislature and leadership search updates - among other topics.
published: 2019/05/15
contact: University Communications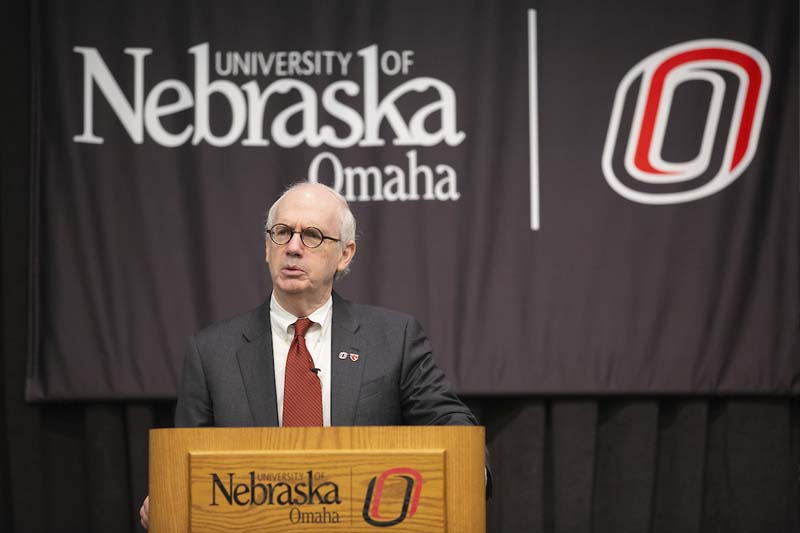 At Chancellor Jeffrey P. Gold's, M.D., May forum, the first topic of discussion was a celebratory recap of both the recent May commencement ceremonies, which took place on May 3, as well as recent recognitions for faculty and students during end-of-year honors convocations and symposiums.
"One of my favorite things to do is I wander around the ice when they are robing up and get to talk to them and get to hear their stories, where they came from, where they grew up, what opportunities UNO has really created for them career wise," Gold said. "It's really inspiring; everything from the students who are the fifth-generation college graduates who are on amazing tragectories of academic excellence to students who never even dreamed they would enroll in a college experience, let alone graduate and now have unlimited doors open to them as well."
Next, Chancellor Gold provided an update to those in attendance and online about the Nebraska State budget proposal, which had recently passed the first round of debate including a requested 3.5% per year increase for the University of Nebraska System. The request accounts for a 2% increase to cover salary and benefits increases with the remaining 1.5% covering infrastructure items such as utilities and maintenance. He indicated that the Board of Regents would likely finalize any decision regarding tuition changes in the upcoming late June meeting.
In April, Sacha Kopp, Ph.D., was named the next Senior Vice Chancellor for Academic Affairs at UNO. Chancellor Gold says that Dr. Kopp will start in his role later this summer and that he a "wonderful choice for the position" thanks to the hard work of the 27-person search committee, which was led by College of Education Dean Nancy Edick, Ed.D., and Vice Chancellor for Student Success Dan Shipp, Ed.D.
The process is also underway for identifying the next dean for the College of Business following current dean, Louis Pol, Ph.D., indicating he would be stepping down by the start of the Fall Semester. Chancellor Gold stated that a search firm has been identified and that the goal is to have candidates identified who can visit campus once Dr. Kopp has started in his position.
Also discussed at the forum were the ongoing searches for UNO/UNMC Assistant Vice Chancellor for Inclusion and NU President. The assistant vice chancellor for inclusion position has moved from an internal search to an external search and the NU President search is currently in the process of identifying a search firm to oversee the identification of potential candidates. President Bounds' last day in his current role will be in mid August, at which point an interim president will take over.
Another topic introduced at the May forum was a recent economic impact survey that determined UNO has an approximate economic impact across the state of Nebraska of $716 million with the entire NU system contributing approximately $4 billion and the Nebraska Medical Center contributing another $3.5 billion. This impact comes through being an employer, graduating members of the future workforce and taxes collected by the city and state, just to name a few.
"That is representative of the way the university returns on the investment more broadly," Gold said. "So whether it's in healthcare, or whether it's in agricultural extension services, whether it's cybersecurity, or the performing arts, or workforce development here at UNO - or many other different areas the return on that investment is very, very significant."
Before concluding the forum, Chancellor Gold provided several additional updates and announcements:
There still has not been an arrest in the recent assault cases that took place in Elmwood Park in April, but there remains an increased police and security presence by the Omaha Police Department.

There will be a significant professional development investment from the NU system to UNO for staff development programming targeted for those employees who serve as frontline points of contact for students and prospective students

Thanks to a partnership with Apple, Inc., members of the Scott Scholars community have just begun a five-week "App Jam" workshop where they will be developing mobile apps for organizations in need. One will likely be a mobile device self guided tour of the Fred and Pamela Buffett Cancer Center healing arts collection. 
About the University of Nebraska at Omaha
Located in one of America's best cities to live, work and learn, the University of Nebraska at Omaha (UNO) is Nebraska's premier metropolitan university. With more than 15,000 students enrolled in 200-plus programs of study, UNO is recognized nationally for its online education, graduate education, military friendliness and community engagement efforts. Founded in 1908, UNO has served learners of all backgrounds for more than 100 years and is dedicated to another century of excellence both in the classroom and in the community.
Become a fan of UNO on Facebook and follow UNO's Twitter updates. 
Contact Us
If you have a story idea, news tip, or other question, please email the UNO News team at unonews@unomaha.edu.