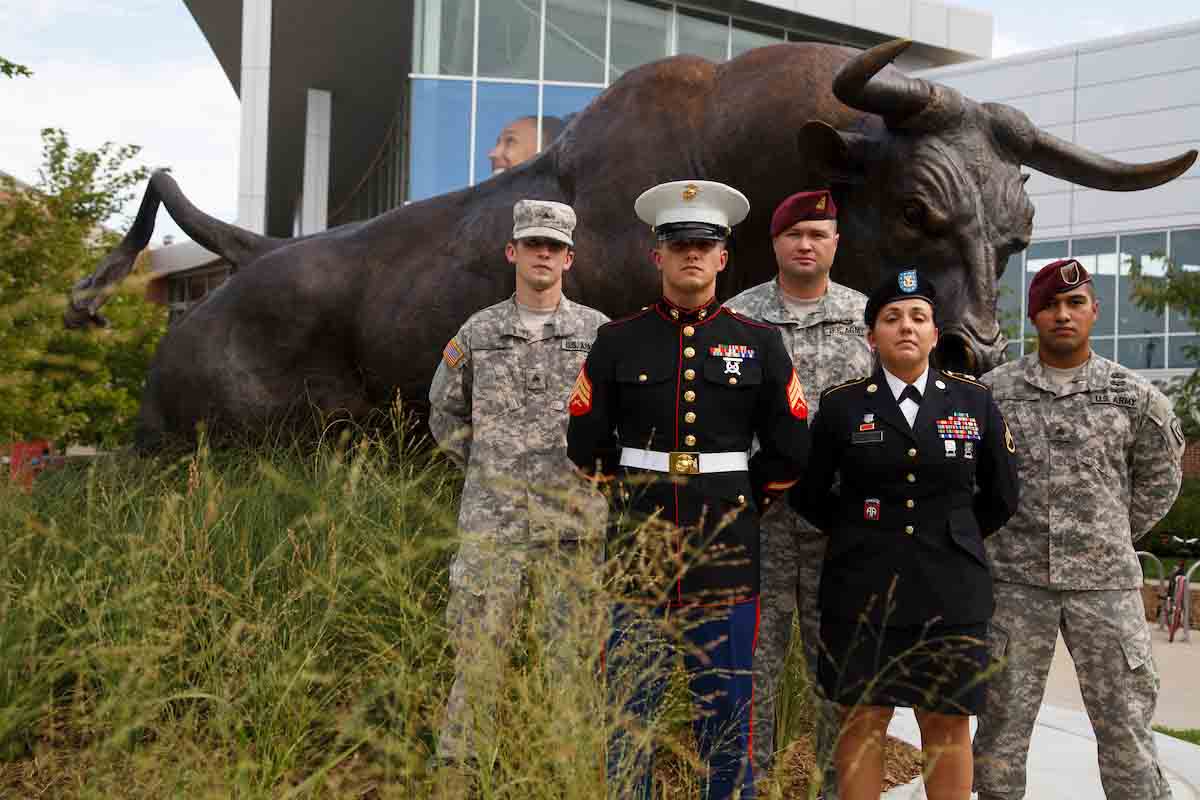 The University of Nebraska at Omaha (UNO) is a proud supporter of our men and women in the armed forces, with a commitment to being one of the nation's best universities for military and veteran students.

Here are just a few of the ways UNO is committed to our servicemembers:
Veteran's Day of Service


Every Veterans Day, UNO students and volunteers come together to give back to the community. UNO's Office of Civic & Social Responsibility partners with local veterans organizations like the Salvation Army, VFW 247, and Eastern Nebraska Veterans home, providing students with an opportunity to thank our nation's heroes face-to-face. Learn more.
UNO a Top Ranked Military Friendly University


For six consecutive years, UNO has been named one of the top universities in the country for military-affiliated students by Military Times.
Following its launch in 2010, UNO has been ranked among the top 10 schools, public and private, among the nation's four-year universities in six of the last eight years. More than 500 colleges took part in this year's detailed survey.
UNO's Office of Military and Veteran Services supports military-affiliated students' academic achievement, career attainment, financial health, and overall physical and mental wellness. Learn more.
A Decades-Long History of Supporting Veterans


As one of the country's first universities to institute the Bootstrapper program following World War II, UNO has a long and proud history of making the transition from military service to the classroom.

Notable UNO alumni who have served in the armed forces include current U.S. Secretary of Defense Chuck Hagel, Four-Star General James P. Mullins, Four-Star General Johnnie E. Wilson, and Four-Star General Bryce Poe II.

UNO is also the alma mater of four Medal of Honor winners: Merlyn Dethlefsen (1965), Roger Donlon (1967), Jack Treadwell (1963) and Leo Thorsness (1964).
 
A Nationally-Ranked Online Degree With Access and Affordability

UNO is home to one of the nation's Top 25 online degree programs with the Bachelor of Multidisciplinary Studies. 

With more than 50 areas of concentration that can be completed either entirely online or through a mixture of online and on-campus coursework, UNO's BMS is a flexible and multidisciplinary option for adult learners, transfer students, online learners and military-affiliated students.

The BMS also features flexibility through comprehensive academic advising for students online, over the phone, on campus and at Offutt Air Force Base. Learn More.


Student Veterans Earn Nation Security Fellowships
Three student veterans from UNO have earned positions in a prestigious national security fellowship designed to bring veterans into foreign policy creation.
UNO students Kevin Sefcovic, Harrison Johnson and recent graduate Megan Carr join an elite class of 32 student veterans from across the United States—more than 50 percent of whom are from underrepresented demographics—in the Veterans4Diplomacy Fellowship program, which is designed to prepare them to outcompete their civilian peers in obtaining positions in national security policy. Learn more.
UNO Named Best Business School For Vets


Military Times has ranked the UNO College of Business Administration (CBA) as the nation's best business school for military and veteran students seeking education beyond a bachelor's degree.
UNO's CBA stood out in a number of areas, including a 92 percent military retention rate and four-star rankings for staff and academic support. Learn more.
UNO Cybersecurity Program Highly Ranked For Military, Veteran Students


Chosen as the nation's top cybersecurity program from a public university, UNO was ranked second overall in the country and the best program in the Midwest. 

The "Military Times 10 Best Cybersecurity Programs" list was compiled by evaluating public and private university programs on categories such as the number of cybersecurity degrees awarded per total student population, the number of computer science degrees awarded per total student population, accreditation from the Accreditation Board for Engineering and Technology and recognition by the NSA. Learn more.
UNO, USSTRATCOM Combine Education With Military Excellence


UNO alum and former secretary of defense Chuck Hagel was the keynote speaker as UNO hosted the inaugural Assurance and Deterrence Conference and Workshop in March 2016.
USSTRACOM's Academic Alliance, of which UNO is a member, support USSTRATCOM and the program by promoting research topics within their departments; participating in workshops, speaking engagements and panels; and populating an electronic database with research papers and proposals on subjects related to the command's global strategic missions.
The two-day conference featured an interactive tabletop exercise hosted by USSTRATCOM, paper presentations from scholars, panel discussions from security experts and workshops on topics such as model diplomacy and war games. Learn more.
Contact Us
If you have a story idea, news tip, or other question, please email the UNO News team at unonews@unomaha.edu.