UNO Students Give Back At Three Days Of Service
When fall break rolls around, lots of students like to take the time to relax and catch up on sleep after midterms. It's called fall break for a reason, right?
That may be the case for most students in the Omaha metro, but not the ones who participated in UNO's Three Days of Service.
"It's just exciting to see so many students come out over a break," said Skyler May, a graduate assistant in the Office of Civic and Social Responsibility."We have a lot of high school students that come in and work right alongside UNO students, so they get a chance to see how important service is to UNO. UNO really embraces the culture of service, and it's great for the high school students to see that if they've never been to campus before."
High school students from Omaha Gross Catholic High, Ralston High, Omaha North and Omaha South participated alongside UNO students and volunteers from the community.
More than 25 community organizations also participated in this year's event, including Habitat for Humanity, Open Door Mission, Benson Plant Rescue, The Boys and Girls Club of Carter Lake and the Nebraska Chinese Association.
Students also assisted with construction work at a Habitat for Humanity site in North Omaha. Others helped with landscaping, serving lunches, warehouse duties and clerical tasks.
"Omaha has a great volunteerism community, but something I do notice with Habitat for Humanity's volunteer base is that it's kind of aging. We have a lot of church groups and corporate partners and those people are awesome, but we don't see people between the ages of 18 and 25 come out here that often," said Anthony Thiele, a construction crew manager at Habitat for Humanity. "This is a really good opportunity to get people out, and maybe a few people will say, 'This is my calling, this is what I want to do,' and they will come back and be regular volunteers."
Susie McGuire, a UNO alum and founder of Conservation Fusion, believes Three Days of Service is the perfect chance for students to get a taste of volunteerism.
"It's a great experience for the nonprofits and for the volunteers because they don't have to make a long term commitment to an organization," she said. "It's a chance for them to look into lots of different organizations and see which ones speak to them."
Listen to Chancellor Gold talk about the importance of volunteerism in the latest edition of the Maverick Minute: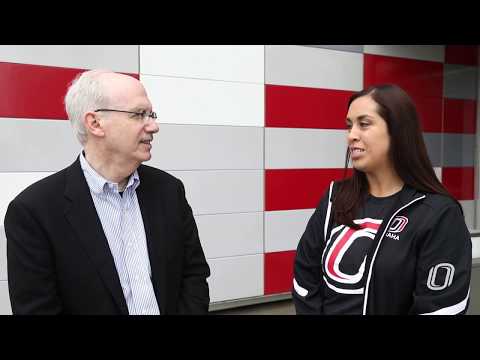 Contact Us
If you have a story idea, news tip, or other question, please email the UNO News team at unonews@unomaha.edu.