16'-17' Fiscal Year: Baxter Arena, UNO Athletics in the Black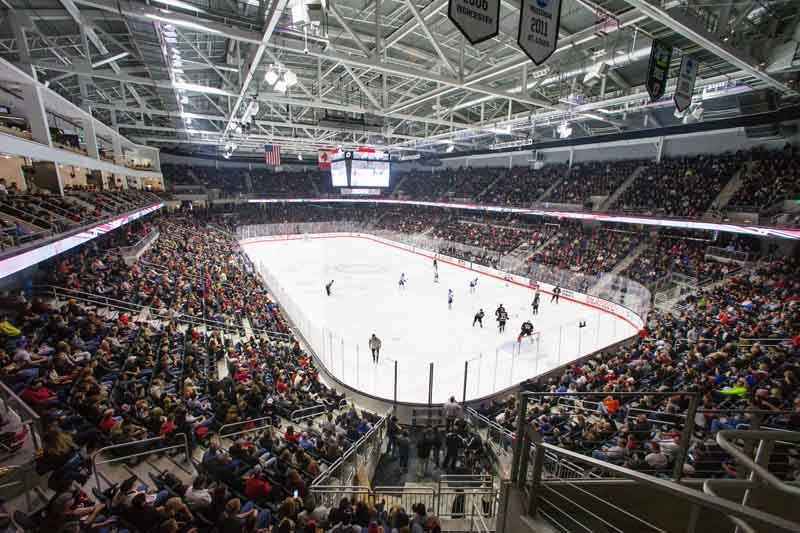 Nearly two years after the UNO Athletic Department celebrated the opening of Baxter Arena, following the Mavericks' transition to Division I, both the department and arena are in the black for their most recent full fiscal year.
Next Sunday, Oct. 15, marks five years since UNO announced plans for its first on-campus arena in the school's 109-year history – in support of student-athletes, campus culture and engagement with the Omaha community. Thanks to generous community support, Baxter Arena opened three years later in 2015 and, since then, has shown a significant return on investment that continues to build.
Over the last fiscal year, Baxter Arena saw more than 400,000 people attend more than 125 hockey, volleyball and basketball games; concerts; lectures; public ice skating sessions; and other community events leading to strong ticket sales and facility rental revenues. Additionally, UNO Athletics has leveraged its new Division I status to establish the top multimedia rights and apparel sponsorship deals in the Summit League, partnering with Learfield Sports and Adidas, respectively.
These successes have resulted in a balanced budget and continued rise in revenue, while providing a new place for the community to come together and share new experiences.
"Whether it's young children learning to skate; high school and college students earning their diplomas; or adults trying curling for the first time, memories are being created here that people will remember forever," said Trev Alberts, vice chancellor for Athletic Leadership and Management. "This isn't just an Athletics or UNO success story, it's a City of Omaha success story."
"Our athletics program is a key component in UNO's identity as a premier metropolitan university and a world-class higher-education institution," Chancellor Jeffrey P. Gold, said. "As our student-athletes continue to compete and be successful, both at home and across the country, on the field as well as in the classroom, the Maverick athletic program will make the UNO brand that much stronger. We are very grateful for the strong leadership and continuous dedication that builds on the UNO legacy and creates our future."
The community has also rallied around UNO student-athletes since the Division I transition, with the privately funded Hamilton Academic Excellence Room providing academic support and record-breaking fundraising through the Maverick Run helping raise scholarship dollars. This support is critical to the success of UNO student-athletes, who recorded a collective GPA of 3.38 in Spring 2017 with 40 individually making the Chancellor's List.
"It can be difficult to remember that just a decade ago athletics at UNO was struggling," Alberts said. "And while there certainly continue to be challenges, I am proud of where we are today and the opportunities we've created for our campus, our student-athletes, and Omaha."
However, student-athletes are not the only ones who have benefitted from the addition of Baxter Arena and UNO's growing Maverick Momentum. The campus' investment in support of UNO Athletics and Baxter Arena has helped create a new home for entertainment, social gatherings and campus events.   
"Involving students on campus and within the Omaha community are key elements to our overall student success strategy," said Dan Shipp, vice chancellor for Student Success at UNO. "Baxter Arena – and a vibrant, successful athletics program in general - is essential to our shared work at UNO. At its core, it's about community building and school spirit. Athletics is a common pride point for our campus to rally around. And having a shared university-community space that our students can truly call their own has been a true propeller for our Maverick momentum."
This momentum has also played a part in the continued trend of increased enrollment at UNO, Shipp said. 
"Prospective students see it right away when they come for a campus visit. Baxter Arena is a definite wow factor for students and families." 
Additionally, a strong Division I athletics program and on-campus venue like Baxter Arena is a strong factor in recruitment of world-class faculty.
In an Omaha World-Herald editorial earlier this year, Gina Ligon, associate professor of management, wrote that UNO's move to Division I and creation of Baxter Arena have been invaluable for attracting scholars, including herself.
"I left a position at Villanova University to join UNO's College of Business in 2011, and a significant reason for this change was the brand UNO offered — Division I athletics is an indicator of that brand," Ligon said. "Our faculty search committees [have] strategically timed recruits' campus visits to coincide with hockey home games at Baxter Arena; the atmosphere on Scott Campus was electric, and we successfully recruited all of our top choice candidates — in part thanks to the environment these events created."
Every time I drive through Aksarben Village and see Baxter Arena sitting across Center Street, I continue to be in awe of what this campus and community has helped us accomplish through their support.
- Trev Alberts - Vice Chancellor for Athletic Leadership and Management
That sentiment is also felt among the businesses that make up Aksarben Village, one of Omaha's premier entertainment and shopping districts, which will celebrate its first decade of operation next year.
"I think it's very important to understand that the importance of Baxter Arena is felt far beyond the big events like hockey," said Bill Barstow, owner of Main Street Theaters – which runs the popular Aksarben Cinema movie theater – and Dudley's Pizza and Tavern. "Concerts, graduations, and campus events all provide an inflow of people into Aksarben Village that exceeds every expectation we had."
In the seven years since Aksarben Cinema opened, Barstow says he and his wife Colleen have watched as the village has grown around them, including the continued development of on-campus housing. To the Barstows, the last two years have shown the importance of Baxter Arena and UNO to the community.
"Colleen and I just absolutely love to watch Aksarben Village fill up with people enjoying the amenities of the Village before and after Baxter Arena events both large and small," he said. "Seeing people park in the Village, visiting restaurants and bars, seeing movies and embracing the whole area validates the vision of the Aksarben Future Trust Fund and the University of Nebraska at Omaha with this entire development."
With so much happening at UNO over the last decade, and even just the last two years, Alberts says it is humbling to reflect on the partnerships and people who have helped – and will help – UNO's growth and commitment to its community. 
"Every time I drive through Aksarben Village and see Baxter Arena sitting across Center Street, I continue to be in awe of what this campus and community has helped us accomplish through their support. While there certainly have been lessons learned along the way, we have been bolstered by that support and it has helped us realize our vision of a shared university-community arena space."
Contact Us
If you have a story idea, news tip, or other question, please email the UNO News team at unonews@unomaha.edu.