Get To Know Carlo Eby, The New Student Body President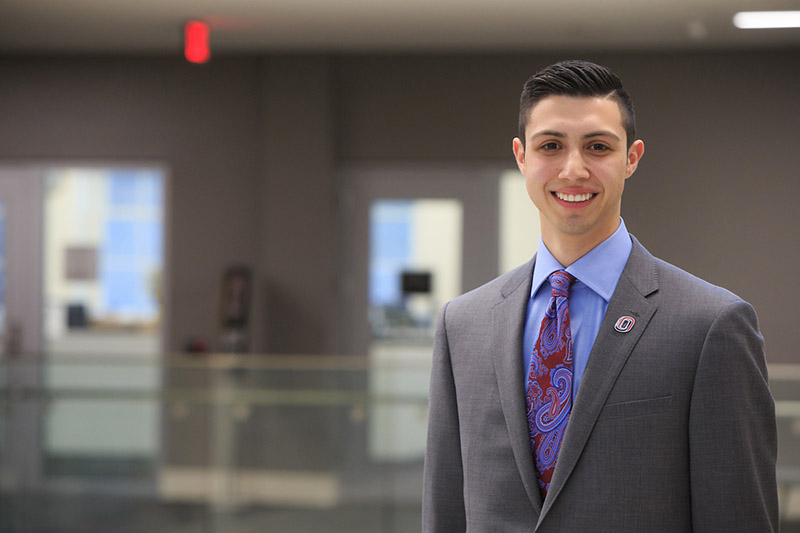 Carlo Eby was sworn in as student body president on Monday, April 17. He sat down with University Communications to tell us a little bit about his background, his vision for UNO, and what he believes sets UNO apart from its peers.
Class year: Junior
Major: Triple major in finance (business finance, banking and financial markets, investment science and portfolio management)
High School: Creighton Prep ('14)
Q: How does it feel to win the election?
A: It was a big sigh of relief on Wednesday evening. Running for president was something that I knew I wanted to do early in my college career. So really, the two weeks of campaigning was like a culmination of three years of decision making, meetings, and work and projects that all boiled down to two weeks. So it was exciting. I was glad that this was a contested election. I think it's good for the campus and it's good for democracy. So it means a lot, especially coming from a family where I was the first to go to college.
Q: Why did you want to run for president?
A: I like being involved on campus. Everybody complains about things, but I want to be able to complain about things and then say, 'Ok, now who do we need to talk with to fix this? How can we get this done?'
Student government gives you the opportunity to do that.
Q: Why did you choose to come to UNO?
A: Well I grew up about a block away from UNO so it's really always been in my backyard. When it came time to choose which college to go to, price was a huge factor. In-state tuition at UNO was very affordable when compared to surrounding universities, but the quality of education is great as well. When you sit down and think about what you're getting for your money, I thought that UNO had the edge.
Q: What is something you want to accomplish during your time as president?
A: One of the main projects that I am going to be working on is trying to get the library open twenty-four hours a day. It's something that students have asked for the past couple of years. Right now Criss Library Dean, David Richards, has been doing trial runs during finals week where we are keeping it open until five or six in the morning. There are students that are there and working. So I think it's something that we can do. Right now it's just a cost thing.
Q: What else about UNO allows for students here to have a great experience?
A: I would say the sense of community. And also how everything student-related is centrally located in the student center. You can go to the Multi-Cultural Affairs office, you can go to Student Government, Student Involvement, Queer and Trans Services, and they are all right next to each other. It allows us to work with each other.
Contact Us
If you have a story idea, news tip, or other question, please email the UNO News team at unonews@unomaha.edu.