Digital Diplomas Now Available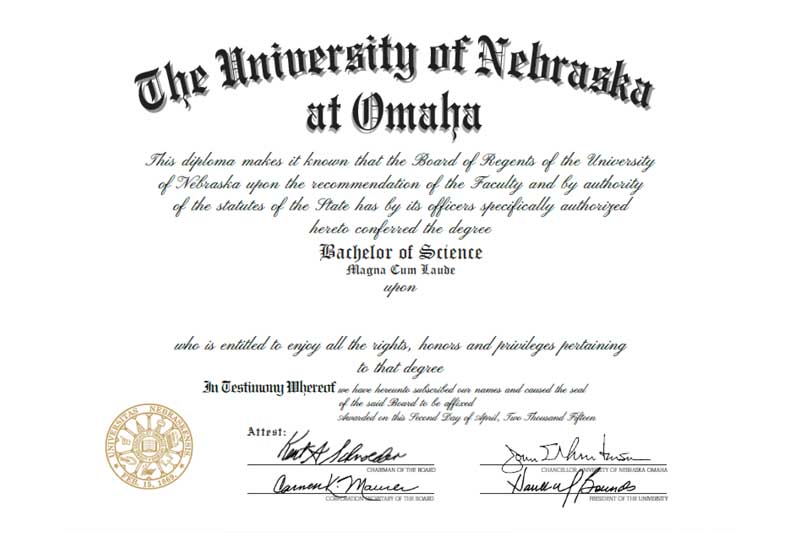 OMAHA – Students graduating this May from the University of Nebraska at Omaha (UNO) will now have a new way to share their accomplishments with their families and future employers.
UNO has partnered with Parchment, a digital credentialing service for schools, to launch a digital diploma service where students can now receive an authenticated, electronic copy of their diploma after graduation.
"Our office is proud to continue as a leader locally and nationwide with cutting-edge services that meet the needs of our students in a growing digital world," explained Matt Schill, UNO's senior associate registrar. "This is just one example of how we are helping our students turn their credentials into opportunities."
The service works in addition to the physical diploma that students will receive from UNO. Following completion of all degree requirements, students will receive an email from UNO asking them to "claim" their diploma, which will reside on a secure website but can be easily shared on social media sites like Facebook and LinkedIn, or downloaded as a secure PDF file.
"For years, Parchment has worked with hundreds of colleges across the U.S. to take an analog transcript and make it digital, creating real time tracking for the learner and adding new benefits for the receiver," Parchment CEO Matthew Pittinsky, Ph.D., explained in a news release. "At the center of the digitization of all academic credentials is the learner and their ability to now securely collect and manage online all of the credentials they earn throughout their lifetime."
Schill said the benefits to a digital diploma are truly found in providing employers a quick way to verify that you've earned your diploma.
"This streamlines the process for employers and for those looking for jobs after college," he explained.
Parchment announced the new service this February, opening the service nationwide; however, UNO was the very first school to issue digital diplomas as part of a test run last semester. As of April 1, 45 percent of all December 2016 graduates had claimed digital copies of their diplomas.
Thirteen other schools are signed up to use Parchment's digital diploma service this year, including Nebraska's Bellevue University, Duke University and Texas A&M University.
Student with questions about the digital diploma service are asked to contact the UNO Registrar at 402.554.2314 or by email at unoregistrar@unomaha.edu.