Carlo Eby Sworn in as Student Body President/Regent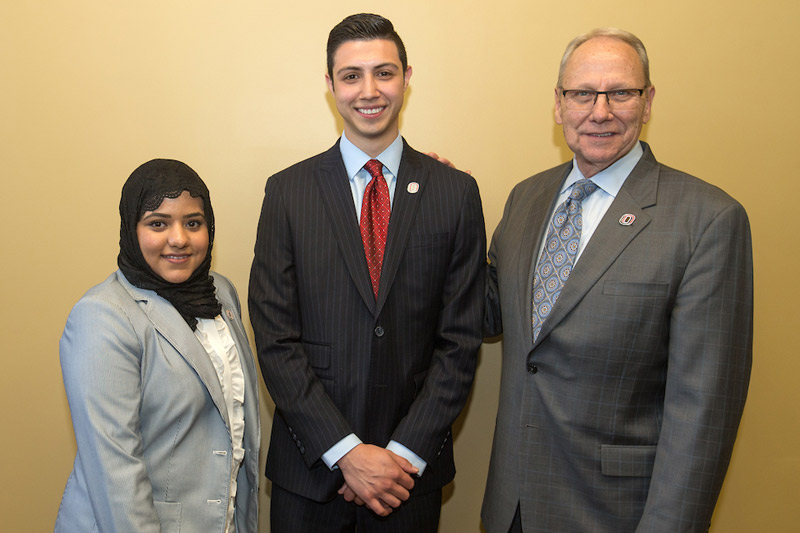 Junior Carlo Eby was sworn in as UNO Student Body President/Regent Monday, April 17. 
Eby, a College of Business Administration student, said he plans to focus on transparency and feedback while in office. 
"Students will know what's going on at both the state and university level, as well as have the comfort of knowing their concerns are being conveyed to campus administrators," he said.
Eby was introduced by out-going Student Body President Patrick Davlin, who spoke of Eby's commitment to education and excellence during his time in UNO Student Government where he served as a College of Business senator and, most recently, Speaker of the Senate.
In his remarks, Eby recognized his parents, uncle and grandparents, who he credited with teaching him lessons like hard work and humility. He also recognized UNO leadership in attendance, including Chancellor John Christensen, Senior Vice Chancellor BJ Reed, Vice Chancellor Dan Shipp and Dusten Crichton, director of the Thompson Learning Community, of which Eby is participant.
Hameidah Alsafwani was also sworn in as Student Body Vice President/Regent at the April 17 ceremony.
Alsafwani, who is of Saudi descent but was born in the United States, was joined at the ceremony by several family members while others watched live from Saudi Arabia via Skype.

The incoming Student Body Vice President was introduced by the outgoing vice president, Emily Bradley. Bradley commended Alsafwani's engagement in Student Government despite only recently joining as a College of Public Affairs and Community Service senator last year. 

As the new Student Body Vice President, Alsafwani will oversee the Freshman Leadership Council, which is made of all freshman-level student government members. 

Also presenting at the swearing-in ceremony were UNO Alumni Association President Lee Denker and UNO Staff Advisory Council President Anthony Flott.
Eby and Alsafwani were selected by popular vote during a March 2017 election. 
For a complete list of elected student government senators for the upcoming academic year, please visit the election results announcement.
---
Speeches
Patrick Davlin Introduction of Carlo Eby
Emily Bradley Introduction of Hameidah Alsafwani
---
Patrick Davlin Introduction of Carlo Eby
In 2017, there is one simple truth facing the college graduate: more is expected of us now than ever before.
The college graduate in this day and age is expected to be not only an accomplished scholar, but an outstanding citizen, a seasoned leader, and a prepared contributor to his or her community. The expectations of us at graduation are great, and yet we continue to find ways to excel through academic success, community involvement, and a breadth of experiences that shape us.
These three traits will define our success after graduation, and few people exhibit them better than Carlo Eby. Having known Carlo since high school, I could speak for a very long time on the traits that will make him most successful in this position, but I've written this to try and keep it to the high points.
Academic success is nothing new for Carlo. He grew up in Omaha, Nebraska and began his educational career across the street at St. Margaret Mary's. He continued to Creighton Preparatory School, where we first met, and became engaged in a few clubs and activities that gave him visibility in Prep's community. Chief among these were being a four-time national qualifier as a member of the Speech and Debate team, a three-year member of Prep's Student Council, the last of which he served as the Vice President, and four years as a member of Creighton Prep's rapidly developing choral program, including two years in its top Chamber Choir.
He then turned his sights to UNO, most likely because he never liked a long commute from home to school anyway. Coming to UNO to seek a degree Finance with a Political Science Minor, Carlo was awarded with a Buffet Scholarship, an early mark of distinction among students. He became a member of the Freshman Leadership Council, and served as a Freshman Senator on the Student Services Committee through his re-election as a College of Business Senator in the 2015- 2016 academic year.
When the Exectuive Treasurer stepped down in early 2016, Carlo stepped up to fulfill the position in her place. From there, he was elected to the post of Speaker of the Senate, where he served in the last year. A second important aspect of a valuable Student Regent is his awareness of the community in which their University exists.
Carlo's involvement in the community outside UNO has given him unique and valuable perspective on UNO's place in Omaha. He has served as an intern downtown at First National Bank of Omaha and then in Aksarben at Green Plains, a commodities-trading company. In addition to experiences in two local companies, Carlo has made an impact to the community as a team member in campaigns for Congressman Bacon and Governor Ricketts – both connections will give him valuable insight into how UNO's constituencies in Omaha and Nebraska will continue to benefit from this institution.
A final aspect I wanted to touch on was well-roundedness, and I think I've touched on several different things Carlo has done well through his academic career, but here's where I tack on a few more details. In Student Government, Carlo has exhibited leadership and passion for success, traits which drove Student Senate to new heights this past year even as Carlo also individually managed other projects like improvements to the flagship Maverick Readership Program. He has also served on the Student Activities Budget Commission and as a member of Dance Marathon, seeking to use his skill for the betterment of the UNO experience and for the improvement of lives of children at the Children's Hospital in town. I'm told he's even agreed to shave his head next year, although that's just a rumor.
If much is expected of a UNO student at graduation, then even more is expected of the Student Regent who must represent them to Omaha and the world. Luckily, Carlo is that person. He has exhibited leadership, technical ability, and passion for UNO while he's been here. He has also shown that he can grow to meet challenges and represent student concerns in everything he does here. These traits will carry him far as a Student Regent and well beyond. With that in mind, I think it's time for him to get started – could Carmen and Carlo please come up to the podium to administer the oath of office?

Carlo Eby Remarks
Thank you, Patrick for your kind words and introduction.  As Patrick mentioned, him and I have known each other for about 7 years now, and it's been an absolute pleasure to work with and learn from him the past 3 years in Student Government.
Before I get too far ahead of myself, I wanted to take a minute to thank all of my teachers that I've had over my lifetime, and luckily, many of them are here today.  So I'll start with my first teacher, my dad who taught me the importance hard work, and that it takes a lifetime to build a good reputation, and it can be ruined in 5 minutes. My mom, who taught me that often times your effort goes unseen, unthanked, and unappreciated, but to keep doing it anyway.  Thank you.
My uncle, who is one of the smartest guys I know, taught me that a college degree doesn't determine your level of intelligence, more your willingness to learn and never-ending quest for knowledge.  My grandpa, taught me to always lend a hand to those in need and never expect anything in return.  And finally, my grandma taught me to always see the best in people and that the ability to make genuine connections will ultimately lead you to success. 
In addition to the members of my family here today, I also would like to thank the faculty, staff and close friends at UNO who have been an integral part to my success over the past 3 years.  Dusten Crichton from the Thompson Learning Community, Bari Marshall and Bill Pickett from the Office of Student Involvement, Patrick Davlin and Emily Bradley, as well as Dr. Rita Henry, Dr. Dan Shipp, and Vice Chancellor BJ Reed. Your guidance, support, and relentless encouragement mean the world to me, and I thank you for that.
Lastly, I want to thank Chancellor Christensen for his service, unmatched passion and commitment to making this University the best that it can be.  If it weren't for the guidance, vision, and leadership of the Chancellor transforming UNO into what it is today, I am not sure I would be standing here before you. 
Although it is great to recognize how far we have come, the ultimate question is where do we go from here?  As President, my goal is to create a culture of accountability, transparency, feedback, and inclusion.  Through the formation of a Presidential Cabinet and with regular meetings with administrators, Hameidah and I hope to further strengthen the connection between various student organizations, populations and administrators. 
With the opening of the Scott Crossing housing complex, we will have an incredible opportunity to reach out and connect with hundreds more students who will now be living on campus- and I am excited to work with this new population.
Ultimately, our goal here is to make this University a little bit better than it was yesterday.  A little more efficient.  A little more welcoming.  A little more accountable.  It is an honor to stand here before you today as UNO's newly Elected Student Body President, and I am excited to accept the challenge of accomplishing everything I laid out before you here today. Thank you all again for being here, and Go Mavs! 

Emily Bradley Introduction of Hameidah Alsafwani
I am so please to be with you today and to have the chance to introduce a truly extraordinary individual – Hameidah Alswafani.
Hemidiah was born in Oklahoma. She was raised her whole life in Saudi Arabia and returned to the U.S. after high school. At UNO, Hameidah is studying Emergency Management in the private sector while also perusing criminal justice with minor in communication.
In her tenure at UNO, Hemidiah has already made a big impact by being the first female to be elected as President of UNO's Saudi club.
In September of 2016, Hemidiah joined Student Government. During her time as Senator, Hameidah continuously improved the student experience by providing an outlet for campus change. She demonstrated remarkable initiative when she collaborated with with dining services to provide Halal meals for Muslim and International Students. What makes Hameidah's achievement all the more remarkable is the fact that she completed this project within one month of joining Student Government. She has a great understanding of the students at UNO and a great appreciation of what it takes to truly make UNO the best place to be a student. 
As Vice President, Hameidah's main duty will be to organize and run Freshman Leadership Council, an introductory organization to Student Government. I can not think of a more qualified individual to work with incoming Freshman leaders and help them develop the skills necessary to be outstanding leaders at UNO. I am extremely honored to have Hemidiah Alswafani taking over my role as Student Body Vice President of UNO. 
Carlo, would you please come up and administer the oath.
Hameidah Alsafwani Remarks
Thank you Emily for the introduction, and as I said in our last senate meeting, you left a big shoes for me to fill. I am beyond excited to serve as the vice president of UNO student body. And even more excited and thrilled to be working with Carlo. His dedication and passion for this position is just unbelievable. Thank you for a great campaign and most importantly thanks to UNO students who voted to get us here, and today we get to work.
To begin, I want to thank the people that stood by me in all of these years. And through their support and encouragement, this became possible. My mom Fatimah Alfareed, and My dad Wajih Alsafwani. My siblings, Hadi, Zahraa, Zainab, Ali, Hussain and Hassan, the rest of my family, my Omaha friends Thank you! 
I would also like to thank, Chancellor Christenson, Dean Bartle, Dr. Dann Shipp, my favorite UNO instructor Stacy Wagener, my advisor Lyndsey Rise, Jena, Connor, Bari, all UNO faculty and staff, and all my friends that came in today.
When I was little I wanted babies to stay like that forever, (despite their miss you got to admit their rally cute) but as soon as I grew up, I realized what an adventure is to be an adult. The things you can accomplish and the dreams you can make true. They always told us to make baby steps, not to actually believe in the thoughts you get before falling asleep. But they forgot that life is short and there are tons of things ahead. And standing before you today, as UNO vise-president of student body is one of them. 
I joined Student Government as a CPACS senator on September of 2016 after meeting Patrick in an inclusion meeting with Dr. Dan Shipp. I didn't really imagine that I will be moving so quickly and will be running for VP in only few months. Being a member of this organization has added so much to me in a very short period of time. And I can't imagine what leading the Freshmen Leadership Counsel will add and how I can impact the development of UNO and its future leaders.              
Thank you all for coming today and sharing this moment with me and Carlo. I am sure we will do our best to serve our University and all Mavericks. Go Mavs!  
Contact Us
If you have a story idea, news tip, or other question, please email the UNO News team at unonews@unomaha.edu.