Employee Directory Information Fully Online
contact: University Communications - University Communications
email: ucomm@unomaha.edu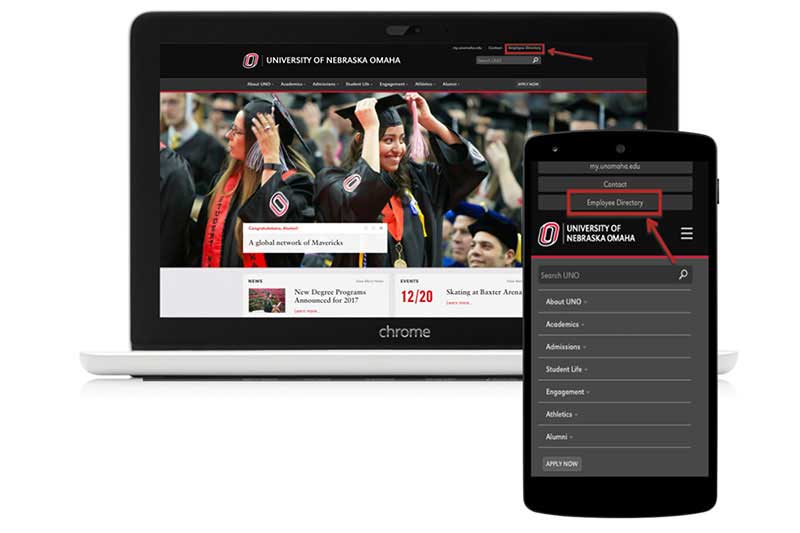 The UNO Employee Directory is now available on UNO's website exclusively. Users have the ability to search employees by any known portion of an individual's name. The directory provides the name, office telephone number, work location, and title of any UNO employee. 
In an effort to increase environmental and financial sustainability, the printed version of the directory has been discontinued. Information provided in the online directory is sourced directly from administrative databases. The online directory can be updated as new employees are hired or titles change, whereas the printed version can only be done once per year.
All colleges, departments, and offices also have faculty and staff directories on their webpages that are maintained by web leads in their respective area. The Digital Communications team governed by the Digital Communications Executive Committee is looking at potential projects in the future to continue to enhance profiles and searching of faculty and staff to help improve the student experience.  
Since converting the Employee Directory in July 2015, usage of the online employee directory has increased more than 9 percent year over year from July to December. The page sees more than 6,000 unique views per month on average, with August being the busiest month with more than 7,500 unique views.
For more information, please contact University Communications at ucomm@unomaha.edu. 
Contact Us
If you have a story idea, news tip, or other question, please email the UNO News team at unonews@unomaha.edu.