ISSUED: (Friday, March 13, 2020 17:00 PM)
CAMPUS ANNOUNCEMENT
UNO campus remains open; classes moving to remote learning mode March 30.
More Information
CLOSE

X
Early FAFSA Filing for 2017-2018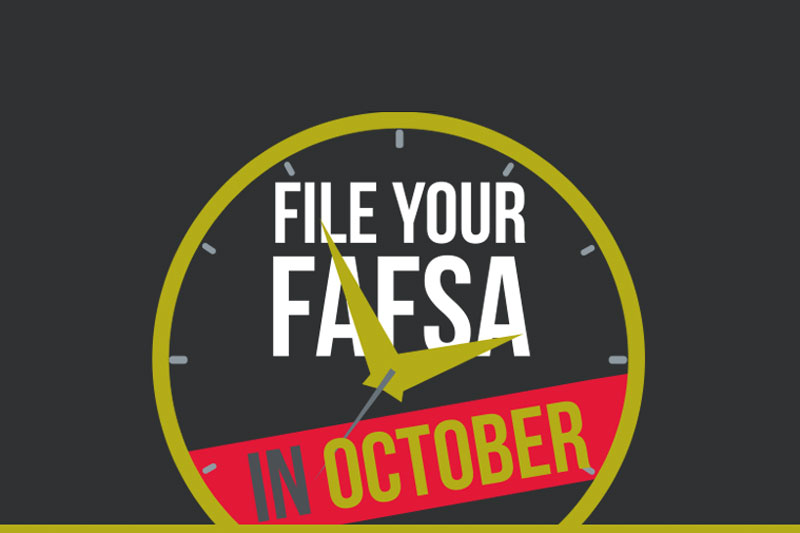 The Department of Education will be implementing changes to make the FAFSA application process easier and more efficient, thus allowing for earlier availability of important financial eligibility information.
TWO IMPORTANT CHANGES GO INTO EFFECT WITH THE 2017-2018 FAFSA:
Submit a FAFSA earlier: Students will be able to file a 2017-18 FAFSA beginning October 1, 2016 (rather than beginning on January 1, 2017). The earlier filing date will be a permanent change, thus allowing students to complete and submit a FAFSA as early as October 1 every year.
Use earlier income information: Beginning with the 2017-18 FAFSA, students will report income information from an earlier tax year. For example, on the 2017-18 FAFSA, students (and parents, as appropriate) will report their 2015 income information (rather than their 2016 income information).
The following table provides a summary of key dates as we transition to using the early FAFSA submission timeframe and earlier tax information.

For more information on Early FAFSA filing, visit financialaid.unomaha.edu.
Contact Us
If you have a story idea, news tip, or other question, please email the UNO News team at unonews@unomaha.edu.