ISSUED: (Friday, March 13, 2020 17:00 PM)
CAMPUS ANNOUNCEMENT
UNO campus remains open; classes moving to remote learning mode March 30.
More Information
CLOSE

X
Buffett Institute Holds Professional Development Event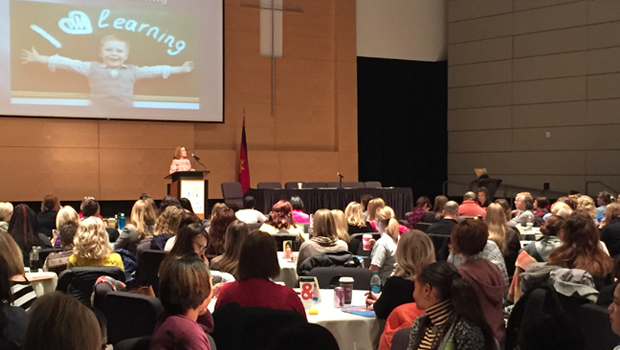 On Friday, Dec. 4, more than 200 teachers, caregivers and other early childhood professionals representing Omaha area organizations and school districts participated in the first institute of the Superintendents' Early Childhood Plan "Professional Development for All" series for 2015-16
The one-day event, titled "Social and Emotional Foundations for Whole Child Development and Learning," was held at the Salvation Army Kroc Center in Omaha.
Developed by the Buffett Early Childhood Institute at the University of Nebraska and funded by the Learning Community of Douglas and Sarpy Counties, the professional development series is designed to introduce leading-edge research and innovative practices to those who work with young children and families.
Participants at Friday's event focused on both the science of brain development and the practices that support the social and emotional development of children from birth through Grade 3. Brain research documents the impossibility of actively engaging children in cognitive and academic learning without fully supporting their social and emotional development.
"It's during the early years that children develop their ability to understand and control their emotions, to relate to other people, and to solve interpersonal problems productively—all of which is important not only for children to reach their full potential in the classroom, but also an essential foundation for their lifelong well-being and productivity," said Christine Maxwell, Director of Program Development at the Buffett Early Childhood Institute. "Teachers and caregivers, joining with families, play a critical role in modeling and supporting the development of children's social skills."
Featured speakers at the event included: Dr. Michelle Rupiper, associate professor of practice and assistant department chair for Child, Youth & Families Studies at the University of Nebraska-Lincoln; Dr. Marisha Humphries, associate professor in the Department of Educational Psychology at the University of Illinois at Chicago and a licensed clinical psychologist; Dr. Sharon Ritchie, director of FirstSchool at Frank Porter Graham Child Development Institute, University of North Carolina at Chapel Hill; and Traci Penrod-McCormick, a licensed clinical social worker at Family Enrichment, Inc., in Omaha.
Opening comments were provided by Lorraine Chang, chairwoman of the Learning Community Coordinating Council. 

About the Superintendents' Early Childhood Plan
The Superintendents' Early Childhood Plan provides a blueprint for a comprehensive approach to serving vulnerable young children, birth through Grade 3, in the 11 school districts of Douglas and Sarpy Counties. The goal is to reduce or eliminate learning and achievement gaps in the Omaha area.
The Superintendents' Plan was mandated by the Nebraska Legislature, funded through the Learning Community, developed by the superintendents and district representatives in conjunction with the Buffett Institute, and endorsed unanimously by the 11 superintendents of the Learning Community. The Buffett Institute continues to provide leadership for the implementation of the plan. 
###
The Buffett Early Childhood Institute at the University of Nebraska is an innovative research, practice, policy, and outreach institute that draws on the resources of the four University of Nebraska campuses. Dedicated to promoting the development and learning of children from birth through age 8, the Institute focuses especially on those who are at risk because of poverty, conditions of high stress and familial challenge, or developmental delays. Visit buffettinstitute.nebraska.edu for more information.
Contact Us
If you have a story idea, news tip, or other question, please email the UNO News team at unonews@unomaha.edu.