Now in its third year, the impact of the University of Nebraska Omaha's (UNO) SummerWorks Omaha program has never been greater.
During a recent threat of flooding, participants in the program filled 20,000 bags of sand at the Missouri River Waste Water Treatment Plant, and that's just one project the students will have completed by the end of the  nine-week summer work program.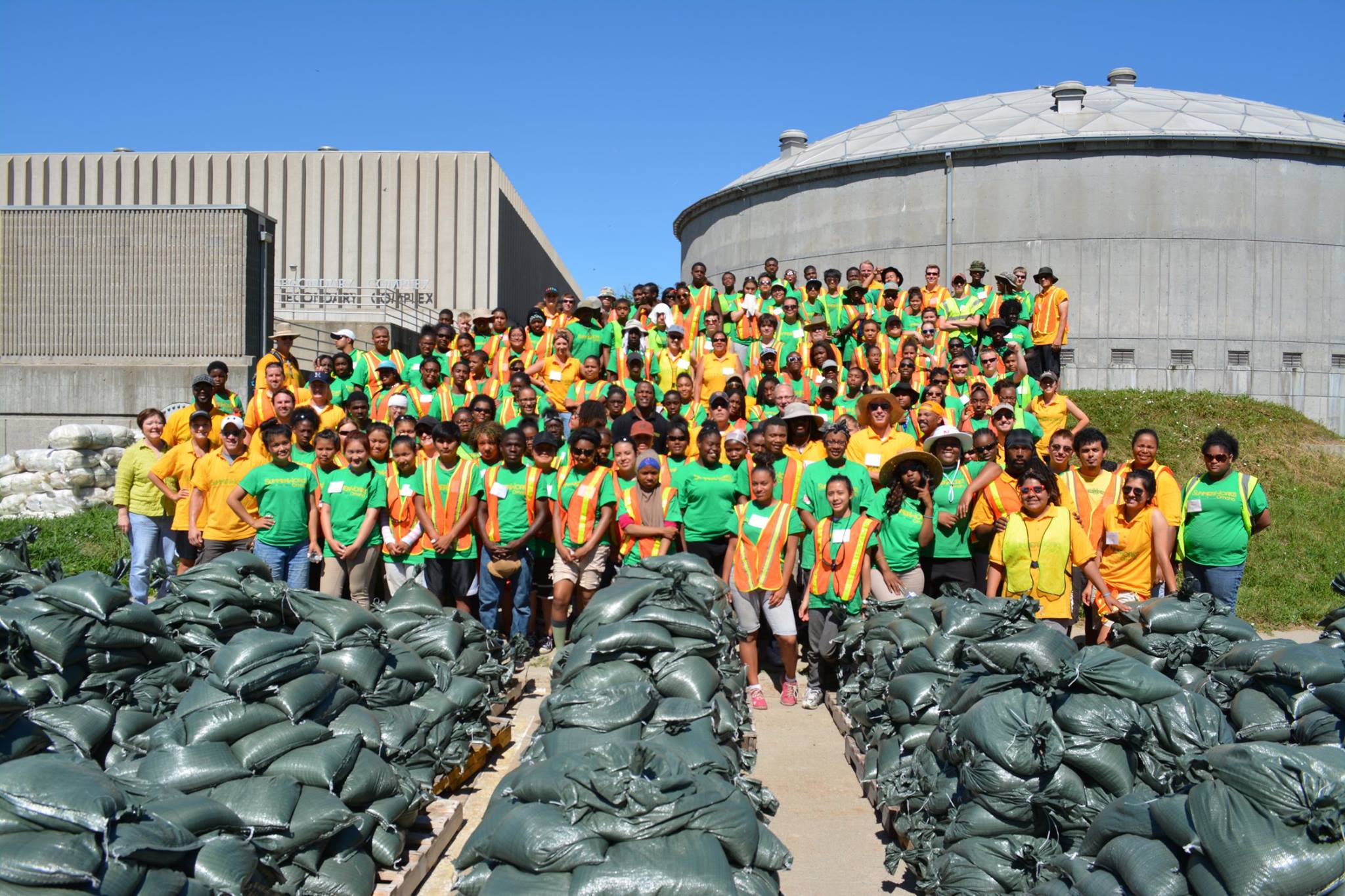 About SummerWorks
SummerWorks Omaha is a nine week summer employment academy designed for urban high school youth 15-18 years old who desire to earn an income through summer employment while learning about the world of work and gaining skills through their work experience. During the nine weeks, participants work at public parks and nonprofit organizations within the community to learn, earn, and serve.
Objectives
The program objectives are three-fold:
To respond to the needs of Omaha's high school youth, ages 15-18, who desire summer employment.
To learn new skills, develop resources and expand their knowledge base as a community citizen while gaining work experience.
To contribute to the beautification, restoration and transformation of the greater Omaha community through the service/employment of the Program Participants.
Means of Reaching Objectives:
Employing approximately 150 high school youth, 15-18 years of age;
Employing 22-25 adult Team Leaders to supervise program participants;
Providing appropriate work projects throughout the program for all program participants; and
Providing program participants with community and cultural learning opportunities within the Omaha community.
Goals
Provide summer employment and earned income for 150 Program Participants
Develop employability skills within the Program Participants
Strengthen Program Participants' understanding of "work"
Create an esprit de corps within the work groups
Broaden the Program Participants' view of the Omaha community
Generate a vision of work opportunities for the Program Participants
Enhance the Program Participants' understanding of community citizenship
Build and strengthen the metropolitan community through the efforts of the Program Participants
Program Description
The UNO SummerWorks program is designed for a select group of high school youth 15-18 years old wanting summer employment and the opportunity to learn new skills while gaining work experience. Through the UNO SummerWorks program, approximately 22-25 adult leam leaders will be hired by UNO as employees. Each team leader will be assigned a group of approximately 6-7 high school students also hired as UNO employees (hereinafter referred to as "Program Participants"). The team leaders will be responsible for supervising, mentoring, and assisting the program participants in the nine week summer work program, which will run from June 2, 2014, through August 1, 2014.
The program participants will work from 9 a.m. to 3 p.m., Monday through Friday each week. On Monday through Thursday, they will work at work sites inside and outside of the public parks system and at other work sites throughout the metropolitan community. Each Friday, Program Participants will participate in activities to gain experience in earned income management, be exposed to community and cultural events, and expand their skills and knowledge about the career and education opportunities. Lunch and transportation will be provided throughout the program for the program participants and team Leaders.
Learn more about SummerWorks on the SummerWorks 2014 website.
View photos of this season's SummerWorks team on the SummerWorks Omaha Facebook page.
Contact Us
If you have a story idea, news tip, or other question, please email the UNO News team at unonews@unomaha.edu.
Our Campus. Otherwise Known as Omaha.
The University of Nebraska does not discriminate based on race, color, ethnicity, national origin, sex, pregnancy, sexual orientation, gender identity, religion, disability, age, genetic information, veteran status, marital status, and/or political affiliation in its programs, activities, or employment. Learn more about Equity, Access and Diversity.
scroll to top of page