UNO Soccer Pitch Earns International Recognition

From omavs.com – The new University of Nebraska Omaha (UNO) soccer pitch at Caniglia Field, installed by Hellas Construction, has received the prestigious FIFA Recommended 2-Star certification, the highest synthetic turf rating from FIFA, the international governing body of soccer. 
The Maverick soccer programs are now the only NCAA Division I teams that can call a FIFA 2-Star field their home, distinguishing Caniglia Field as the elite synthetic turf in Division I soccer. Only four synthetic turf fields in the U.S. currently hold the FIFA Recommended 2-Star certification, which lasts for one year but is eligible for a new test each year. Joining Al F. Caniglia Field among that elite group are CenturyLink Field (Seattle Sounders), Gillette Stadium (New England Revolution) and North Shore United soccer club in Cedarburg, Wis.

"This is tremendously significant for our athletic department," Associate Athletic Director Mike Kemp said. "This will be the only FIFA 2-Star field in the area and will enable us to attract any number of national and international soccer events to our campus. It's something to celebrate and an outstanding recruiting advantage for both of our soccer programs. We're fortunate to have the finest playing surface possible for our soccer student-athletes to reach their peak levels of performance."

The FIFA 1-and 2-Star certifications were formulated to classify high-quality synthetic turf pitches. A 2-Star field meets the highest standards and passes strict on-the-field testing for performance and safety. Since 2004, only synthetic turfs that are 2-Star certified can qualify to host FIFA final round competitions and top UEFA competitions.

The rating was issued after a series of tests performed by a FIFA approved testing agent to examine the quality, comfort, safety and performance of the playing surface. Caniglia Field features an infill that enhances stability, reduces the field temperature and creates more natural playing characteristics to help decrease the risk of injuries.
---
F.A.Q.
Question:
Why do you water the soccer pitch if it's artificial?
Answer:
The product that we have placed on the field is different from most artificial turf fields. 

While the "grass" fibers are synthetic like other artificial turf fields, the infill that holds down the turf (and serves as the base of the turf surface) is an organic product made up of ground up cork and coconut husk.

*This is one of the only turf fields like it in the entire nation.* 

Virtually all other artificial fields are top-dressed with ground-up automobile tires. Consistent watering is a manufacturer's recommendation. The manufacturer specifies that in order for our turf to perform properly the infill must be kept moist.

By keeping it watered, the cork/coconut infill stays compacted and in place, creating a safer surface for the players. Dry infill is abrasive and hard on the athletes using the field.  Dry infill can also be blown around by the wind creating dusty playing conditions and, over time, an inconsistent playing field.

A moist, well maintained field is compacted and cooler than a traditional turf field, and will play with great consistency.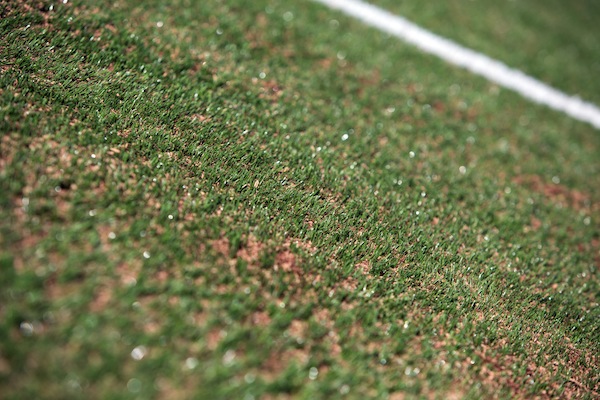 Related Links
Men's Soccer
Women's Soccer
Contact Us
If you have a story idea, news tip, or other question, please email the UNO News team at unonews@unomaha.edu.
Our Campus. Otherwise Known as Omaha.
The University of Nebraska does not discriminate based on race, color, ethnicity, national origin, sex, pregnancy, sexual orientation, gender identity, religion, disability, age, genetic information, veteran status, marital status, and/or political affiliation in its programs, activities, or employment. Learn more about Equity, Access and Diversity.
scroll to top of page