Begin With the End in Mind

The Department of Gerontology's Aging and the Life Span Teaching Circle Presents "Begin with the End in Mind," a three-part series on thinking about end-of-life decisions.
The final two sessions will take place March 14 and April 11. 
Space is limited, and RSVP is required.
Contact: Sara Young 402.554.2272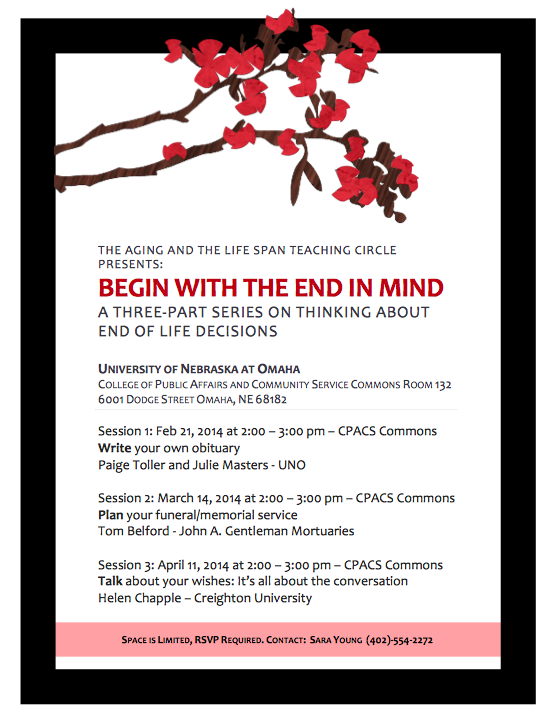 Learn more about Gerontology:
Education for the 21st Century
The Department of Gerontology provides UNO and UNL students with an opportunity to learn of the issues and opportunities facing an aging population at the undergraduate and graduate levels.
Offerings
A Certificate in Gerontology (on campus and distance options) at either the undergraduate or graduate level is available for students wanting to round out an existing major through course work and practical experience working with elders.  
Students may also pursue a Minor in Gerontology  by focusing solely on coursework in the classroom.  
In addition, the department offers a Master of Arts in Social Gerontology through the UNO campus; a Specialization in gerontology at the doctoral level in conjunction with the UNL College of Education and Human Sciences; and three joint programs (M.A./J.D., M.A./M.L.S. and graduate certificate in Gerontology/J.D.) in partnership with the UNL College of Law.
The joint program with the College of Law has been approved by University of Nebraska Board of Regents and the Nebraska Coordinating Commission for Postsecondary Education.
Key Components
Value of Gerontological Knowledge: Students pursuing a course of study in aging do so to complement an existing major such as nursing, family science, business, social work, public administration, and architecture.  Those selecting gerontology courses find the value in learning more about the aging experience as they develop skills to work with an ever increasing aging population.
  
Real Life Experience: For students pursuing a certificate in gerontology, practicums are arranged that afford students with real life experiences in working with agencies serving older adults and their families.  Several of our courses also offer a service learning component for those wanting more experience with this important and growing segment of the population.
  
Long-Standing History: Established in 1973 to address the needs of an aging population, the department of gerontology, through the University of Nebraska at Omaha, is the primary provider of gerontological education at the undergraduate and graduate level on both the Omaha and Lincoln campuses.
[[related]]
Contact Us
If you have a story idea, news tip, or other question, please email the UNO News team at unonews@unomaha.edu.