Meet the Buyers Conference
date: 04/19/22 - 04/20/22
time: 9:00 AM - 4:00 PM
location: 6705 Dodge St., Omaha, NE 68182 • maps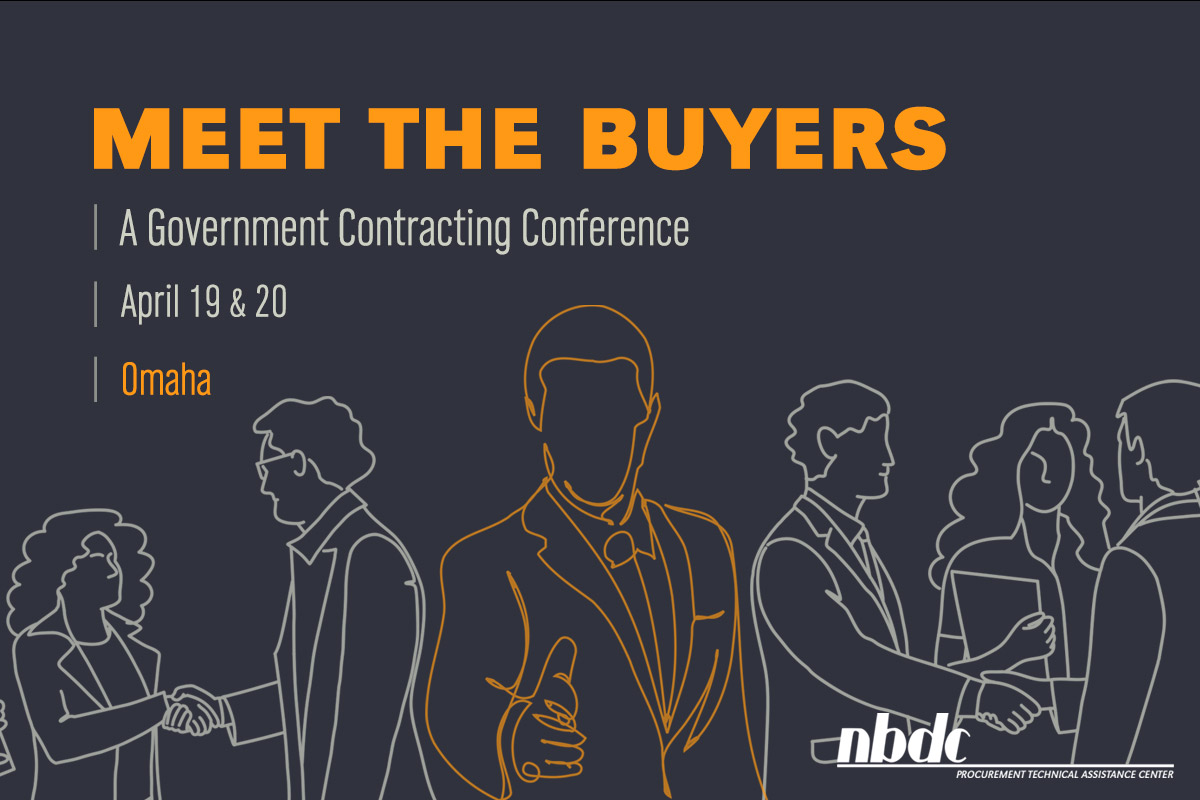 Meet the Buyers is an experience where businesses can learn directly from State/Local and Federal government agencies about how they do business AND can network their products/services directly to contracting officers and other decision-makers in the contracting world.
AGENDA
April 19th - Training and Prep Workshops (Virtual Only)
9:00-10:00: Capability Statements
10:00-11:30: "Tactics, Tools and Resources for Connecting the Dots"
12:30-1:30: Davis-Bacon Act and Service Contract Act
Presented by the U.S. Department of Labor
1:45-2:45: Proposal Writing With GSA
2:45-3:45: Panel: How to Break Into Government Contracting as a Small Business
April 20th - Meet the Buyers Conference (In-Person Only)
8:00-9:00: Check-In, Coffee, and Contacts
9:00-11:30: Agency Presentations
11:30-12:30: Lunch (Provided)
12:30-4:00: Networking
PARTICIPATING AGENCIES
Union Pacific
Kiewit
Nebraska Department of Transportation
University of Nebraska Procurement
Department of Veterans Affairs
General Services Administration (GSA) - Building Maintenance & Operations
Offutt Air Force Base
City of Omaha/Douglas County Purchasing
Nebraska National Guard
Small Business Administration (SBA)
Society of American Military Engineers
Nebraska Indian Community College PTAC
AND MORE TO BE ANNOUNCED!
About NBDC
The Nebraska Business Development Center (NBDC) helps Nebraska businesses start, grow and develop, by strengthening Nebraska businesses for a healthy economy and prosperous communities. NBDC is a University of Nebraska at Omaha center that provides confidential consulting business development services across Nebraska to entrepreneurs and business owners for the life cycle of their business. NBDC partners with the University of Nebraska-Lincoln, University of Nebraska at Kearney, University of Nebraska Medical Center, Wayne State College, and Chadron State College to deliver its services statewide. The U.S. Small Business Administration (SBA), the U.S. Defense Logistics Agency (DLA), the U.S. Department of Commerce (EDA), and other federal, state and private organizations support NBDC. Visit nbdc.unomaha.edu for more information.
---
If you have a story idea, news tip or event, please contact:
Jerry Parriott, Grant Financial Officer/Business Manager
jparriott@unomaha.edu | 402.554.4939