The Fine Print: How to Build a Strong Government Sales Strategy - 8 Core Activities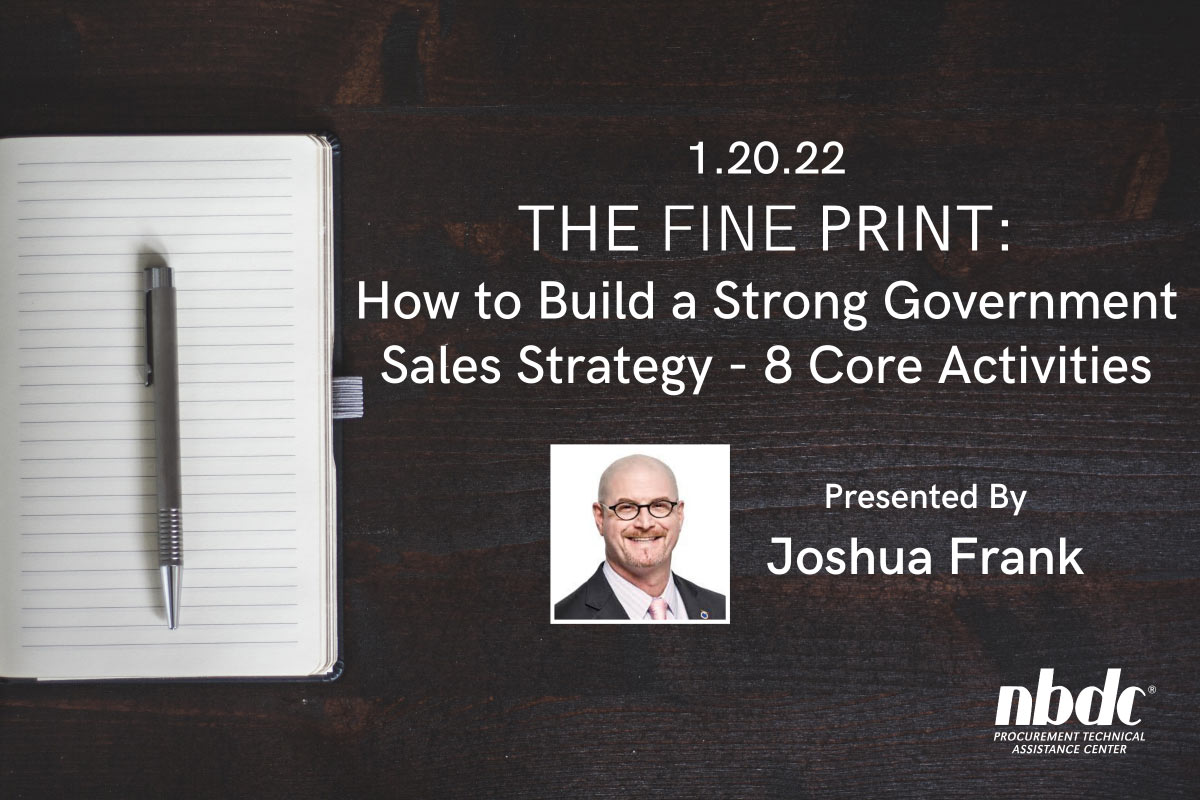 Not your typical generic session. An educational and high-energy session, we discuss the various tactics and strategies you need to build a strong sales strategy in order to win government contracts. Presented by Joshua Frank, managing partner at RSM Federal.
Learning Objectives:
• Understanding each of the operational business activities that companies must implement in order to accelerate government sales.
• The process of how to determine which agencies and services should be your three annual targets and how to target these agencies in pre-acquisition BEFORE it hits SAM or DIBBS.
• Which prospecting methods you should give up and the handful that are proven to generate revenue.
• Understanding the five (5) core marketing tools for engaging buyers and teaming partners.
About Joshua Frank:
Managing Partner at RSM Federal, Mr. Frank is author of multiple Amazon bestsellers including An Insider's Guide To Winning Government Contracts – Real World Strategies, Lessons, and Recommendations, Game Changers for Government Contractors, and The Government Sales Manual. As a result of these strategies, Mr. Frank has been honored with SBA's award for Veteran Business of the Year; Industry Small Business Advocate of the Year by the Society of American Military Engineers (SAME); Top Business Advisor of the Year by Small Business Monthly; and in the fall of 2021, Mr. Frank was inducted into the Government Sales Hall of Fame with a Lifetime Achievement Award.
VIRTUAL EVENT ONLY: Registrants will be emailed a link prior to the webinar.
About NBDC
The Nebraska Business Development Center (NBDC) helps Nebraska businesses start, grow and develop, by strengthening Nebraska businesses for a healthy economy and prosperous communities. NBDC is a University of Nebraska at Omaha center that provides confidential consulting business development services across Nebraska to entrepreneurs and business owners for the life cycle of their business. NBDC partners with the University of Nebraska-Lincoln, University of Nebraska at Kearney, University of Nebraska Medical Center, Wayne State College, and Chadron State College to deliver its services statewide. The U.S. Small Business Administration (SBA), the U.S. Defense Logistics Agency (DLA), the U.S. Department of Commerce (EDA), and other federal, state and private organizations support NBDC. Visit nbdc.unomaha.edu for more information.
---
If you have a story idea, news tip or event, please contact:
Jerry Parriott, Grant Financial Officer/Business Manager
jparriott@unomaha.edu | 402.554.4939