Swishboom wins $10,000 prize at Minority Small Business Summit Pitch Competition
The competition received more than 50 applications, with five finalists pitching for the top prize.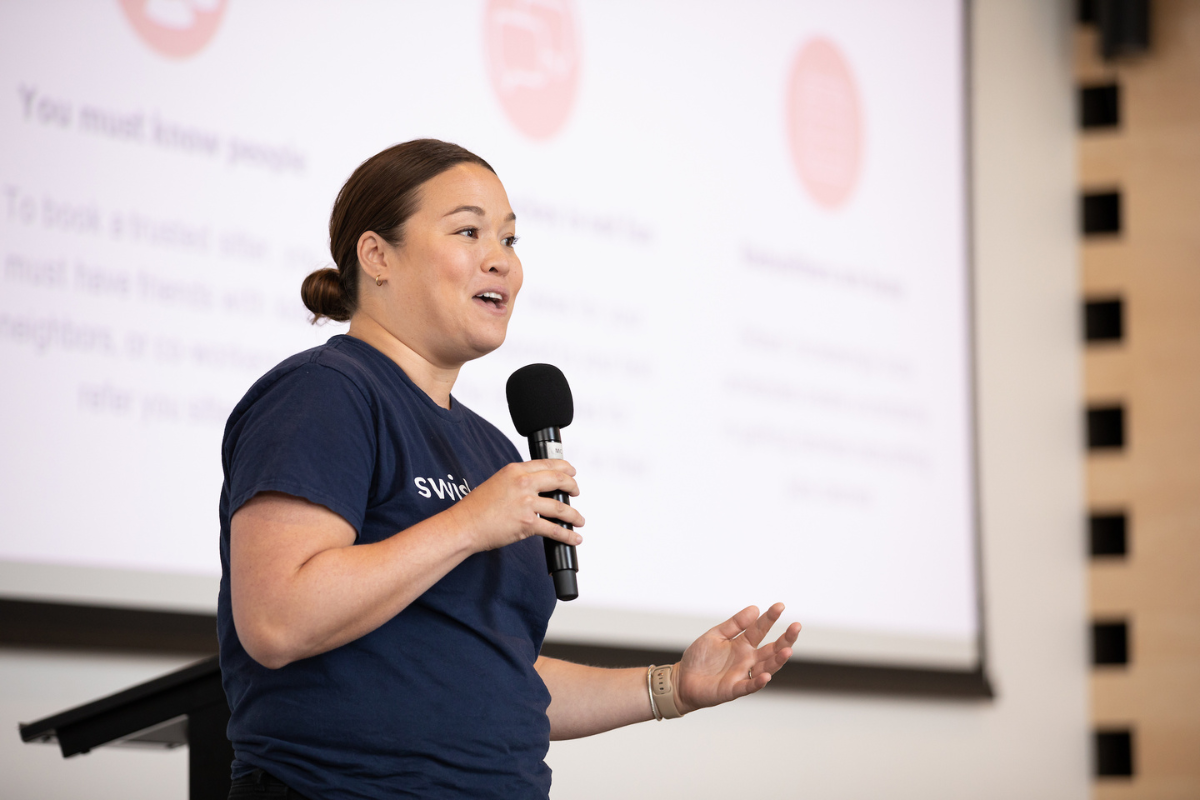 Kellee Mikuls of Swishboom presents at the Minority Small Business Summit Pitch Competition. Photo: A.J. Olnes, University of Nebraska at Omaha
Omaha, Nebraska – Five owners of Omaha-based small businesses competed for a top prize of $10,000 at the second annual Minority Small Business Summit Pitch Competition, an event held at Seventy Five North on Thursday, June 8. They were finalists selected from more than 50 applicants and were asked one question: "How would $10,000 help you transform and grow your company?"
The answers varied as the competitors pitched to a panel of judges. Marketing. Team expansion. New technology. The top prize was awarded to Kellee Mikuls of Swishboom, an app that creates a verified network of babysitters. Families subscribe to the app and get access to a pool of babysitters who have been personally called, social media checked, sex offender registry checked, and referenced checked. Mikuls plans to use the prize winnings to expand their Corporate Partnership platform, a component of the app that allows employers to offer its services as an employee benefit.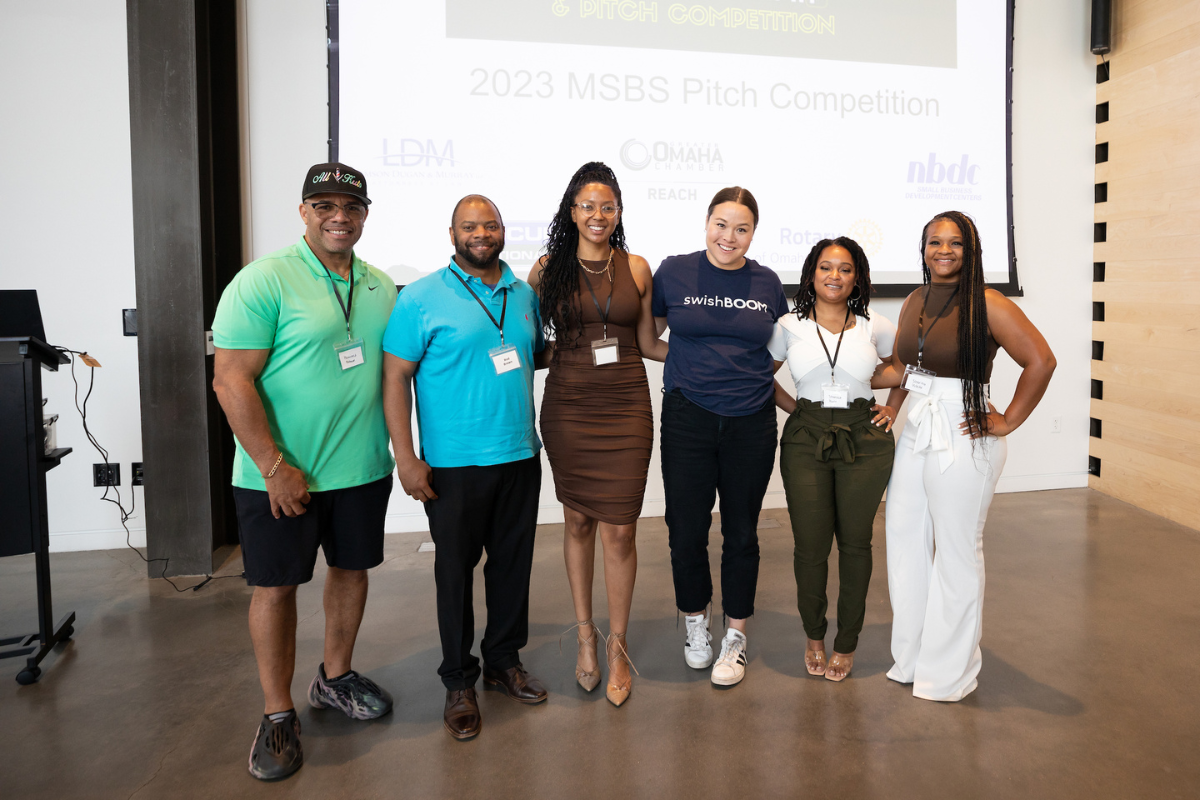 Pitch competition finalists from left to right: Howard Brown, Roderick Brown, Mishala Lewis, Kellee Mikuls, Shanence Hunter, Sherita White. Photo: A.J. Olnes, University of Nebraska at Omaha.
The competition was sponsored by the Omaha West Rotary Club, Nebraska Business Development Center (NBDC), and Greater Omaha Chamber REACH. It was part of a larger conference, the Minority Small Business Summit, which annually brings together minority business owners for a day of learning, networking with other businesses, and engaging with community resources. Tim Burke, interim president and CEO of the Greater Omaha Chamber, presented the keynote. The event is free to attend, and all tickets have been claimed for the past two years.
The conference aims to be part of the solution to bolstering Nebraska's rate of entrepreneurship, especially among minority business owners. Entrepreneurship in Nebraska, a 2022 joint report from NBDC and the Center for Public Affairs Research at the University of Nebraska at Omaha, found that Nebraska has lower rates of entrepreneurship than our neighboring Midwestern states. The report found that one of the key challenges leading to this lower rate was the need to develop a greater talent pipeline of entrepreneurs by increasing opportunities, especially among young and underrepresented persons. According to the U.S. Small Business Administration, racial minorities owned 5.8% of businesses in Nebraska in 2022.
The pitch competition is a direct investment of funding into Nebraska's underrepresented business owners.
"Pitch competitions like the one put on at the Minority Small Business Summit are so important to companies like mine," said Mikuls. "The funds provided are needed, but the energy of being a part of it motivates you to keep building and not give up. My team was there during the pitch, and they were inspired by other entrepreneurs–so the effects of just being in that room have yet to be seen!"
Kiley Phelps is the Omaha center director for NBDC's Small Business Development Center program and was one of the coordinators of the event. "It's an honor to be able to offer this opportunity to business owners. Sometimes you just need a little extra funding to push your business to the next level, and we are grateful to the Omaha West Rotary Club for providing the prize money to help our finalists do just that. This is an investment in Nebraska's economic development, and we were blown away by the quality of the pitches we heard this year."
Second place, which came with a prize of $5,000, was awarded to Sherita White and Shanece Hunter of A Nurse's Touch Staffing Agency who plan to utilize the funds for marketing to expand their staffing services to other states. The other finalists, who each received $1,000, included Mishala Lewis of Mechee, Howard Brown of All Kuts Barbershop, and Roderick Brown of Transporter.