Meet the NCITE Founders, Gina Ligon and Doug Derrick
Gina Ligon, Ph.D.
Read Dr. Ligon's Academic Profile
Gina Ligon remembers when her school van pulled up to the site of a terrorist attack that killed 168 people, 19 of them children. The Oklahoma native was a high school sophomore. And the hollowed-out Alfred P. Murrah Federal Building in Oklahoma City stood before her in 1995 as a stark and shocking reality of how deadly extreme ideologies can be.
It also helped set her course.
Ligon went on to become an organizational psychologist who specializes in how violent extremists form, organize, and act. She has long been involved in counterterrorism studies and NCITE is the culmination of a dream.
As director of NCITE, Dr. Ligon's vision is to build a robust, relevant academic research hub that offers insight to help the national security workers in the field prevent terrorist attacks like the Oklahoma City bombing.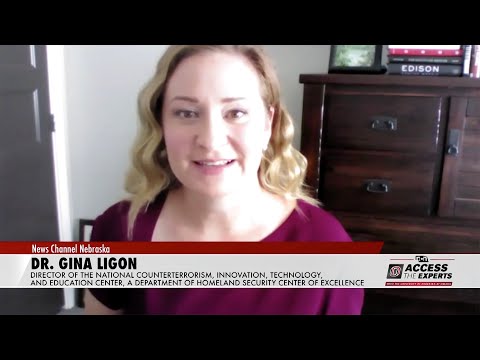 ---
Doug Derrick, Ph.D.
Read Dr. Derrick's Academic Profile
For Doug Derrick, counterterrorism prevention and supporting the Homeland Security Enterprise are not theoretical goals.
He has real-life experience.
First, Derrick, an Alabama native, but hailing from Utah, is a distinguished graduate of the Air Force Academy and served in the U.S. Air Force as an engineer and acquisition officer, separating as a captain. Then he worked in the private sector as a government contractor.
Curiosity and collaboration are deep values for Dr. Derrick, who left the lucrative work of private contracting to become a teacher, researcher, and implementer of new technologies. Derrick leads UNO's Center for Collaboration Science, which searches for best practices in group settings to solve complex problems.
As NCITE Director of Innovation and Transition, Derrick will steer research projects to products to give frontline Homeland Security workers in public and private sectors tools to help prevent terrorism.