Testimonials from Military-Connected Students regarding the Office of Military and Veteran Services
Flower, a former Marine, and Student Veteran recently wrote to OMVS in appreciation of the support she received:
"I just want to share a success story with you. I've been affiliated with OMVS for a while now and cannot say enough positive remarks when referring to the Office of Military and Veteran Services. A couple of months ago I was technically homeless, living out of my car in a rough part of town. I passively presented this to an OMVS staff member and they immediately took charge! Within that week they were able to pinpoint a room, work with UNO housing, and by the next week I was living in the dorms.
They put a past scholarship I was awarded and some hardship funds towards that dorm room making it at no cost for me, being how I did not have any money. I have been in the dorms for roughly a month now and it has been an enormous blessing, so much so that I have applied to an apartment close to work. I have attained work at Offutt Air Force Base and been uprooted and planted on the path to success. This counseling, putting action behind words, and the total dedication have saved a good chunk of my life."
---
Military-Connected Student Recipients of OMVS Scholarships and Assistance
Ian, an Active Duty servicemember majoring in Multidisciplinary Studies with a concentration in psychology, lost his eligibility for in-state tuition during his senior year. The increased cost of tuition was not covered by Ian's military tuition assistance and his non-resident status reduced his eligibility for federal financial aid. With only 6 courses remaining before graduation, Ian's support scholarship covered the balance on his Fall 2020 account allowing him to re-enroll in his final semester at UNO. Ian continues to be on-track to graduate in May 2021.
Francis, a Veteran and graduate student in Business Administration, attempted to return to UNO to further his career with an advanced degree using his VA education benefits. After his first semester as a graduate student, Francis discovered he had run out of benefits to pay for school. The support scholarship was applied to reduce the balance on his account to allow him to reenroll for future terms. OMVS continues to work closely with this student to find an alternative funding source as he plans to re-enroll in future semesters at UNO.
Jesse, a Student Veteran and Marine who ran out of Post-9/11 GI Bill benefits during the Spring 2018 semester, was unaware of other long-term financial resources that would allow him to complete his degree. OMVS staff connected with him during the last week of Fall 2018 when he mentioned that he wouldn't be returning for the Spring 2019 semester. During the conversation, he revealed that he had no way to pay the outstanding balance from the Fall 2018 enrollment, let alone three more semesters to finish his degree. Contributions covered his Fall 2018 balance. OMVS staff also connected Jesse with new benefits and federal financial aid which will contribute to his ability to graduate in December 2019 with a bachelor's degree in journalism and media communication.
Sarah, a military spouse, had an outstanding balance at Metropolitan Community College that prevented her from accessing official transcripts. Due to UNO policy, Sarah would not have been able to continue in her degree program without these final transcripts. Donations funded a support scholarship to pay the outstanding balance at MCC which allowed her to enroll at UNO where she is currently pursuing her bachelor's degree in neuroscience.
Ashley, a child dependent in the process of finishing her final two classes toward her Bachelor of Multidisciplinary Studies degree, lost financial aid eligibility due to age-out policies surrounding the benefit she had been using. She was unable to pay the balance for her summer classes which prevented her from enrolling in her final two courses. Donated funds covered this outstanding balance, while her new employer offered a scholarship to pay for the final credit hours needed to complete her degree.
---
Letters from Military-Connected Student Recipients of OMVS Scholarships and Assistance
To a generous donor,
Thank you so very much for your generous donation! I am extremely grateful that you have provided me with an opportunity to finish my last year at the University of Nebraska at Omaha. I have encountered a difficult time during recent months, and your donation is truly one that will help to ensure that I can finish my degree.
My passion and desire have led me on a path of pursuing a degree in secondary education with an endorsement in social sciences. Without your donation, I not only wouldn't have been able to pursue my passion but also wouldn't have had the opportunity to serve children and the community in the field of education. Words cannot begin to describe how appreciative I am that you have provided me with the opportunity to continue my service to the community after leaving active duty military status. I hope this thank you reflects at least a tiny portion of how much I appreciate what you have done for me. Again, thank you so much for your support.
Very Respectfully,
Jake Bradfield
---
To Anonymous Donors:
My name is Jeff Points and I am currently enrolled at UNO full-time. In January of 2015 I was diagnosed with brain cancer. Although my cancer is now in remission, it has done substantial damage to my nervous system and eyesight, leaving me unable to work since March of 2015 and many times leaving me unable to perform menial tasks that I was once able to do for myself. I came back to school with the intent of obtaining a degree to pursue a career in the medical field as an advocate for patients facing similar hardships that I have faced over the past three years.
In April of this year, I faced one hardship that was very trying. Through no fault of my own, I was forced from my apartment home of four years and given 10 days to find a new residence. The chore of packing an entire apartment and hauling boxes was something that I am just not physically capable of doing. I am unable to drive, so just finding a new home was quite the undertaking. I called many churches, government agencies, and private charities seeking help. I did not need money for a home, I needed help moving and finding a home that was close to my support system. Everyone that I turned to wanted to turn me over to shelters and aid for the homeless. This is not what I needed. I reached out to OMVS at UNO hoping that maybe someone could help. Amazingly, through the generosity of donors and the hard work of the UNO staff in OMVS I was able to hire a mover who was able to help pack everything and move me all on two days' notice!!
I want this short letter to serve as a huge thank you for your generous giving and the hard work of Kirsten and all of the others at UNO. Without the helping hand I received I do not know how I would have managed. I was able to maintain my school work and make the Dean's List for the second straight semester and move without the trauma I thought it was going to be. It is great to know that we as veterans have a support system at UNO that is supported by the school and the public that can aid when we are facing trying situations. I again just want to offer a huge thank you to everyone that helped me and didn't just try to get me to a shelter but get me solutions that kept me independent and in my own home.
Sincerely,
Jeffrey D. Points
US Army
UNO Class of 2020
---
Dear scholarship donors,
I am sincerely honored to have been selected as the recipient of the OMVS Hardship Scholarship. Thank you for your generosity, which has allowed me to find some relief from this financial hardship my family is going through.
As I complete my education at the University of Nebraska Omaha, I am very thankful for receiving your thoughtful donation. Because of this scholarship, it means that my focus can return to my studies and to have a successful semester.
Thank you again for your thoughtful and generous gift.
Sincerely,
Pamela Brodman
Undergraduate of English, Spanish, and French studies
University of Nebraska Omaha
---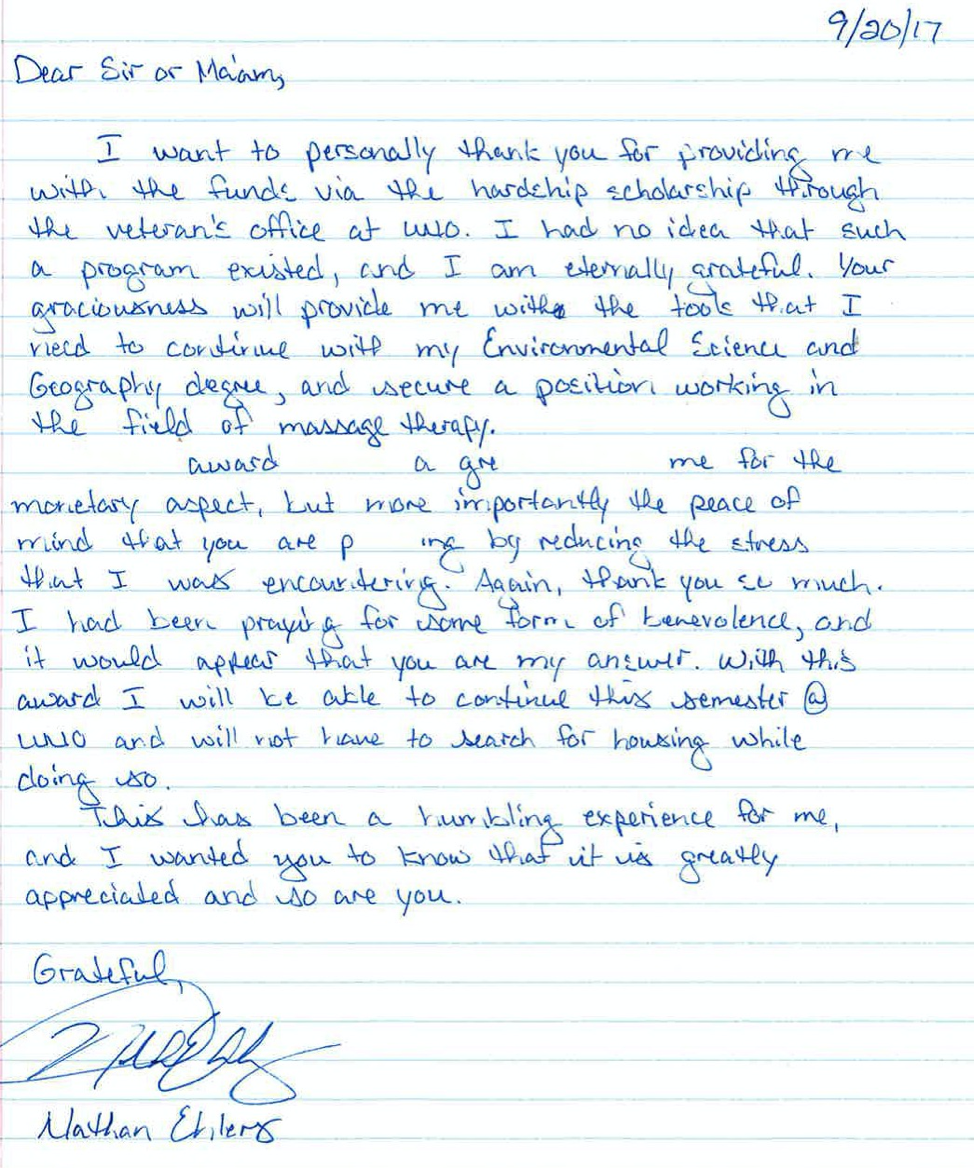 ---
Testimonials from Military-Connected Students regarding the VA Work-Study Program
Kenya entered the Virginia Army National Guard to pay for college and intended to become a Chaplain's Assistant. Unfortunately, she had to cross-train into an Automated Logistics Specialist position and then change units within her first year in the Guard.
When her husband returned from deployment, he received orders which moved them to Kings Bay, Georgia. Kenya believed her previous unit and her new unit in Georgia were coordinating regarding her transition, but unfortunately, this wasn't the case so Kenya was required to go back to Virginia. When she got back to her old command she found out that they were deploying for a year. At this time, she was pregnant and due to give birth in nine weeks. Her commander issued her a hardship separation which ended her career in the Army and ended her dreams of paying for college.
Fast forward several years and Kenya, now a mother of two, started school under the MyCAA program where she obtained her associate's degree in health information technology. With aspirations of becoming a Registered Nurse (RN), she knew that her associate's degree wouldn't be enough to reach her goal.
Her husband was discharged from the Navy with 100% disability from the VA. It was with that rating that she was able to attend school in pursuit of her dream of becoming an RN and the ability to use VA benefits to pay for school.
In the summer of 2017, she received an email from OMVS about a work-study opportunity. Kenya recalled, "They were able to get me on track while working in OMVS as a work-study. Things became a lot easier for me because I didn't have to worry so much about working outside of school because the hours in the office worked around my school and home schedule. The staff cares about my success just as much as I do and that made the management of school and work a much easier process."