UNO and UNMC Collaborate on Program for Chinese Doctors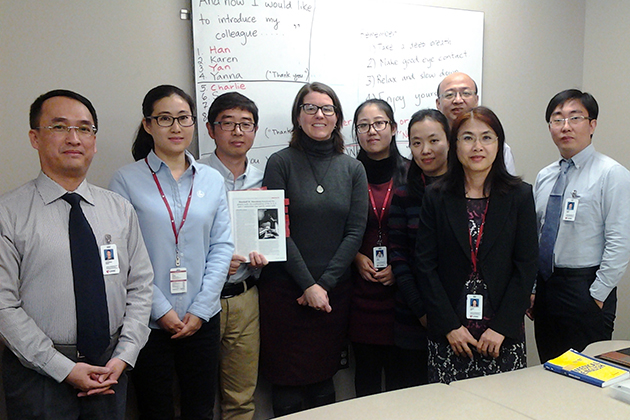 Omaha – A new partnership between the University of Nebraska at Omaha's International Professional Development (IPD) program, University of Nebraska Medical Center, and UneMed is giving Chinese doctors the opportunity improve their English language skills as part of a three-month exchange program.
Two cohorts of eight doctors from Hainan Medical University in Hainan Province, China completed three weeks of customized English language instruction for medical purposes, delivered by UNO's IPD program on the UNMC campus. The medical English courses kick-off the program, enhancing the participants' abilities to conduct research, present findings, and complete other elements of the UNMC exchange program in English.
"We've really enjoyed working with UNeMed on this project because they've let us create a program that meets the needs of each cohort who arrives," said Dr. Sarah Osborn, Director of the IPD program. "The program has been a great success, due in large part to the hard work of the instructor, Eileen Boswell, who has developed exceptional materials to engage the doctors in interactive professional development."
"The program focuses on speaking skills and participation in complex discussions," said Boswell, an ESL Specialist at UNO. "Most of these doctors have never been to the US or had a conversation with a native English speaker prior to the program, so it's amazing to see their skills progress so quickly."
Topics discussed include Zika virus, Ebola, overuse of antibiotics, preparedness for epidemics, and scientific innovation, as well as cultural issues related to medical intervention and doctor-patient relationships. These complex topics require advanced, professional English across all skill groups.
The program culminates with a five-minute persuasive presentation using high-level English conveying crystal clear content.
"I am very proud watching the participants give their final presentations," said Boswell. "They are so happy and astonished at what they have accomplished. It's truly thrilling for all of us."
Dr. Ying Wang, who recently completed the English language component of the program, found the discussions and English pronunciation exercises to be very helpful.
"With Eileen's help, I finished my preparation and presentation successfully," said Wang. "I loved her and the classes very much and would benefit from even more classes to improve my English level."
Osborn is looking forward to continuing the program with additional cohorts from Hainan, as well as partnering with both UNeMed and UNMC to provide similar programs to international scholars and visitors. 
"We will be adapting the existing program into different models that can support the diverse needs of our partners, locally and internationally."
Learn more about International Studies and Programs and the International Professional Development program.