Students Awarded National Study Abroad Scholarship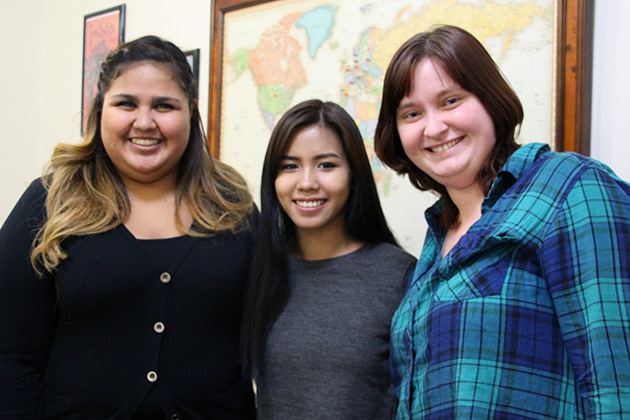 Omaha, Nebraska – Three University of Nebraska at Omaha (UNO) undergraduate students have been selected from a group of thousands to receive a prestigious U.S. Department of State scholarship designed to help them study abroad.
The three students will receive Gilman Scholarships, which are worth up to $5,000 toward a study abroad program in the Spring of 2016. Approximately 800 American undergraduate students from 356 colleges and universities across the U.S. received scholarships.
"I didn't sleep for a whole week after I got the news," said Maria Herrera, a psychology major who will study at Yeungnam University in South Korea. "I have butterflies that won't go away."
Awardee Honey Lian, an international studies major, also plans to attend Yeungnam University.
"I feel really blessed to receive this scholarship and grateful to UNO and everyone that helped me through the process," Lian said. She will study political science, international business and Korean while in South Korea.
"I have butterflies that won't go away."
- Maria Herrera
Another international studies major, Amber Johnson, is looking forward to expanding her understanding of international business first-hand, rather than just studying it in class.
"Travel abroad is part of my career path and this is the first step to accomplishing my goals," Johnson said. She will study in Slovenia at the University of Ljubljana.
The Gilman Scholarship program aims to diversify the students who study and intern abroad and the countries and regions where they go. Students receiving a Federal Pell Grant from two- and four-year institutions who will be studying abroad or participating in a career-oriented international internship for academic credit are eligible to apply. Through the scholarship, recipients have the opportunity to gain a better understanding of other cultures, countries, languages and economies - making them better prepared to assume leadership roles within government and the private sector. 
The scholarship is named after Congressman Benjamin Gilman, who retired in 2002 after serving in the House of Representatives for 30 years and chairing the House Foreign Relations Committee. The Gilman Scholarship program is administered by the Institute of International Education (IIE).
"International education is one of the best tools for developing mutual understanding and building connections between people from different countries," said Allan Goodman, president and CEO of IIE. "It is critical to the success of American diplomacy and business, and the lasting ties that Americans make during their international studies are important to our country in times of conflict as well as times of peace."
Learn more about Education Abroad at UNO.