Clinton Global Initiative Conference
2015/04/14
contact: Charley Reed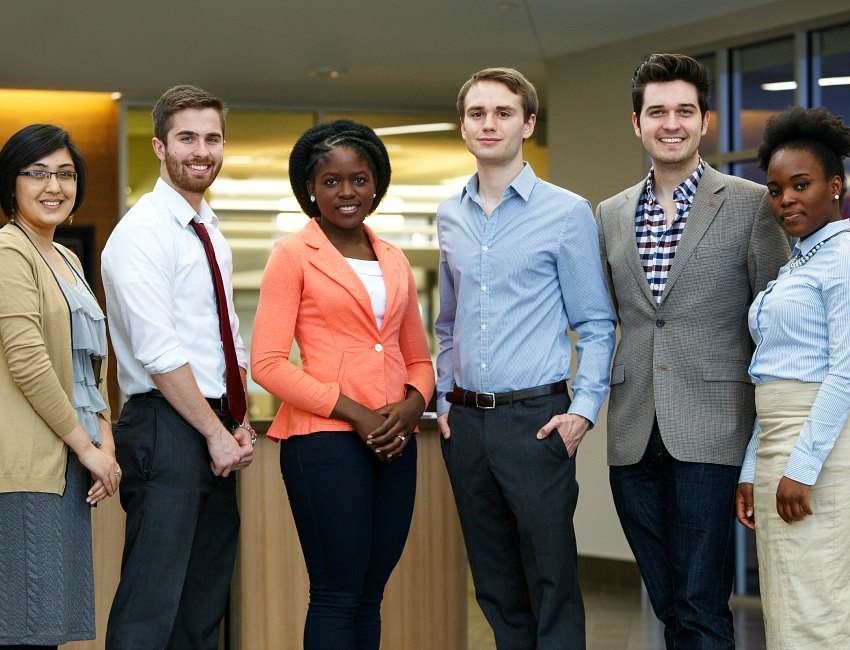 OMAHA – Five students from the University of Nebraska at Omaha (UNO), and one alumna currently at the University of Nebraska Medical Center (UNMC), will join hundreds of their peers from across the world, from Friday, March 6, through Sunday, March 8, to help solve the world's toughest challenges.

As part of the 2015 Clinton Global Initiative University (CGI U) conference, being held on the University of Miami campus in Coral Gables, the six students will present three projects that focus on issues important to them: STEM education, mentorship and animal welfare.

Each of the projects is considered to be a "Commitment to Action," which signifies a proposal for how to address a particular program. At the conference, each group will be able to network with like-minded students as well as organizations of individuals who could provide financial or logistical support for their project.

This is the third year UNO has sent students to the conference, which was founded in 2008 by President Bill Clinton and organized by his daughter, Chelsea.

This year's projects include:

Bring Science Alive
Organized by UNO alumni Larisa Akah and current students Amissabah Johnson and Ryan Nielsen, Bring Science Alive is a an initiative aimed at improving literacy and scholarship, especially in the sciences, in Africa. The project proposes prepackaged science projects that can be used to convey scientific concepts to school children in a part of the world that does not have easy access to materials needed to properly teach scientific concepts.

The initiative is a subgroup of Readingdrive for Africa, a 501(c) organization focused on literacy, which was formed out of the first UNO project sent to CGI U in 2013. 
Saving Street Dogs' Lives
This project is led by UNO student Angeela Shrestha and seeks to start a humane education program in the Nepalese community for school children and adults, to teach them about kind treatment and empathy towards the more than 20,000 street dogs that live in miserable conditions every day in Nepal. The plan calls for visiting different schools in the local community to talk to children about kind treatment to street dogs and also regular weekly camps in public areas with the goal of providing medical care to injured dogs while also raising local awareness in the community to encourage people to bring sick/injured dogs from their neighborhood in for treatment.

Queer Nebraska Youth Network: Professional Leadership Mentoring
Led by UNO students Michael Latta and Anthony Hughes, this project is an expansion of the current Queer Nebraska Youth Network (QNYN) organization, which was founded in 2010 as the only youth-focused peer group for the LGBTQ+ community in Nebraska. With their proposal, Latta and Hughes hope to raise funds to provide for mentorship capabilities within their organization's leadership team.
On Feb. 28, Hughes spoke at the inaugural TEDxUNO event about how to create communities out of disconnected and disenfranchised people. He is also a member of UNO's Honors Program.

In 2013, QNYN founder Drew Heckman spoke at the CGI U conference in St. Louis about his organization and its importance for the state.
Additionally, Bring Science Alive and Queer Nebraska Youth Network were selected to be included in the "CGI U 2015 Exchange," a showcase of projects identified by conference organizers as premier examples in their field.  This opportunity provides the groups more exposure and opportunities to connect with others at the conference.
As part of the conference, students will also have the chance to hear from guest speakers and performers. Some of this year's honored guests include actress and producer America Fererra, Former Norway Prime Minister Go Harlem Brundtland and University of Miami President Donna Shalala. President Bill Clinton, Former Secretary of State Hillary Clinton and Chelsea Clinton will also all be in attendance.

Since the first CGI U meeting, more than 5,500 students have made 4,800 Commitments to Action to address challenges on campus, in local communities, or around the world. Participants span 875 schools, 145 countries, and all 50 states.
In 2014, UNO became the first Nebraska school to join the CGI U Network as one of only 50 member universities from across the world. As part of the network, UNO has pledged to annually commit at least $10,000 in funding to assist students in attending the CGI U conference.

For information about this year's team of students traveling to CGI U, please contact Charley Reed, Associate Director of Media Relations, at 402.554.2129 or unonews@unomaha.edu. 
Contact Us
If you have a story idea, news tip or inquiry please contact:
Emily Krueger, International Programs
ekrueger@unomaha.edu • 402.554.5933