Travel Tips for Studying Abroad
2015/02/02
contact: Austin Gaule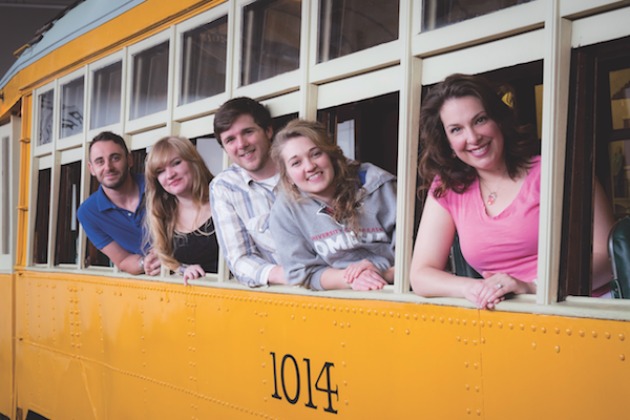 This story originally appeared in the Summer 2014 edition of UNO Magazine
It took one 15-hour plane flight, two taxi rides and a short walk through back streets, but Brandon Hulsebusch finally had reached his new home for the next five months — Himachal Pradesh, India.
"I was truly out my comfort zone for the first time," says Hulsebusch, a UNO student who this June completed a five-month stay in India through the university's study abroad program. "It kind of just hits you like a sack of rocks. I realized I was in the middle of nowhere, on the other side of the world."
And loving every minute of it.
"Other than studying, the main purpose of studying abroad is to expand your horizons," Hulsebusch says. "To test the waters of the world, see who you really are and what you're really capable of."
More and more UNO students are doing the same, leaving the comfort of friends, family and beds to study abroad. During the 2012-2013 academic year, 366 UNO students studied abroad in more than 30 countries. That's up 62 percent from a decade ago.
And more trips are in the works. In March, UNO committed itself to doubling its number of study abroad participants, joining 160 other universities to do so as part of the Institute of International Education Generation Study Abroad initiative. For UNO, the goal is to have close to 600 students studying abroad.
Emily Hassenstab, manager of UNO's Education Abroad and Global Partnerships office, points to numerous benefits to studying abroad. Students can earn credit toward their degrees, for instance. Additionally, graduation and retention rates for students who study abroad are higher than the general student population.
And afterward, that experience abroad just might help students land a job, too.
"All my students come back so mature and ready for life after graduation," Hassenstab says. "They have life skills and life experience. Employers are looking for those types of qualities these days."
Given UNO Magazine's "Planes, Trains & Automobiles" theme, some of those students were asked to share a few of their travel tips.
Cramming into a Cab
Megan Liken  |  Graduate, Political Science, Islamic Studies
Moulay Ismail University, Morocco
Summer 2011
Morocco has a lot to offer for the traveling novice. Public transportation is equally terrifying and hilarious. We took the grand taxi, which essentially follows the rules of a bus, but was, in fact, a taxi. You pay your fare and the taxi drops you off on designated stops. But the driver will not begin en route until the taxi is at its six-person capacity. Which can make for awkward conversation — or no conversation at all. The doors remain locked, the windows remain up, and you are jammed into a car full of people in 100-degree heat.
Climb Onto a Limb
Brandon Hulsebusch  |  Senior, Bioinformatics
Jaypee University, Himachal Pradesh, India
January-June 2014
Though this is a very small portion of your life, it can have one of the biggest impacts. Don't be afraid to say yes, and avoid saying no. This is the time to leave your comfort zone, and the time to really find you. You can't do that by engaging in the same things as you do now, so go out on a limb and take a chance.
Don't Leave Home Without It
Chloe Davidson  |  Senior, Economics and International Business
University of Tartu, Estonia
Spring 2013
During my semester in Tartu, Estonia, my friend and I traveled to Vilnius, Lithuania. My residence permit ID card was enough to get there, but to get back I needed my passport —which I left in Estonia — to board the bus. After being turned away by four bus drivers, I tried to hitchhike out of the city. Four rides later, at the outskirts of Vilnius, my Estonian friend called me and had made arrangements for me to ride with his friend back to Tartu the next day. I stayed the night in Vilnius, then had an enjoyable ride with good company back to Tartu the next day.
Channel Your Thoughts
Niki Holzapfel  |  Senior, Master of Arts in English
Oxford
Spring of 2013
Upon arriving in Brighton, England, "the city by the sea," on a cold and dreary day in March, our tour guide led us to a vacant seafront. My inner mermaid was so delighted that I ran to the edge of the tide, forgetting it would crash onto the shore. When the water started approaching, I ran to escape the tide. But I slipped and fell. Fully clothed, with camera in hand, I felt the English Channel's crashing tide soak my clothes. I sloshed around Brighton the rest of the day with waterlogged boots and a ruined camera whose pictures now looked like impressionistic paintings. In short, be wary of large bodies of water when touring a new place, and more generally, be aware of your surroundings.
Beware Crowded Buses
Natalie Christiansen  |  Senior, Spanish and Pre-Nursing
Lima, Peru
Fall 2012
I was riding the bus listening to my iPod, but I assured that it was tightly tucked away in my backpack and on my lap as I had been warned of frequent pickpocketing. Suddenly, the man behind me tapped me on my back and apologized for accidentally vomiting on my shoulder (which actually happened). Grossed out but still trying to be friendly, I told him it was OK and started to take off my sweater. He handed me some tissue and proceeded to get off the bus. When I got everything situated again, I realized the headphones in my ear weren't playing any music anymore. Gone was my iPod — along with my dignity — as I soon learned the man had pulled "one of the oldest tricks in the book."
Get Out of Your Element
Zach Griffith  |  Senior, Finance, Accounting
Bendigo, Australia
Mumbai & Jalgaon India
Summer 2013
Kangaroos, beaches and 'No Worries,' or Humidity, Rain and Poverty?  My abroad experiences in 2013 were polar opposites. Initially, I thought the first option would appeal to me more. But I learned more in the three weeks I spent on a faculty-led trip to Mumbai and Jalgaon, India, than the four months I spent in Bendigo, Australia. Don't get me wrong, both were amazing opportunities that I learned a great deal from, but India was the true challenge I was seeking. I was so far out of my element, that I was forced to adapt in a short amount of time. From the food, traditions and overall quality of life, I was taken in by a whole new world that changed me into a better person as a whole.
Study Ahead
Michael Blakely  |  Senior, Marketing, International Business
Rome, Paris
Summer 2012
From my experiences, the first day is always the most difficult when arriving in a new country. Typically you are tired, disoriented and anxious upon landing. I highly recommend buying a guidebook for the city you are traveling to and studying it well before you leave. This will give you a chance to study a map in order to get oriented with how the city is situated and where your hotel is. You should have a plan on how you are planning to get to your hotel and once there, always carry one of their business cards with you for taxicab reference.
Odds and Ends
Emily Hassenstab
Manager, Education Abroad and Global Partnerships
Only pack what you can carry comfortably — comfortably being the key word.
Do your research, but expect the unexpected. International travel forces you to adapt to new circumstances and out of your comfort zone, so go with the flow and enjoy it!
Open yourself to new experiences and you will learn something every time. I can't say you won't regret it — you may — but I can promise that you will learn from it.
Related Links