Six Continents & the Top of the World
2015/02/01
contact: Kevin Warneke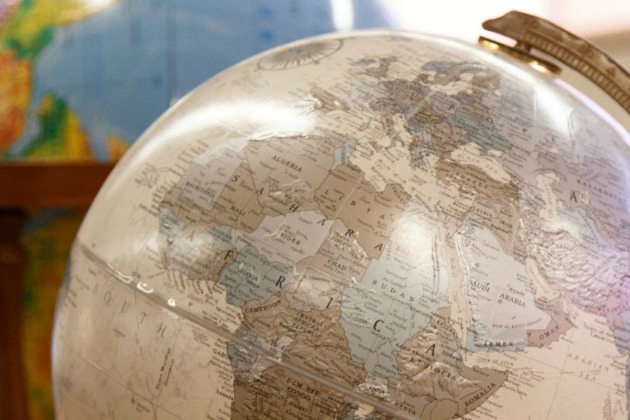 This story originally appeared in the Summer 2010 edition of UNO Magazine
Dr. Harmon Maher doesn't need much prodding to talk about UNO's reach throughout the world.
Maher first mentions the Center for Afghanistan Studies, then quickly talks about agreements the university has with peers in Norway, Germany and Austria.
"We truly do have a broard spectrum of faculty who are involved in international endeavors," says Maher, who is serving as interim associate vice chancellor for research and creativity activity. "I could go on."
So he does: joint research projects with a university in Russia; service-learning in South Africa; longstanding relationships between the College of Business and a university in Moldova; the College of Information Science & Technology's relationships with peer institutions in India.
"Linking Omaha as a community and UNO as a university to the rest of the world is our mission," he says.
Research and service-learning projects have taken UNO faculty and students to six of the seven continents — and to an Arctic island near the top of the world.
UNO's presence is absent only in Antarctica. Any takers?
AFRICA
The man was dying of AIDS. His physician said so.
Aundrea Hansen, who last year spent five months studying and working in Stellenbosch, South Africa, noticed the man as both waited in an emergency room waiting area. The man was so weak he wasn't able to hold his drink.
Hansen, an international studies major from Lincoln, later learned that the man forfeited his right to additional medical assistance by not following the guidelines set for his care.
Hansen spent her time in South Africa taking classes at Stellenbosch University and working at an AIDS clinic. At the clinic, she took urine samples and blood pressure readings, and sat in on counseling sessions.
Hansen, who plans to attend medical school and someday work for Doctors Beyond Borders, has returned to classes at UNO and is helping coordinate World AIDS Day 2010.
But the memories of time spent in the ER with a friend who had cut her foot remain most vivid. She came away with a better understanding of how health-care systems differ among countries.
She also came to realize that South Africa's approach to AIDS care is not that different from the approach in the United States.
"Our government could do so much more," she says.
NORTH AMERICA
Dr. Timi Barone's fascination with sleep began during a conversation about the connection between stress and how long people think it takes for them to nod off.
The intrigue continued as she explored why siestas are practiced in some countries, but not in others. She discovered that the popularity of siestas is not tied to climate, hard work or eating habits, but with health. Countries with more serious health issues were more likely to have its citizens take siestas.
Now, the associate professor of anthropology's focus is on the sleeping habits of college students, particularly those at UNO.
She knows that a temporary lack of sleep can lead to health problems, including the possibility of Type 2 diabetes. What happens to students who routinely receive less sleep? She aims to discover.
So she's asking UNO students to wear actigraphs while they sleep. The oversized wristwatches measure sleep patterns. "Everyone wakes up very briefly during the phases of their sleep. Most people don't remember."
Preliminary results indicate UNO students sleep less than U.S. adults. She understands that students face the pressures of work, class and study. Something must give, she says.
"They may be trading part of their health to get an education," Barone says. "I don't know that for sure, but it is my concern."
SOUTH AMERICA
There's something in the water in Medellin, Colombia. Dr. Alan Kolok hopes to find out if it's dangerous.
The professor of biology recently received a grant from the National Science Foundation to study the water that is carried in the runoff from
banana plantations and gold mines in Colombia. The waters near the banana plants might contain fungicides, he says, while the waters near the gold mines could contain mercury, used in the extraction process to separate gold from other minerals.
For every ounce of gold that is extracted in the mines, Kolok says, three ounces of mercury is used. "Very likely, it's getting into the fish," he says. Which means that mercury in fish may be going to market, headed for human consumption.
Kolok, who holds a joint appointment with the College of Public Health at the University of Nebraska Medical Center, first learned about the potential health hazard during a meeting with a contingency of officials from Colombia several years ago. They invited Kolok to visit their country.
Through a process called biomonitoring and focusing on guppies, Kolok and two students will determine the amount of mercury that is entering into the water near the mines. Their task: "Is this a serious, significant route of contamination of mercury into the food supply? If so, what can we do about it?"
ASIA
Dr. Peter Szto witnessed the largest mass migration in human history.
The movement started in the early 1980s in rural China and accelerated more than a decade later as the country experienced economic reforms. Economic zones sprouted, especially in the south — and the Chinese went seeking jobs and a better life.
Szto, an associate professor of social work, documented the survival strategies used by hundreds of millions of Chinese as they migrated from rural to urban China. "Some people got into factories and got good jobs. Some didn't. Some are beggars, some are entrepreneurs."
Szto, who came to UNO in 2004, photographed these migrant populations in the streets of Ghangzhou, known in the West as Canton. Through his work, he documented the social effects of major economic policy as China converted from a state-controlled economy to free enterprise.
Forty of the 1,200 photographs he took are on display in the College of Public Affairs Building at UNO. His exhibit previously was on display in UNO's Weber Art Gallery.
For an example of a mass migration in the United States, Szto cites the movement from farms to factories in the early 20th century. But that was a trickle compared to the 150 to 200 million people who comprised the floating populations in China.
Szto likes two photographs from the exhibit best for illustrating contrasts — joy and despair — that he encountered during his study. One shows two men dancing. The other shows a man begging for money to pay for medical treatment for his sick son.
"I tried to capture their human dignity," he says.
EUROPE
Dr. Jukka Savolainen figures there are lessons to be learned from how European countries have responded to violence and teenage drinking.
The assumption, says Savolainen, is that the more teens drink, the more likely they are to become violent. Not necessarily so, the associate professor of criminology says. Rather, violence is more influenced by the "drinking culture" of a country.
In countries such as Spain and France, which Savolainen describes as "wine cultures," youths drink, but do so with adult supervision and in a controlled manner.
"I don't see a strong effect between drinking and violence."
Not so in northern and eastern European countries, which he describes as beer or vodka cultures. Because of this, dictating one type of policy regarding alcohol consumption among all teens in European countries isn't practical, Savolainen says.
And that might have implications closer to home. U.S. university presidents — as they try to create safe environments on their campuses — might want to take notice. But Savolainen cautions: "Culture doesn't happen overnight. We can't just pretend we're Mediterranean because we change the rules."
Savolainen also is studying how Finland and the United State respond to crime and criminals. Finland is one of the few European countries that have embraced shorter prison terms for criminals, he says.
The obvious question, he says: Do those who receive shorter prison terms return to crime after their release?
"Do they take advantage of that coddling?" he asks. "I tend to find no cost in terms of public safety."
AUSTRALIA
It's not the flames and heat that sparked Dr. Tom Bragg's interest in fire. He's more intrigued with what happens after fires have been extinguished.
For years, Bragg has traveled to western Australia to study the aftermath of fires in the country's desolate regions. His task is to study how quickly vegetation returns. "After fires burn, what kinds of plants come back and how long does it take," Braggs asks.
Bragg is especially interested in the mulga tree and its regeneration after fire.
Back in the day, Australia's aborigines started fires in these areas. Now, fires in the region are started by lightning and burn wildly.
"The culture of burning changed," Bragg says.
The professor of biology's work coincides with another movement in Australia: to reintroduce mid-size mammals — including the northern bettong and the bilby — which have been nearly eliminated from their natural habitat by domestic cats and foxes that roam the area.
As these marsupials are reintroduced, they need vegetation for food and a place to hide. And they need the right kind of vegetation, Bragg says.
"Every thing needs a place to live."
ARCTIC CIRCLE
For Dr. Harmon Maher, Spitsbergen is a special place.
Nearly 20 times during the past 30 years he's traveled to Spitsbergen, the largest of the Svalbard islands and a place he fondly refers to as near the "top of the world." There, Maher studies the architecture of mountains or, basically, how they grow.
He's especially interested in how sentiments accumulate. The professor of geology said he's finishing a project that is examining a place where the earth pulled apart. Sentiment accumulates and caves form.
The point is to study how fluids — water, oils and gases — move through these formations. This work has implications for the petroleum industry, he says.
Spitsbergen also is special because a corner of the Barents Shelf is exposed there. "If you want to understand what's underneath the water above the exposed area of the Barents Shelf," he says, "Spitsbergen is a good place to start. To get a better understanding, you want to see and touch rock. You can do that in Spitsbergen."
Whenever Maher visits Spitsbergen, which is about 600 miles from the North Pole, he sees some familiar faces — researchers from Russia, Poland, Iran, England, Italy and the Netherlands.
"It's truly a place where scientists from around the world meet."