Enacting Global Change Through Education Abroad
2015/02/02
contact: Travis Wood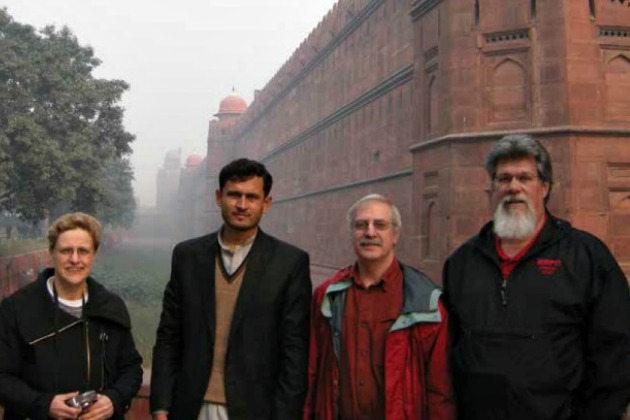 This story previously appeard in the Spring 2014 edition of Comm UNO.
When faculty from the College of Communication, Fine Arts and Media's (CFAM) School of Communication received a grant to work in-person with faculty from Afghanistan, they knew it was an opportunity to make an impact on international educators and their students.
 
What they may not have realized was how much the experience would leave an impact on them.
 
The project was made possible by a grant from the U.S. State Department. Five Afghan universities and four American universities participated in the four-year initiative.
 
The University of Nebraska Omaha (UNO)'s involvement was specifically to work with Kabul University to help its faculty revise and perhaps improve its journalism program. Many of the Afghan professors had previously visited UNO.
 
Professor Chris Allen was one of five UNO Communication faculty members who, along with a representative from UNO's Center for Afghanistan Studies, traveled to Delhi, India — a central meeting place for the participating universities — to work with the Kabul faculty.
 
Allen's first trip was in December 2010 to conduct an initial needs assessment. He returned in April 2013. That August, he was joined by colleagues from the other U.S. universities involved in the grant.
 
The UNO contingent went as a team to Dehli in December 2013.
 
Early on, the UNO faculty knew their challenge wasn't in teaching the Afghans about journalism, but rather how to teach it, says Allen.
 
"Some of the Kabul University faculty have been teaching for 30 years," he says. "They know the subject of journalism and mass communication, so we didn't have to work with them on that, but they did want to really improve their teaching skills."
 
The UNO group presented a variety of skills to Kabul professors, including how to write a syllabus. They taught different teaching styles and learning styles, as well as the concept of teacher-student interaction.
 
"They've never, in their own education, had the example of teachers and students engaging in discussion, or even the teacher just wandering around the classroom," Allen says.
 
Professor Hugh Reilly gave presentations on public relations and advertising. UNO faculty also helped make arrangements to translate five textbooks from English to Dari, including ones on public relations, TV news, investigative reporting, and publication design.
 
The Afghan faculty struggle with out-of-date facilities and unreliable electricity and Internet connections. Many professors also have to take additional jobs because the university doesn't pay them enough to support their families. 
 
Despite a lack of resources and an often-tumultuous social and political environment, the Afghan professors remain dedicated to being journalists and preparing the next generation for the profession.
 
"We learned so much from them," Allen says. "We take for granted what press freedom is. They face danger every day if they try to uncover corruption or name names or ferret out improprieties.
 
"For us to hear those stories really puts it back in perspective to take it to the classroom and say [to UNO students], 'You guys don't know how important this really is.'"
Our Campus. Otherwise Known as Omaha.
The University of Nebraska does not discriminate based on race, color, ethnicity, national origin, sex, pregnancy, sexual orientation, gender identity, religion, disability, age, genetic information, veteran status, marital status, and/or political affiliation in its programs, activities, or employment. Learn more about Equity, Access and Diversity.
scroll to top of page