IPD Mentoring Program Connects International Trainees with Local Leaders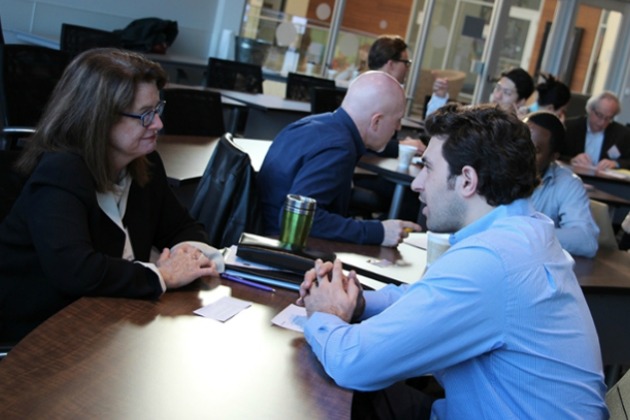 Omaha, Nebraska – The newest group of trainees from the International Professional Development (IPD) program gathered at the Community Engagement Center early on January 16th to meet professional leaders from throughout Omaha as part of the IPD Mentoring Program. The IPD program participants are in Omaha studying Business English and Professional Development from across the globe, including Japan, Syria, Burkina Faso, and China.
Protégés are matched one-to-one with mentors who have years of work experience and a desire to learn about other cultures. Over seven weeks, the mentors meet with their protégés at least four times to participate in conversational English, experience American culture, and to learn more about business practices in the United States.
"The IPD Mentors are some of the most thoughtful, giving professionals that create a profound bond with their Protégés and truly care about their well-being and growth," said Stephen Houston, Leadership Communications Instructor for the IPD program.
The IPD mentoring program is designed to drive results for each protégé in a customized manner outside the classroom.  The Mentoring Program allows the Protégé to put into practice content they are learning from their IPD program. Each participant is matched with an experienced mentor for personalized coaching, cultural experiences, and English conversation practice.
"Both sides need to be flexible and go with each other," shared Dan McMaster, a five-year volunteer with the IPD program and current mentor. "There's always a good conversation and a lot that comes out of it."
The program benefits protégés by bringing clarity to the specific jobs skills they need, building confidence by taking risks, and becoming communicators in an environment of trust, boosting their English language delivery skills.
"The enormous growth in each protégés' competencies and confidence that show up in living color on the final week of the IPD program," is a highlight of the entire IPD program, said Houston.