ILUNO Service Learning Lends a Helping Hand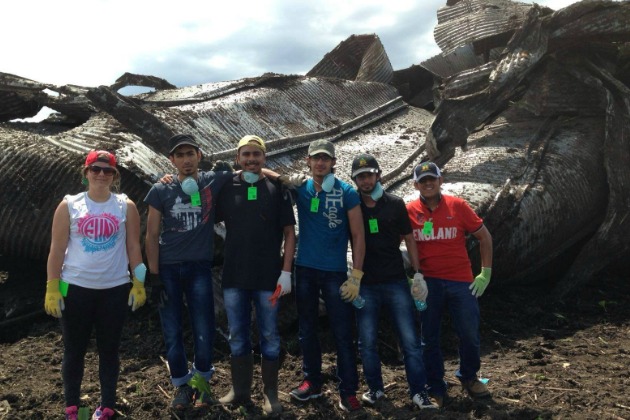 Omaha, Nebraska – Service learning is more than a buzz word in the ILUNO Intensive English Program at UNO, it has been an integral component of the program for over three years. A favorite elective course of international students studying English as a Second Language through ILUNO, Service Learning gives students the opportunity to make a difference in the Omaha community while improving their conversational English skills.
One of the regular service opportunities in the course is a visit to the Food Bank for the Heartland, where students fill backpacks for school children through the Backpack Program. The learning doesn't start and stop with the work at the Food Bank, it is integrated into the curriculum of the course.
"Our students learn about hunger issues before going and afterwards they write about what they did," explains Stephanie Lynam, an instructor for the Service Learning course.
Many students are surprised to learn that there are hunger issues in the community.
"It makes them feel good that, in such a short amount of time, they can provide nutritious food for kids."
Along with regular service projects at the Food Bank and the Open Door Mission, the class also adds additional opportunities for volunteer work based on community need. Following the twin tornadoes that hit Pilger, Nebraska on June 16, 2014, two groups of students assisted with the cleanup efforts, a very physical endeavor.
"Demolition was the most difficult thing, preparing the buildings for demolition. There's not much of a town there anymore," said Lynam. "They learned so much from going to Pilger."
Beyond the labor itself, students learned about weather in the Midwest, life in rural towns, and the language nuances specific to the area.
In the coming months, the Service Learning students will partner with high school Biology students from Omaha Northwest High School, with projects focusing on food and hunger issues through urban gardening, followed by a butterfly project. The goal is to create a sustained relationship with the high school, giving the students an opportunity to form relationships with local students and witness the long term impact of their work.
"When the students go, usually they're nervous, because it's something new. But by the time they're finished, they have so much more confidence."