What is a Digital Badge?
Digital badges a type of microcredential – one that has been gaining more attention. Badgr is the official digital badging platform for the University of Nebraska system. All badges issued by UNO, whether co-curricular, for-credit or non-credit, follow current best practices including the Open Badging standards and NU/UNO brand guidelines.
---
What are Open Badges?
Open Badges standards ensures that digital badges are verifiable, portable, and clearly articulate the skills and achievements acquired by the learner.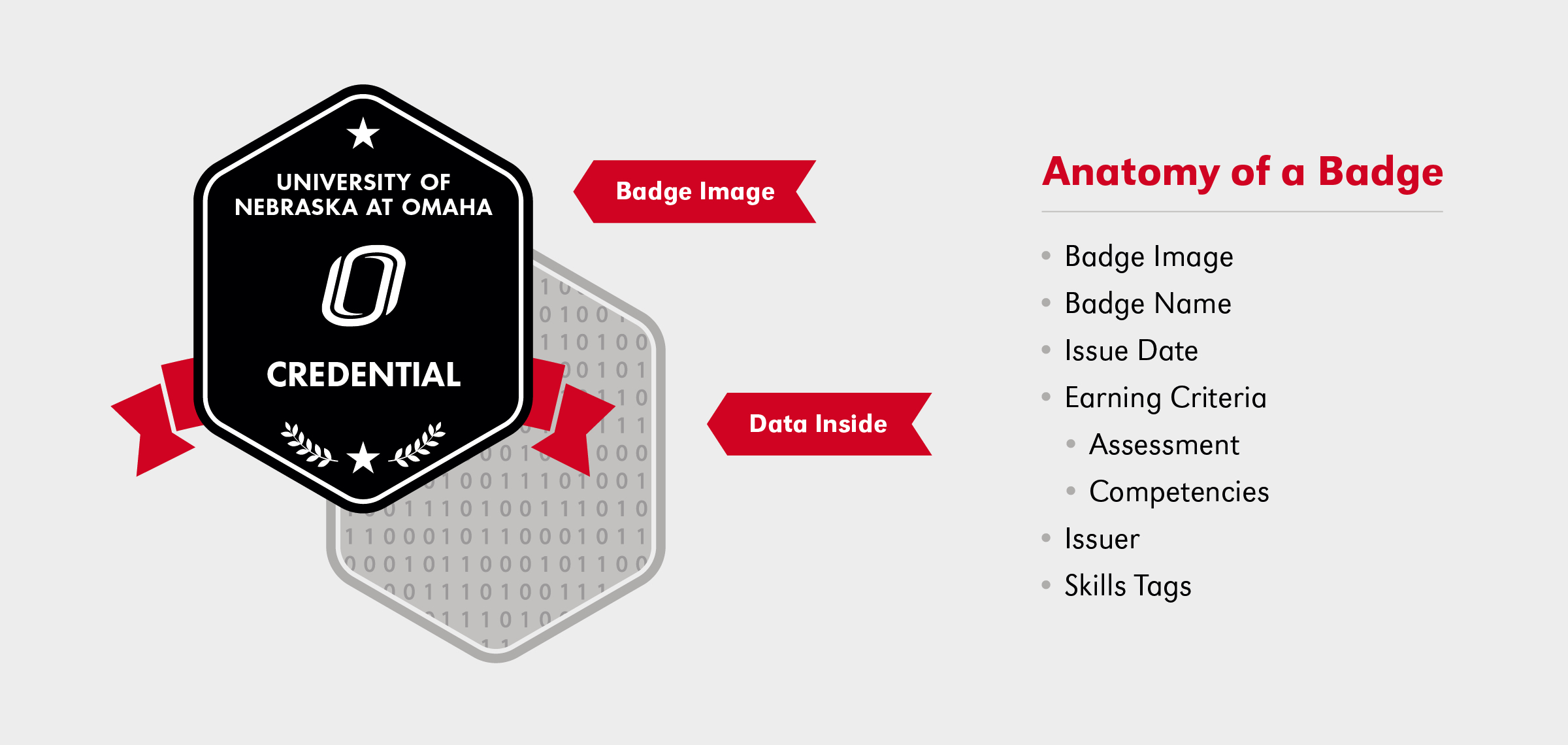 ---
How are institutions, like UNO, using Digital Badges?
A part of the larger credentialing system, digital badges indicate skills or accomplishments that can be displayed online (via social media and electronic résumés), easily accessed by the learner (by logging into their badging "backpack"), and verified (by clicking on the badge one can access the meta-data stored on the badging platform).
Examples of how digital badges have been used in higher education include, but not limited to:
A credential awarded upon successful completion of a noncredit program focused on upskilling/reskilling
Embedded into credit-bearing coursework to signify skills obtained
As part of a credit-bearing program to bridge academic Student Learning Outcomes (SLOs) and workplace Knowledge, Skills, and Abilities (KSAs)
To support student persistence and retention by gamifying co-curricular activities
Co-branded with industry and community partners to strengthen co-learning partnerships
How do I request a Digital Badge for my course or program?
The digital badging ecosystem and taxonomy will continue to evolve in response to program and learner needs. ILCI works in conjunction with the University of Nebraska and the University of Nebraska at Omaha to ensure that badging artwork aligns with established brand standards.
If you're interested in incorporating digital badging into noncredit, credit, and/or co-curricular programming, contact us. We can help you in identifying which digital badge is right for you based on your target audience and program type. We will also support you in crafting the meta-data, identifying the earning criteria (the assessment that demonstrates competencies have been met), and process for badging issuance.