TurnItIn checks for similarity between the student submitted assignment and other sources such as website, books, articles, and their own database of previously submitted papers.
Below is a list of 10 Types of Plagiarism Ordered from Most to Least Severe; taken from the White Paper, The Plagiarism Spectrum from TurnItIn.
CLONE: An act of submitting another's work, word-for-word, as one's own.
CTRL-C: A written piece that contains significant portions of text from a single source without alterations.
FIND–REPLACE: The act of changing key words and phrases but retaining the essential content of the source in a paper.
REMIX: An act of paraphrasing from other sources and making the content t together seamlessly.
RECYCLE: The act of borrowing generously from one's own previous work without citation; To self plagiarize.
HYBRID: The act of combining perfectly cited sources with copied passages—without citation—in one paper.
MASHUP: A paper that represents a mix of copied material from several different sources without proper citation.
404 ERROR: A written piece that includes citations to non-existent or inaccurate information about sources
AGGREGATOR: The "Aggregator" includes proper citation, but the paper contains almost no original work.
RE-TWEET: This paper includes proper citation, but relies too closely on the text's original wording and/or structure.
---
How to Access Turnitin
Login to Canvas and navigate to the course where you want to create an Assignment using Turnitin.
Select the Assignment option.
---
Primary Way to use Turnitin via the Canvas Assignment (Plagiarism Framework)
Using the following method to access Turnitin allows the use of rubrics created in Canvas and grading is completed using the Canvas SpeedGrader.

Setting up a Canvas Assignment using Turnitin (video)
Setting up a Canvas Assignment using Turnitin
Grading a Turnitin Assignment (video)
Turnitin Settings – There is a Save the Defaults option for easier set up on the next assignment.
Accessing the Similarity Report – Access through the SpeedGrader in Canvas
Interpreting the Similarity Report
Generating a new Similarity Report – Use when you have reason to believe that something new has been added to the database, as your previous similarity report will be overwritten.
Filtering the Similarity Report - Excluding quotes and bibliography
Excluding Sources - Excluding sources via match overview
File Types and File Sizes
Accessibility
Paper View Requests
---
Second Way to use Turnitin using the External Tool Set Up
Another way to use Turnitin within Canvas Assignment is using the External Tool. This option does not allow use of rubrics already created in Canvas and you will use a grading system built into Turnitin that passes grades back into Canvas grade book.
To use rubrics with this method Turnitin has a feature to create rubrics. There is no way to move rubrics back and forth between Canvas and Turnitin.

Creating a Turnitin Legacy Assignment in Canvas
Assignment Settings
Creating Rubrics in Assignment Settings
The Assignment Inbox
Downloading Papers and Reports
Grading Tools
Quick Marker (reuse comments in multiple assignments)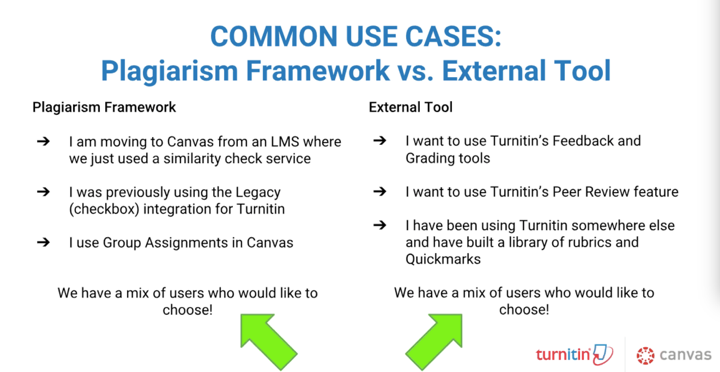 ---
Third Way Check a Paper with Quick Submit Outside of Canvas
There are three unique steps involved to create a submission to Turnitin outside of Canvas.

Step 1
If you have never created a Turnitin Assignment in Canvas you will need to do this first. Use a development course to create this assignment. Turnitin uses this as a means to recognize who you are to complete Step 2 and not ask for a payment.
Step 2
Setting up an account with Turnitin.
Go to https://www.turnitin.com
Click the Log in link in the upper right corner
Click the Forgot Password link
On the next page make sure to enter your unomaha.edu email address and last name. You will be emailed a link to set a new password. This password will only be for Turnitin and is independent of your UNO passwords.
Log in to Turnitin (https://www.turnitin.com) and use Quick Submit to check papers outside of Canvas.
Step 3
Quick Submit These instructions explains how to submit one paper and receive a similarity report.
---
UNO Policies/Resources
The following links will assist in adding plagiarism information to your syllabi and other resources to share with your students.

UNO Plagiarism Statement
UNO Academic Integrity Policy
UNO Writing Center Student Resources – Has a variety of helpful information on plagiarism as well as other writing guidelines.
UNO Online Faculty Resources for Writing Assignments
---
Ideas about Incorporating Turnitin Within Course
Designing Activities and Assignments to Discourage Plagiarism
Designing Assignments to Encourage Integrity
Plagiarism and Assignments That Discourage It
---
Research on Using Plagiarism Checkers in Course Work
Google Scholar Plagiarism Detection Software
Google Scholar Plagiarism Detection and Prevention
Google Scholar Turnitin Plagiarism Detection Software
---
How to Get More Help
Turnitin Higher Ed Resource Page
Turnitin Support Page
through Canvas – Click on Resources Tab
Plagiarism.org
– Blog sponsored by Turnitin
Turnitin Status Page
helps identify if the Turnitin servers are having issues as well as up to date information on the product.
Students who are completing Turnitin assignments can reach out to the UNO Technical Support Desk at
402.554.4357
or
unohelpdesk@nebraska.edu
.
The UNO Digital Learning Instructional Designer team provides various training opportunities which can be browsed at
https://UNODigitalLearning.eventbrite.com
. You can contact Instructional Designers individually for assistance.