What is changing?
All users with access to sensitive information in 

NeBIS (SAP, Firefly) and NeSIS (PeopleSoft)

have been enrolled in TrueYou DUO
TrueYou password expiration will be removed for all TrueYou users
Password settings for the UNK/UNL/UNO campuses will be brought into alignment
TrueYou and Campus Passwords will be set at the same time at UNK/UNL/UNO

*State Colleges and UNMC campus accounts will not have a change occur at this time & will remain separate from their TrueYou credentials*
How does this change affect me?
Password expiration requirements for TrueYou DUO Users will no longer be enforced.
ITS will also begin synchronizing TrueYou and Campus Passwords at UNK/UNL/UNO

Users will only have one password to remember
This updated password will follow new security rules
Will I have to reset my passwords to access systems?
You will not need to do anything on March 24th. Your passwords will sync the next time you set a password at trueyou.nebraska.edu
Will I be able to set my passwords to my current password?
All password history will be removed during this transition so that you can get your passwords in sync.
Campus Credential Examples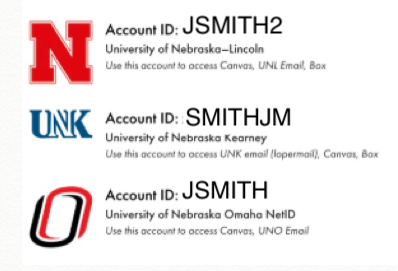 New Password Requirements
Passwords must be 10 characters in length
3 of the following rules must be met:

Upper case (e.g. A)
Lower case (e.g. a)
Number (e.g. 1)
Special Character (e.g. @)

Dictionary check against commonly used passwords
Top