International Student Placement Exams
International Student Placement Exams
 EPPE (English Placement and Proficiency Exam) for International Students
The English Placement and Proficiency Exam (EPPE), a 90 minute timed essay, may be required for international students and those who are required to show English proficiency for admittance, including some applying for graduate programs. Contact your UNO academic advisor to determine if the EPPE is required for you. You may take the EPPE twice in a calendar year. A third attempt will not be graded
To place into ENGL 1090 without taking the EPPE, you need to meet one of the following criteria   

Paper TOEFL: A score of 500 or higher
Internet TOEFL: A score of 61 or higher
IELTS: A score of 6.0 or higher
PTE (Pearson Test of English): A score of 44

If you want to place higher than ENGL 1090, you will need to take the EPPE.
Certain students may be exempt from taking the EPPE. Check with your UNO Academic Advisor: Students with composition credit deemed equivalent to UNO's ENGL-1150 and/or ENGL-1160.
Register for the EPPE
Enter MavLINK
Click on Academics
Under Academics Click on Register for Exams
On the Test Registration Management page
Under My Pending Tests
Click on the Click Here to Register for Exams Bar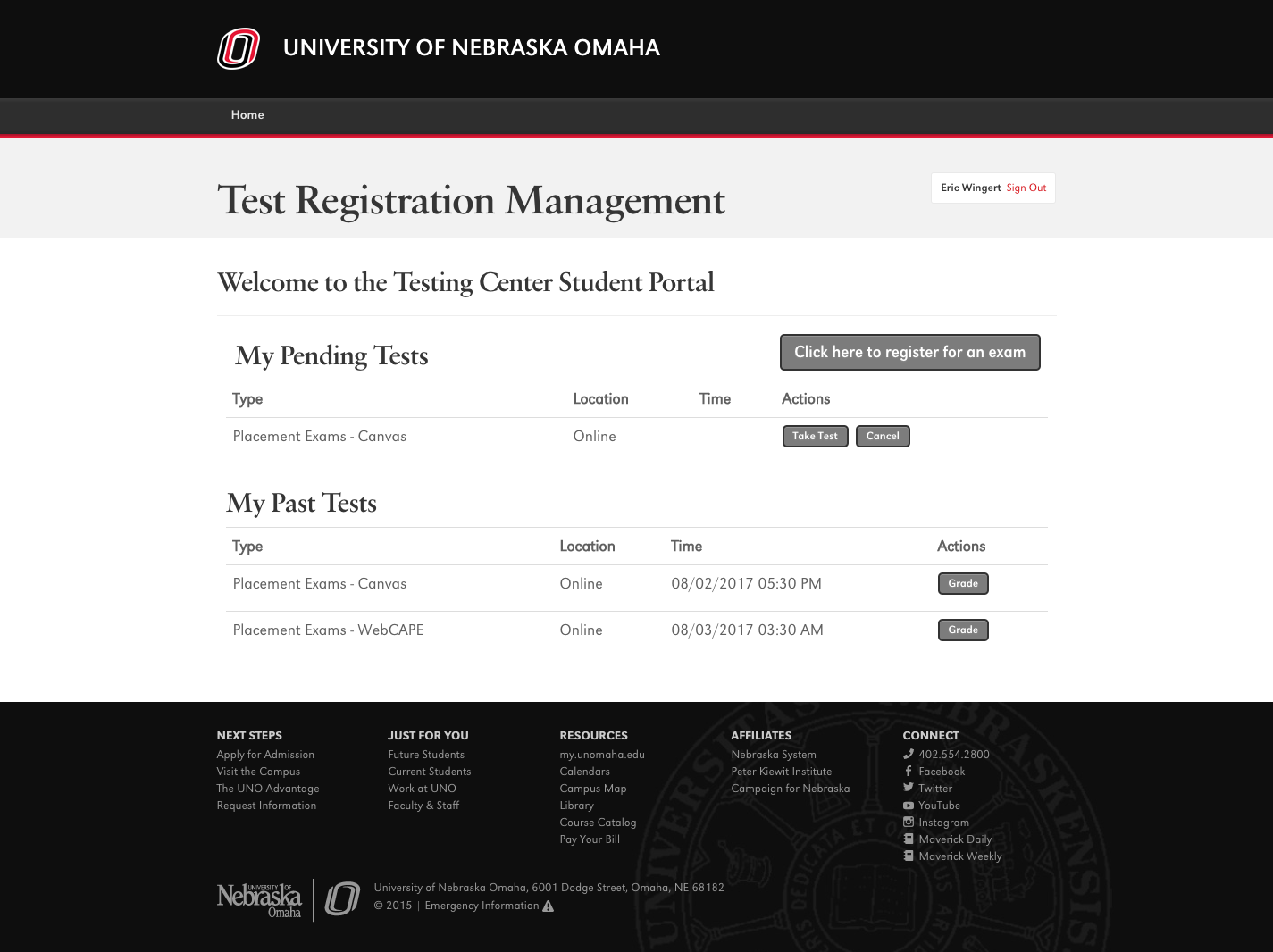 1. Under Choose a Group select Placement Exams 
2. Under Choose an Exam select English Placement Exam International Student
3. Select the day you are going to take the exam from the calendar under Choose a Date. (Available test dates will be indicated by bolded numbers in the month they are to be taken).
4. Under Choose a Time select a time from the list of available times in the drop down box.
5. Complete the required fields. (Fields may auto fill). 
6. Acknowledge the information by clicking the check box under the scroll box.
7. Click Add to Cart
8. Click Complete Registration         
         Your registration is now complete!
You are required to register at least one week prior to the date you wish to take the exam. On the day of your exam, a 2 hour testing window is scheduled which includes check-in, instructions, testing, and check-out. Be sure to report at least 15 minutes before the exam start time to begin the check-in process. You will need your MavCard or some other form of Photo ID to be admitted to the exam.
Taking the English Placement Exam International Students
You need to know your UNO NetID credentials (Username and password). This is not the 8 digit number but is created using parts of your first and last name.
You will have 90 minutes to complete the exam. Please use all of your time to craft a strong essay. Be sure to closely read your essay prompt so that you can accurately answer your selected question. Craft sentences that are varied and well-constructed. Summarize the original author accurately and effectively integrate the author's points into your essay. Don't forget to proofread your essay before submitting. 
When you are sure you are finished click Save. Once you click Save, you can no longer access the test to make changes.
Note:
• With in the text editor, you can click 
 (double arrows up icon) to show more or fewer text editing options.
• To expand the text box you are typing in to full screen mode click 

 (full screen icon). In full screen mode, the test timer disappears. Click the icon again to return to regular screen mode.
Timed Test: This test has a time limit of 1 hour and 30 minutes. This test will automatically save and submit when the time expires. 
Multiple Attempts: This test can be taken twice in a calendar year. A third attempt will not be graded! You will also have to re-register through MavLINK to take the exam a second time.
General Placement Exam Guidelines
Students are expected to abide by UNO's policy on Academic Integrity. Failure to do so may result in one or more of the following: (but is not limited to) cancellation of test results, being declared ineligible for admission to UNO, and/or expulsion from the institution.
The Testing Center cancels exams due to inclement weather or other emergencies only if the University officially closes. Announcements are made via local media, 

UNO's emergency site

 and at 402.554.2255.
Only examinees are allowed in testing rooms.
Food and drink are NOT ALLOWED.
Special Accommodations
Students who have disabilities or needs that require accommodations need to contact Accessibility Services at 402.554.2872. After your plan is established, email unoeppe@unomaha.edu to inquire about testing accommodations.
English Placement and Proficiency Exam Friday Schedule   (Excluding Finals Week and Holidays)
| | | |
| --- | --- | --- |
| Test Date | Test Time | Registration Period |
| Dec 1, 2017 | 9:00 AM | Through Nov 26, 2017 |
| Dec 22, 2017 | 9:00 AM | Through Dec 17, 2017 |
| Jan 5, 2018 | 1:30 PM | Through Dec 31, 2017 |
| Jan 19, 2018 | 9:00 AM | Through Jan 14, 2018 |
| Feb 2, 2018 | 1:30 PM | Through Jan 27, 2018 |
| Feb 9, 2018 | 9:00 AM | Through Feb 4, 2018 |
| Feb 16, 2018 | 9:00 AM | Through Feb 11, 2018 |
| Feb 23, 2018 | 1:30 PM | Through Feb 18, 2018 |
| Mar 2, 2018 | 1:30 PM | Through Feb 25, 2018 |
| Mar 16, 2018 | 9:00 AM | Through Mar 11, 2018 |
| Mar 30, 2018 | 1:30 PM | Through Mar 25, 2018 |
| April 13, 2018 | 9:00 AM | Through April 8, 2018 |
| April 27, 2018 | 1:30 PM | Through April 22, 2018 |
| May 11, 2018 | 9:00 AM | Through May 6, 2018 |
| May 25, 2018 | 1:30 PM | Through May 20, 2018 |
Results
Your grades can be accessed multiple ways:
OPTION 1)
Placement results will also be emailed to each student. 
 
OPTION 2)
Enter via MavLINK
Click on Academics
Under Academics click on Register for Exams
On the Test Registration Management page
Under My Past Tests
Click on Grades under Actions
The Privacy Act prohibits the releasing of test results by phone; please DO NOT phone for your results.
Contact Information
Do I need to take the EPPE?
Contact your UNO Academic Advisor.
Registration and General Exam Process Questions:
402.554.4800 or unotestingcenter@unomaha.edu
Results Questions:
402.554.3476 or unoeppe@unomaha.edu
---
Fall and Spring Orientation Placement Exams for International Students
International undergraduate students may take the International Placement Exams during Spring or Fall Orientation held the week before classes start.  Contact the International Studies Office for eligibility guidelines. Placement is required before enrolling in English or Mathematics courses. 
The UNO Testing Center administers the International Placement Exams on 2 days during the year to coincide with the arrival of International students prior to the start of the Fall and Spring semesters.
International Student Placement Exam Schedule
| | | |
| --- | --- | --- |
| Test Date |   |   |
| January 3, 2018 | | |
| August 8, 2018 | | |
Our Campus. Otherwise Known as Omaha.
The University of Nebraska does not discriminate based on race, color, ethnicity, national origin, sex, pregnancy, sexual orientation, gender identity, religion, disability, age, genetic information, veteran status, marital status, and/or political affiliation in its programs, activities, or employment. Learn more about Equity, Access and Diversity.
scroll to top of page