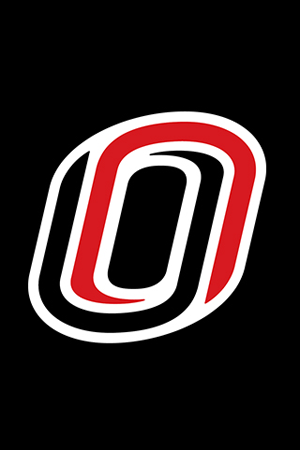 Additional Information
Creating and Commanding Space
by: Carol B. Vande Kerkhoff  Kirsten Jensen 
From an early age, Dr. Karen Falconer Al-Hindi has negotiated her own space.  Intrigued by the relationships between people and places, Falconer Al-Hindi's natural interest in geography has allowed her to forge new understandings between feminism and geography.  From student, to part-time professor, to tenured professor, to Department Chair of the Women's and Gender Studies program, Falconer Al-Hindi's work and research has impacted thousands of students as well as her colleagues at the University of Nebraska at Omaha (UNO).  Since joining the campus in 1993, Dr. Karen Falconer Al-Hindi has become a valuable asset and an active voice in the conversation about women at UNO and in the Omaha community.  She models an effective melding of a personal life with a professional one, and has undoubtedly commanded her own place in the world.
Early Exploration
As a young girl, Dr. Karen Falconer Al-Hindi often eluded the confines of her diminutive house to roam the tree-lined streets and dense woods of her Michigan neighborhood. Born in Ann Arbor, Falconer Al-Hindi recalls her home as small compared to today's standards, making the outdoors a place to play and explore with her two younger siblings. As the oldest child, and a girl, many family responsibilities fell to Falconer Al-Hindi, and she found she "could avoid the work by escaping to bike or play in the neighborhood and beyond."  After her father completed his doctoral studies at the University of Michigan, he accepted a position as associate dean at Muskegon Community College some two hours away.  Located on the shores of Lake Michigan, Muskegon provided Falconer Al-Hindi a fresh venue for exploration and inquest.
Falconer Al-Hindi's parents divorced when she was nine, and she moved with her mother and two siblings to "Florida's redneck Riviera" where her maternal grandparents had a second home.  Shortly after, they moved to Austin, Texas when her mother enrolled in a doctoral program in speech pathology at the University of Texas.  Because her mother was a full-time student, Falconer Al-Hindi's grandmother, Dodie, spent four to six months of each year living with them in Austin.  Falconer Al-Hindi was especially close with Dodie.  As first-born girls, they shared a special bond; Falconer Al-Hindi believes her grandmother understood her and "knew her in ways that [her] mother did not."  Recognizing the additional duties heaped on her granddaughter because of birth order's influence, Dodie offset them when opportunity allowed.  Since Falconer Al-Hindi's younger brother and sister were so close in age, she bore the burden of entertaining them throughout the summer months.  At Dodie's insistence, Falconer Al-Hindi joined her cousins as they basked in the sun from atop the neighbor's carport while reading and listening to music.  Dodie even supplied her granddaughter with a box of old magazines for her to flip through.  Falconer Al-Hindi cherished this time to herself, and it seems her grandmother knew just when she needed it.  The simplicity of her grandmother's thoughtfulness reflects her nature well, insists Falconer Al-Hindi. Describing Dodie as "competent and courageous," Falconer Al-Hindi likes to think that her grandmother's "can-do, make-do, have-fun attitude" has influenced her greatly.
After earning her Ph.D. in speech pathology, Falconer Al-Hindi's mother accepted a teaching position at Kearney State College (now the University of Nebraska at Kearney), and the family soon settled into "the good life" in Kearney, Nebraska.  Falconer Al-Hindi began high school there and was not overly enamored with the small town atmosphere. Although she was offered a scholarship at the University of Nebraska at Kearney (UNK), Falconer Al-Hindi missed the large town ambience she grew accustomed to in Austin, and enrolled at the University of Nebraska at Lincoln (UNL).  She completed her undergraduate degree in geography with a minor in English and interned with both the Nebraska Water Conservation Council and the Nebraska Department of Economic Development.  After finishing her bachelor's degree, Falconer Al-Hindi's advisors urged her to leave Nebraska to gain experience beyond the Midwest.  She applied to several graduate schools and eventually chose to attend the University of North Carolina at Chapel Hill (UNC) for a graduate program in geography.
Blending Feminism and Geography, Life, and Work
During graduate school, Falconer Al-Hindi became absorbed in women's studies and feminist issues.  At the urging of a friend, Falconer Al-Hindi joined the campus group, "The Women's Forum," whose yearly project was a consciousness-raising "Take Back the Night" march, a rally where participants speak out against sexual violence toward women ("History").  After the march, Falconer Al-Hindi began to wonder how much the fear of sexual assault by a stranger influenced undergraduate women's travel and activity decisions on campus. At the same time, Falconer Al-Hindi struggled to complete a research proposal for a research methods seminar.  The medical geography topic she researched interested her only a little, and she found herself drifting from her inquiry while in the library.  "The books I was supposed to be reading for my proposal and the books on sexual assault and women's fear were near each other on the library shelves," Falconer Al-Hindi recalls.  Finding herself drawn to the books on fear and sexual assault, Falconer Al-Hindi scrapped her initial topic and wrote a new proposal in three days.
The professor teaching the research seminar furthered Falconer Al-Hindi's interest in feminism and geography when he returned her new proposal and encouraged her to use it for her master's thesis.  Having written on it, I don't know what your plans are, but somebody needs to do this, Falconer Al-Hindi found her niche and titled her thesis: Perceptions of Campus Landscapes and Fear of Sexual Assault: Effects on Female Undergraduate Travel Behavior at the University of North Carolina at Chapel Hill.  Falconer Al-Hindi also learned another important lesson during this time; she learned that a person's passion could serve as a mitigator between his/her life and work.  As Falconer Al-Hindi enumerates, the experience was "a classic case of someone (me) thinking that 'work' and 'life' had to be separate, when in fact my work was deeper and more useful and my life more meaningful when I put them together."  This newly discovered principle would guide Falconer Al-Hindi as she began her career, married and started a family, and as she continued her research, blending these facets of her life into a meaningful body of work.
Feminist Geography at UNO
Falconer Al-Hindi's interest in feminism and geography continued to evolve, and with her master's degree complete, she enrolled at the University of Kentucky to begin work on her Ph.D.  By amalgamating her interests in human geography and women's studies, Falconer Al-Hindi wrote a dissertation titled Space, Gender, and Work in the Context of Technological Change: Telecommuting Women.  With her Ph.D. completed, Falconer Al-Hindi was ready to begin her professional career as a geography instructor.  Dr. Karen Falconer Al-Hindi joined the University of Nebraska at Omaha (UNO) faculty in 1993 as an Assistant Professor of Geography.  The first classes she taught were Introduction to Human Geography and a graduate seminar titled History and Philosophy of Geography.  She served as the Acting Department Chair for the Department of Geography and Geology during different periods.  Falconer Al-Hindi was also the Graduate Program Committee Chair from 1996-1999.
As her teaching evolved, Dr. Falconer Al-Hindi continued researching and developing within the paradigm of feminist geography.  In an interview with UNO's student newspaper, The Gateway, Dr. Al-Hindi defined a feminist geographer as a person who examines ". . . how gender interacts with its surroundings…. How issues of gender roles and relations contribute to how the world looks and works.  Essentially, putting women in place" (Swett 2).  Falconer Al Hindi further explains that "feminists draw on fields of study within geography, not with an intention to create a feminist field of study, but rather to critique existing knowledge and contribute feminist perspectives for analysis and interpretation, as in for example, history of geography, philosophy and geography, and critical geography" (Moss and Falconer Al-Hindi 1).  Moreover, Feminist Geographers amplify "the gendered and spatialized dimensions of social, political, and economic activities, developing more precise concepts that depict a phenomenon or process that produces inequality, and drawing out masculinist claims about knowledge and science" (Moss and Falconer Al-Hindi 1).  Falconer Al-Hindi developed courses around these concepts such as a seminar titled Geography, Gender, and Work, and the course Introduction to Women's Studies in the Social Sciences.  With the intersection of these two humanities issues, Falconer Al-Hindi's involvement with the UNO Women's Studies program naturally evolved.
The Women's and Gender Studies Program
The Women's Studies Program at UNO began in the early 1970s with the development of the first women's history course.  More courses developed as issues within the field of women's studies progressed, and the program began offering a minor by 1988.  As interest in the program grew and the number of students increased, the validity of apportioning a major in women's studies became viable.  Professors such as Mary Ann Lamanna, Dr. Falconer Al-Hindi, and several other faculty members developed the major, with Lamanna receiving valuable time to create and implement the program.  In 2000, the University Board of Regents approved a Women's Studies Major.  Falconer Al-Hindi cites the demand from students for such a major as well as wide community support as driving forces behind its development.  As Falconer Al-Hindi attests, "The program is designed to prepare students for graduate or professional work in fields in which Women's Studies has an important focus such as social services, criminal justice and health professionals" (Harvey 1).  Dr. Falconer Al-Hindi served as Interim Director of the Women's Studies Program until University administrators conducted a national search for a permanent director.  Falconer Al-Hindi was one of three finalists for the position, and in October of 2001, the UNO Board of Regents named her director.  According to a colleague, Dr. Susan N. Maher, Falconer Al-Hindi's "contributions . . . to women's studies have been transformative" (qtd. in Brown 1).  Dr. Maher further attests, "She was an essential member of the faculty team who helped develop, promote and gain the women's studies major, and when that major was finally a fait accompli, Dr. Falconer Al-Hindi served as our first and only director" (1).
The name of the program was officially changed to the Women's and Gender Studies Program in 2010 to reflect "where the field is today" (Falconer Al-Hindi).  The program homepage describes itself as one ideal for students curious about women's issues, gender roles, and sexuality.  As stated in its mission, the "interdisciplinary program examines the historical and contemporary status of women in all societies; explores the diverse contributions and voices of women past and present; advocates for women's issues and promotes equitable communities" ("Mission" 1).  Composed of classes from a variety of departments across campus, the Women's and Gender Studies Program continues to expand.  Professors wanting to be recognized as a member of the Women's Studies and Gender Program must have a "demonstrated interest" in women's studies and apply for admission to the program.  Once the committee approves a professor's application, their courses can be cross-listed within the program, giving them more exposure.
Community Outreach
In addition to her teaching, student and community outreach are important to Dr. Falconer Al-Hindi as well.  As a reoccurring theme imbedded in her work, Dr. Falconer Al-Hindi believes community involvement is an essential role of universities that is sometimes threatened by the increasing commodification of higher education.  Falconer Al-Hindi insists that colleges can continue this vital link by working together to promote collaboration among professors, students, and citizens.  Along with other members of the University faculty, Falconer Al-Hindi has been instrumental in bringing guest speakers such as Dr. Karen Morin of Bucknell University in Pennsylvania and Professor Mona Domosh from Dartmouth College to UNO, as well as entertainment programs such as The Heart's Compass to fulfill UNO's outreach mission.  Falconer Al-Hindi is also involved in the No Limits! Conference.  No Limits! is an interdisciplinary conference on Women's Studies sponsored by the Women's and Gender Studies Programs at UNO, UNK, and UNL.  The conference rotates among the three campuses, and Dr. Falconer Al-Hindi explains that it is a wonderful opportunity for undergraduate and graduate students to showcase their work ("Annual"). The two-day conference held in March invites keynote speakers to participate in the event.  Falconer Al-Hindi delights when community members attend the program because their attendance symbolizes the mission of the Women's and Gender Studies Program—bringing people together to understand a common goal.
Personal and Professional Accomplishments
Dr. Falconer Al-Hindi's teaching and community involvement has been duly recognized.  In 1998, she won the UNO Alumni Outstanding Teaching Award.  This award honors eight teachers each year for distinguished teaching in the classroom ("Criteria").  In 2002, she also received the University of Nebraska at Omaha Chancellor's Commission on the Status of Women Outstanding Achievement Award, which is presented to an individual who has contributed significantly to women's issues and/or gender equity.    In 2008, Falconer Al-Hindi was the third recipient of the Mary Ann Lamanna Award for Excellence in Women's Studies at the University of Nebraska at Omaha.  According to the press release, "the award recognizes outstanding teaching, research, service, or a combination of the three, to women's studies at UNO." As one colleague noted in a nomination, Dr. Falconer Al-Hindi "consistently approaches the challenges of sustaining a Women's Studies Program with vision and hard work.  She is genuinely interested in students, faculty, staff, and community" (qtd. in Brown 1).  This award is named in honor of Dr. Mary Ann Lamanna, professor emerita of women's studies and sociology at UNO (Brown 1).
Furthermore, students and faculty laud Falconer Al-Hindi as both a person and professor, citing her tremendous impact on UNO.  Angela Eikenberry, an Associate Professor in the School of Public Administration, describes Falconer Al-Hindi as "a model faculty member and leader at UNO."  Moreover, Eikenberry contends that Falconer Al-Hindi "has been a tremendous leader for the Women's and Gender Studies program at UNO. Without her continued dedication to the program, it's clear it would not be as far-reaching and significant as it is today" (E-mail).  Assistant Professor in the Department of Black Studies, Peggy Jones, commends Falconer Al-Hindi as "being instrumental" in Jones's becoming the first black woman in the history of the Black Studies Department to get tenure.  In addition to being "friendly and thoughtful," Jones notes: Falconer Al-Hindi "has been an incredible role model who successfully exemplifies a productive work-life balance.  She has been a committed and passionate supporter to me and countless others.  I am blessed to be her colleague and friend" (E-mail).
Dr. Karen Falconer Al-Hindi's scholarly research is equally impressive.  Along with University of Victoria professor, Pamela Moss, Falconer Al-Hindi co-edited the book, Feminisms in Geography: Rethinking Space, Place, and Knowledge. A self-described anti-anthology, Feminisms in Geography presents "a unique, reflective approach to what feminist geography is and who feminist geographers are" (Moss and Falconer Al-Hindi 1). Falconer Al-Hindi's current research continues to emulate one of the guiding principles of her life, the blending of life and work into a more meaningful body of work. Falconer Al-Hindi is working on several scholarly texts about parents, autistic children, and geography.  Her research includes an examination of the social and spatial relationship of fathers who have stayed with the family after a child was diagnosed with autism.  Falconer Al-Hindi explains that the divorce rate between couples who have a child with a disability is markedly higher than those who do not; her interest is in those fathers who stay with the family and how they negotiate and re-imagine place.  Falconer Al-Hindi hopes that her research will help families whose lives have been altered by Autism.
Respect, Collaboration, and Admiration
In addition to her career, Dr. Karen Falconer Al-Hindi is married to Musa Al-Hindi, who emigrated to the U.S. from Beirut.  They met when both she and Musa showed up at a mutual friend's house to help her move.  After they were married, they had two children (see Figures 3 and 4). Dr. Falconer Al-Hindi takes pride in the fact that her two boys have been raised by her and her partner to respect those who are different. She explains family life as follows:
"Although I respect [the traditional wife] role and am fortunate to have full-time homemakers among my friends, in my life and our family that is not my role.  Musa and I do refer to each other as "my wife" and "my husband," but it's more accurate to say that we are spouses or life partners, because how our family runs is not along traditional American husband-wife lines."  Dr. Falconer Al-Hindi explicates that "as the primarily wage-earner, my paid work takes precedence over his and I am away from home more hours of the day and week. Our sons follow a gluten-free, casein-free diet that requires careful meal planning, shopping, and food preparation, and Musa does most of that. We are working to recover our younger son from autism, which requires research, doctor visits, and a complex regime of nutritional supplements, and I do most of that."
Because of her son's Autism diagnosis, Falconer Al-Hindi and her husband are involved in the Autism Society of Nebraska, having most recently participated in the annual fundraising walk.  Of her family life, Falconer Al-Hindi states, "Despite each of us taking the lead in specific areas of family life, each of us is able to step into the other's place as needed. I believe we are giving our children a more androgynous model of adult life and work that will serve them well."
When asked to name other women who have influenced her, Falconer Al-Hindi does not recite a specified list.   Instead, she explains, "Often when students speak to me about their role models, they identify women whom they admire and wish to emulate in every respect.  My role models are different.  They are nearly all of the women in my life and, as no one is good at everything, I focus on the best of each."  Dr. Karen Falconer Al-Hindi clearly emulates the hard work, passion, and dedication of all the women who have influenced and guided her as she negotiates her place in the world.