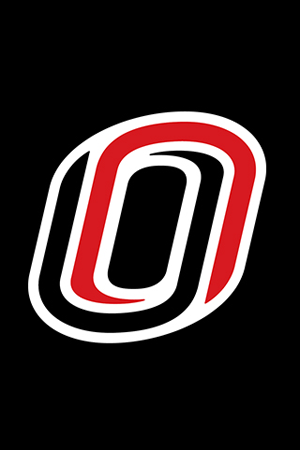 Additional Information
Combining Cultures
Three beautiful Native women, two Omaha and one Cherokee gaze serenely out of UNO's Gateway's front page photo (Apr. 1975). Their clothes reflect the mixing of two cultures.  Native, handmade, traditionally decorated regalia and a twentieth-century American striped t-shirt. It is an uneasy allegiance—Native people are today still trying to assess the wounds of four centuries of white domination and oppression. Some are succeeding in white society, attending universities and teaching in them; many others are not. The incidence of diabetes is so high on the Omaha Reservation that there is a dialysis unit in the small town of Macy, Nebraska, population 970 (Macy profile).
Though alcoholism and poverty are rife, the Omaha have survived numerous predictions of their demise, and their population is increasing. Their language and culture are slowly rebounding from years of forced annihilation, in the name of assimilation. The Omaha's Sacred Pole, their "Venerable Man," was returned in 1989 from the Harvard Peabody Museum, exactly 100 years after it was taken to "dwell in a great brick house instead of a ragged tent" (Riddington and Hastings xix).
History of the Omaha
To begin to understand Elsie's life experience and determination, it is helpful to have some brief idea of the history of the Omaha, or, in the Omaha language, Umoⁿhoⁿ. These "Up Stream" or "Against the Current" people are one of the few plains tribes to still live on some portion of their ancestral lands (Boughter 3). In 1780, the tribal population has been estimated at 2,800 members; by 1802, it was reduced, through the ravages of smallpox, starvation, and alcohol, to 300 (Indian Relief Council 1).  This decimation brought renewed predictions of their extinction, following earlier ones that the Sioux would wipe them out and predating later ones predicting that forced assimilation, alcoholism, and poverty would destroy their culture. Today Omaha tribal membership, urban and reservation combined, is about 7,000 (Clark, Nov. 2010).
See contextual essay "History of the Umoⁿhoⁿ," including mighty Chief Blackbird; Mormon Squatters; Land Loss; the friendly Omaha as "sociological guinea pigs"; and the devastation wrought by whiskey.
Snapshot in Time
The previous Gateway photograph and accompanying article (see "Pow Wow" in Works Cited for reference), and several subsequent articles that followed, reveal a strong and determined woman, president of the student chapter of American Indians United (AIU) for two years, and an advocate for Native American recognition and rights upon camps. This woman is Elsie Harlan. In the article accompanying the photo, which discusses the upcoming Indian Heritage Days, Harlan is quoted as saying, "This city, Omaha, is named after a tribe, but there's really no recognition of Indians on campus during the regular school year," and further, "Harlan wishes UNO would place more emphasis on Indian studies. Hence a panel discussion on the 'American Indian in Higher Education' has been scheduled for Friday" (Gateway Apr. 1975, 1).
In a 1976 article announcing the third annual Indian Days celebration, Elsie calls for more Indian counselors at UNO and "the need for an 'Indian affairs' editor for the Gateway" (Apr. 1976, 5).  A position, as a journalism major, she would have liked to have filled herself. In 1977, she wrote an impassioned, eloquent letter to the editor, entitled "Minorities Not Asked for Solutions," referencing the possible dissolution of the United Minority Students' board, composed of AIU; the Chicano group, La Casa; and the Black Liberators for Action Committee (BLAC) (Gateway Aug. 1977, 2).
Cultural Renewal
These articles present a confident, self-directed young woman pushing against the university administration and dominant white culture to create a place for Indians in the academic world of UNO. She had her own strength and determination to draw on, and the climate was right. The late '60s and early '70s were a time of cultural renewal for the Indians fueled by the civil rights action of the '60s, improved government programs, and a climate of cultural renewal and hope. The American Indian Movement (AIM) grew out of this time, and the first intertribal actions to support Indian heritage and claim their rights occurred, such as the occupation of Alcatraz Island and the march on the Bureau of Indian Affairs in Washington DC. See contextual essay "Omaha Indians at UNO" to learn about UNO's "Indian" mascot, "Ouampi," removed in 1971 at the request of students and the Omaha tribe, and the Native resurgence that fueled its removal, Omaha Indians at UNO: White Novelty to Native Resurgence, 1934 to 1975.
What was the source of Elsie's determination, and how was she able to sustain it? How did she deal with structural and overt racism in this predominantly white culture? These articles offer us a glimpse into the woman she was becoming in the early '70s, a snapshot of her life at that time.
The Story of Elsie Harlan: Background
Elsie grew up on the Omaha Reservation on her dad's allotment of 138 acres, eight miles southeast of Walt Hill. The challenges she overcame in her childhood prepared her to face the challenges of her life— the challenge of being a Native American Omaha woman in the twentieth and twenty-first centuries.
When I was a little girl, I lived nine tenths of a mile from the main road, and a bus wouldn't go that far; so rain, sleet, or snow we walked to that bus... .  We lived out there when we had to pump water, carry water, haul wood, and burn corncobs for heat... . We had an outhouse...and we had to heat our water to take a bath.

People tell me, "I don't know how you can be so determined when things get so bad"  but then you keep going, you keep chugging. But, that's the way I live. Remember when I said when we used to get off that school bus...we had that long walk from the stop sign...can you imagine how that is in the winter and the mud? And, when I would get to the second hill, where you could see the house, and you can see the chimney, and I'd either get really mad if I didn't see smoke coming out of the chimney and stomp my feet, or I'd cry... . My mom would usually have a hot meal or a hot snack or something for us when we came walking in, then we'd have to go out and do our chores. But, if that didn't happen, that meant that we had to immediately go outside and do the fire and all that, and look for something to eat when we got done. (Clark Nov. 2010)
Winnebago High School  
When I was in high school, one thing about my family [was that] my Dad always worked and my mother was a stay-at-home mom. They had their bouts with alcohol, my mum and dad, but my dad, you know, always worked, and my mom became a closet drinker.  We had three square meals day, hot meals, and she made the best bread. But my parents couldn't help me. I think my Dad went to the 8th but when I was in high school I stayed in school...I don't know how I did that, but I guess because my mom and dad said, "you go to school."

I wasn't doing all that great. I will always remember this superintendant—I think I was a junior or senior—and he asked me, "What do you want to do, where do you want to go to school?" I said I wanted to go to UNL, and he said I didn't have "it" to go to school there. I probably graduated the lowest of my class, but I did what I had to do, and I graduated. My parents are really proud of me. (Clark)
Elsie's three older sisters had left the reservation for the "enticing big city lights" of Omaha when they were 16 or 17 (Clark). She was very aware that they found it hard to get anywhere without an education or any kind of training. Elsie was determined to forge a different path.
Further Education
Elsie did not go straight to UNO. She worked the summer at an Iowa Beef Processors packing
plant, where it was "cold and slimy in there; it was rough" (Clark Nov. 2010). That fall, she made her way to Haskell Institute, an Indian vocational-technical institution/boarding school in Lawrence, Kansas. She was there for two years and was certified as a linotype operator. She said she made the honor roll a couple of times and enjoyed the social life, but expressed dissatisfaction: "I wished I was more determined. I wished I had a goal in my life at that point. I wished I had been able to be committed and determined under any odds to finish with good grades" (Clark).
During the summers, she came back to Omaha and lived with her sisters, working jobs at the World Herald, the Tip Top ice cream factory, and Rapid Printing. When the print shop moved farther west, beyond the bus routes, she had to quit as she had no car. These early experiences developed her sense of determination: "Somehow I ended up at Bacone Junior College, in Oklahoma.
There, through working and going through all the things I had since high school . . . I had my determination at that point and some commitment, so I graduated from there on the Dean's Honor Roll with a Ford Foundation Scholarship" (Clark). This scholarship would pay for "everything" at a university. Elsie had discovered that, unlike what her high school superintendent had told her, she did have the ability to succeed, and excel, in school.
UNO, 1974
Elsie was accepted by Colorado State, but that summer stayed with her friend from the reservation, Rosa Porter (also in the Gateway photo), who persuaded her to attend UNO instead. Rosa was in a wheelchair as the result of a car accident but was still attending UNO. She had a specially outfitted car, so she could drive.
The Gateway photo and articles give us an uplifted vision of Elsie at UNO, but she herself gives us another: "I did good for a while, and then I got into drinking, so that got me into a lot of trouble. Couldn't make it to class, didn't want to go to class. And then when I started getting behind, I didn't withdraw or anything, I just ruined my transcript" (Clark).
Life After UNO
fter Elsie dropped out of UNO, she worked at the World Herald for a while, was a public relations person for the Indian Commission, and then got an internship at KFAB Radio. She worked in the newsroom before getting an early morning broadcast spot. 4:00 a.m. was very hard to get up for after a night of drinking.  She ruefully describes the outcome:
So, I ruined that too. I knew I was in trouble, so I didn't go back. Maybe they would have worked it out. You know, I wish they would have. I think if somebody would have talked to me about my drinking  . . . I never received any help or didn't even think about it being a problem. I didn't even blame that as being the problem for missing class. It was normal for me. I guess I thought, well, I'll just have to let it go. (Clark Nov. 2010)
The difference between Elsie and so many other Native students who get to college but don't make it is that she added, "But I don't know what inspired me to go back" (Clark).
Back to UNO
Elsie went back to UNO sometime in the '80s, and then again in 2007. In between, "I picked up courses here and there from the community college" (Clark Nov. 2010). After Elsie's dad died in 2005 and she had no responsibilities keeping her home, her son encouraged her to go back to UNO. She drove the one and a half hours each way from the reservation three times a week.
So much had changed by 2007—the use of computers, the buildings, the student center, and the amount of ethnic diversity in the student population. Elsie found the computer skills she needed challenging, but "those young kids were really helpful," and her advisor found her a tutor:  "If it wasn't for her, I would have had a hard time" (Clark). That December, gas prices became prohibitive—it cost $70 to fill her tank, and she put her degree on hold, again.
Elsie has over 200 hours of credit and only needs two more classes to finish her degree: statistics and another writing course (Clark Dec. 2010). She was recently re-admitted and is talking to her advisor, insisting they give her full credit for all she has done. Adversity has taught her the necessity of advocating for herself. In her early years, "I didn't know anything about advocating for myself. Nowadays, you go advocate for yourself, and you get help with whatever, tutoring or . . . something will come up that will help you get through. But I didn't have that" (Clark Nov. 2010). This knowledge of how to navigate the system, know your rights, and be able to advocate for yourself, all of which are necessary to succeeding in the white man's world, is what she wishes to impart to all young Native women on the Omaha reservation.
To the Reservation
Elsie moved back to Macy in the early '80s and got married in 1985, becoming Elsie Clark. She had a son, who was 15 when she got married, and later had a daughter. Her son graduated from high school and then from UNL but is saddled with large student loans. She is encouraging her son to look at a new Obama initiative to make student loans more affordable. Her daughter, Jenette, did well in high school.  She attended a 98% non-Indian school in Dawes District and was accepted to Creighton University. As Elsie describes it, "She kind of went full circle. She went to Creighton, and then she went to Haskell, and then to Little Priest Junior College. I told her she should have started with the community college" (Clark Nov. 2010).  Both her children struggled with alcohol. Elsie's son, daughter, and granddaughter now live with Elsie on their grandfather's allotted land where Elsie grew up.
Back in Macy, Elsie worked for 15 or 16 years with a non-profit: Macy Youth and Family Services. "That was the first non-profit organization our tribe had in our community. I still have the 501" (Clark).  When I asked her if it was successful, she replied, "Oh yeah. There are a lot of things that happen in this community, and it's very sad. The alcohol rate is so high. The standard of education is not that high for our kids to do well, to be confident enough to go to college. They do go to college, but they don't last. I think maybe it's the lack of resources. They are not taught those skills, and they should be" (Clark).  
On a brighter note, she added, "But we have one girl who went to Creighton from Macy. She did it in 4 years. We now have a lot of people who are graduating from college. We have several Ph.D.'s"  (Clark). Elsie enthusiastically described some success stories: one Native girl became a Physical Therapist at Creighton; her nephew, Ed Zendejas's, biological children all graduated from college; and two of his daughters became successful attorneys. Ed also has a law degree and is the director of UNO's Native American Studies Program. She added happily that all of her nephew's kids are also "really proud of their heritage" (Clark).
Spirituality and Resilience
Looking at those families, the strong point in their lives is their spirituality, and their stability as a family, and all their strengths: their commitment, respect, and discipline. They somehow were able to incorporate that into their family life, as they were going along. All their kids are following suit" (Clark Nov. 2010).  Her nephew's family members are all Latter Day Saints (LDS), and her cousin and her uncle were strong members. Elsie grew up a reformed LDS but watched her uncle take his ten kids to church every Sunday, saw the strength of their family, and thought, "There must be something in that religion" (Clark). Click here to listen to Elsie describe her search before joining the LDS church.
I went through Sweat Lodge, and Native American Church, and Presbyterian Church, and now I'm with LDS church. I was baptized in 1984. That's where I plan on staying because of the ethics. I guess if I had all of that when I was younger, and was more focused and directed, I would be further than I am today. But, all I can say is that God put us here for a reason, and mine must be this. I don't have strong financial support, I don't have retirement, and I don't have as much life insurance as I'd like to have, but I have my health . . . One thing I don't do is give up. I guess I learned resilience, and I don't know how I did that either. It's just like being on an island with the stormy waters and the alligators and all that ready to get at you, but you still make it. (Clark)
Alcohol and Diabetes
Elsie talked about what a big problem alcohol and diabetes are on the reservation, how they are a problem across the country, but more so with native people.  She wondered if it is related to their diet:
Whatever the sugar they have in alcohol . . . Everything, the diet too, is a lot of starch and sugar and salt; their metabolism isn't . . . Everything used to be natural. Certainly fried bread wasn't part of it. Then, if they become diabetic, being an alcoholic is more . . . Once you get diabetes it compounds everything else. It affects all your organs at some point in your life. Those that go on dialysis—there are so many restrictions. (Clark)
Before the white man came, corn and buffalo were the main foods of the Omaha (Boughter 14). After the white man scared off or killed all the buffalo (for their hides) and most of the small game, the Omaha began to starve. In 1854, they were moved to their reservation lands in the north, closer to their feared enemies, the Sioux. Constantly fearful of attack and unprotected by their "great white father," they felt too vulnerable to farm. They became dependent on scarce treaty handouts, stealing cattle, digging roots, and wild peas (Boughter 43)—many starved to death.
Starving in the womb can inculcate an insatiable hunger in the next generation, multiply this by five times, and combine it with the fact that Native metabolism is not genetically programmed for alcohol, sugar, or large amounts of carbohydrates. Additionally, Natives may have a "thrifty gene," which enabled their ancestors to store fat in certain cells to help them survive through long winters and periods of famine (Fleming 265). Today, with a typical poor American diet heavy in processed foods, carbohydrates, and sugar, is it any wonder that Native people's incidence of obesity and diabetes is so high?
"I wonder if this cyclical pattern of a struggle with alcohol, both in Elsie's family and for many Native people—their alcoholism rate is "four times that of the general population" (Fleming 265) — is a result of peer pressure; white expectations of Indian behavior; or a learned response, a way to deal with being at the bottom of the hierarchy of white privilege, with the least access to society's rewards. Could it be self-medication, a self-destructive way to try to ease the intergenerational trauma that each Native person is born into? Elsie was trying to decipher her personal relationship with alcohol when she said, "The only thing to do is face your pain and throw it away. I think that's where I'm at, because I had difficulties in my lifetime, and that's probably why I drank" (Clark). Elsie is proud that she stopped drinking in 1981.
The American Indian Movement and Wounded Knee
The insidious and devastating effects of alcohol on Indian tribal culture, families, and individual lives have been with us for two centuries. Even the Native American identity reclamation and cultural renewal of the early '70s that gave rise to Native activism and AIM is tinged in Elsie's mind by negativity. Although they had strong voices and believed in what they were doing, and it was a good strategy to draw attention to the Indian's plight, "behind all of that they had drugs and alcohol" (Clark Nov. 2o10). However, she does appreciate the gains activists made, and the example they have set:
Yeah, we need strong advocates like that. I guess it was meant to happen on different levels of action, and that was a powerful action to demonstrate the rights of people, that they had the will to initiate something like that . . . because of what they believed and how we were treated. As we go along in life, as we build up on our leadership skills, we can always revert back to that era and see the process, the strategy, and the will behind it, and then look at everything today and say, "Wow, there's more coming out." You know back then it was important— an important move. (Clark)
A form of this "negativity" can be found in the Omaha tribal council today. Elsie has run for tribal council several times. Each time she has won the primary but has never been elected. She believes this is because "there are so many things that go on in how our tribe operates and being square and fair isn't popular. Square to me is being healthy, and sober, and spiritually-directed, and that is not a popular thing" (Clark).
In the Trenches – Domestic Violence Against Native Women
For the last three years, Elsie has coordinated the Ten Clans Domestic Violence Prevention Initiative, located on the reservation in Walt Hill. This program was funded through the tribe with a grant from the Violence Against Women Act's (VAWA) Safety for Indian Women Title through the US Department of Justice (Majel and Henry). Although she is working now, she was recently laid off for six weeks because of funding trouble: "The tribe, their audits aren't up to shape, so they are banned from submitting for anything now" (Clark Nov. 2010).
In her work with domestic violence and battered women, Elsie clearly sees how poorly treated the women in her community are. She described the shortage of transitional funding available for women trying to leave their abusers and the lack of training in job skills, social skills, financial skills, and self-advocacy that would enable them to survive on their own.  When they leave "they don't have nothing, and then they get there [to transitional housing]: no money, no clothes, no bedding, no nothing" (Clark). She is also dismayed that so few of the men face consequences for what they put their family through. "The men break the Protection Orders and the women go unprotected" (Clark).
Sadly, she revealed, "[Over the last three years,] I have served over 100 women. It is really sad that I can only say that out of 120 to this day, only three have been successful— that have jobs; that have their own place; that are away from the perpetrator" (Clark).  She said she needs to "advocate for these women. The fact is that for these women, in order for them to be safe, and to be able to stand on their own, [I need] to provide them with the information they need to do that" (Clark). A local prosecutor is encouraging her to do this, and he told Elsie, "The women here are so neglected, they are just beaten down into the ground, and they need to know there is help. That's what you should do, that's what you need to do" (Clark).
Violence against Native women is not limited to the Omaha reservation.  The Sacred Circle National Resource Center to End Violence Against Native Women was established in Rapid City, South Dakota in 1998 by the US Department of Health and Human Services in response to the VAWA.  "Sacred Circle provides technical assistance, policy development, training, materials, and resource information regarding violence against native women and assists in developing tribal strategies and responses to end the violence" (Sacred Circle website).
A Violence Against Native Women publication further states that "physical and sexual violence [against women] was extremely rare in indigenous communities in pre-Colonial times," but today, "more than one in three Native women will be raped during her lifetime," and further that "an epidemic of violence against Native women threatens the health and well-being of Native communities" (Harper and Entrekin 1).
Read this extensive and thorough discussion on this drastic rise of violence against Native women and on actions taken by the US government and many tribal Nations to respond to this violence.
Elsie's Vision
Elsie's determination and drive is stronger today than ever. "When I was at Macy, I did fifteen years in the trenches. Now I need to empower, to build myself up, and empower myself so I can go to a higher level of advocacy to help these people. To help these people the way I think they should be helped" (Clark Nov. 2010). She is very clear that "the thing that is important for them is survival" (Clark). Elsie has a vision of how life can be made better for Native women on the reservation.
There needs to be a place for these young mothers that are walking the streets with their babies during the daytime in buggies. They are pushing the strollers, but where are they going?  So    something for these women and for the victims I work with– before they transition they need to have all these skills. They need to be able to stand on their feet and be willing and read to fight back in court. Tribal women have had the hardest time, are the least served, and need the most help.

I want to see a building built. What I'd really like to see is a community center that has a computer lab; that can be a resource center; and have classes that will develop these people to get into college, to be able to pass their ACT's, to give them self-confidence to go on. They need to learn social skills, self-advocacy, and resources. They need to not be afraid to say, "I read in this brochure that this is what you are supposed to do. If you can't do this for me, and you switch me to somebody else, then I will go to your supervisor."

Most places you have to have a high school diploma [to get a job], and a lot of them don't have GED's. So once they get to that point, we should be able to recruit employers to the reservation.

I want to have that kind of facility in place when I die. I'm hoping that somebody is looking at me as an example.

I want to build that organization and look for private foundations—but I need help. I can't have my board be just Native people. My board has to be credible and prestigious people who have other connections. (Clark)
Into the future . . .
Elsie is a visionary for her tribe. She is a twenty-first century Omaha Elder, ready to show her people a new way of being.  She has battled alcohol and her share of demons and come out on top. She is dedicated to improving the lives of her people. The determination life fostered in her in childhood has become more tenacious. Her tertiary education has helped her figure out how to succeed as a Native American woman in a white man's world. Despite setbacks, she has continued to see the value of an education and to pursue it.  Learning is still a huge part of her life. In her words: "I am going to areas that have never been challenged—I guess I can thank my education for that" (Clark).  She is planning on returning to UNO. When she finishes her Fine Arts degree, Elsie wants to continue on in Public Relations and Marketing, "So I can go out and find that money" (Clark).
Combining her experience of life as a Native American woman, placed at the bottom of the white dominant culture's hierarchy of power and privilege, with her analytical, compassionate mind and education, she passionately declares: "If we don't understand the dynamics that make us how we are—hopeless, helpless, in despair—how can we change it?" (Clark). Elsie is trying to change it. The people of Omaha, of this city, need to know the history of the Omaha people, with all its injustice and abuse at the hands of the white colonizers.  If we are horrified enough at the actions of our forebears and our government, and if we can begin to see white privilege affecting our own lives every day, perhaps we will be moved to support Elsie and others like her in their visionary projects to improve  the lives of their people.