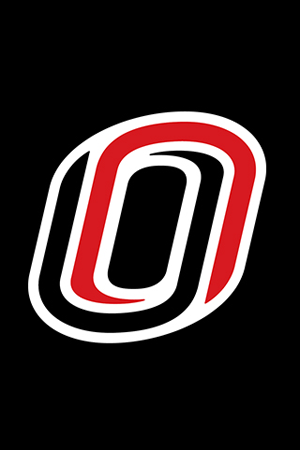 Additional Information
Claudia Gallaway
By Amanda Sheridan
On the evening of June 6, 1911, Omaha University, now known as the University of Nebraska at Omaha, held its very first commencement ceremony. The sole graduate of this ceremony was forty-two-year-old Claudia V. Gallaway (sometimes spelled Galloway). Gallaway had previously studied at both Wellesly College, a Liberal Arts College for women in Wellesly, Massachusetts and Gates College in Neligh, Nebraska. When Gates College closed in 1899, Gallaway transferred to and subsequently graduated from "OU" (Bullock 245). At all three universities, her work was known to be of the "highest character," particularly in Latin. During the commencement ceremony, Claudia Gallaway stood and presented her essay, "Revolutionary Phases in the Public School System" (Becker 10).
There is little biographical information about Claudia Gallaway, UNO's first graduate. We know she was born on July 14, 1868, making her nearly forty-three years old upon her graduation (Becker 10). We know a bit more about her father, William C. Gallaway. He fought in the Confederate Army under Generals George Picket and Stonewall Jackson in the Civil War, during which he was wounded three times. He moved to Omaha, Nebraska in 1869 with his family, and later became "a moving spirit" in the city of Neligh, Nebraska. The family later moved to Oakdale and then Omaha. They had nine children (Becker 3-4). We also know that Claudia Gallaway died on February 25, 1916, only five years after graduating from the University, and only one month after her close brother Emmett had died suddenly of appendicitis. Described as "despondent," Gallaway drank a fatal dose of Carbolic Acid (Claudia). After a funeral service at (presumably) her eldest brother Arthur T. Galloway's home, she was buried in the Oakdale Cemetery, next to her brother and parents (Claudia and Becker 4).
These small fragments of factual information, however, do not constitute a life. From this data, we have no concept of who Claudia Gallaway was—as a unique human being. Therefore, I created a multimodal project that speculates who this woman could have been, and what may have motivated the only real decisions we know that she made in her life (see video clip at the end of this profile). To do this I must use contextual resources to attempt to draw parallels or at least to ask the question, "what if." I do this in hopes of "creating" a new life for Gallaway, one that doesn't present her as a fact or statistic, but as a once living, feeling person, who certainly was much more than a detail to those that knew her.
Nebraska Roots
Nebraska became a state on March 1, 1867, only one year before the birth of Claudia Gallaway, and two before her parents moved her and her siblings to Omaha (Sesow and Wunder 71). What brought the Gallaways to Nebraska in the first place? William Gallaway had joined the Confederate Army during the Civil War. Though we do not know where he had lived in the south at the time, we do know that life would probably not have been the most pleasant following the war. As Union soldiers returned home, triumphant, and to joyful celebrations, Confederates "found their homes fallen to ruin from neglect or destroyed by Northern raiders or Southern vandals." And, while families joyously celebrated long-awaited homecomings of their husbands, brothers, and sons, "in a region worn and starved to gauntness by the past four years, there was little enough for survival, much less for lavish receptions" (Davis and Wiley 889). Most Southerners stayed to rebuild their lives in the South. Others moved out of the country, most notably to Mexico, in an ill-fated attempt to colonize Mexico (902). Still others left to seek their fortunes elsewhere in the ever-extending settlements across the United States (Combs and Russell 14).
In 1862, the Administration under President Abraham Lincoln passed The Homestead Act, which made settlement on the Western Frontier much cheaper for those seeking land (Sesow and Wunder 68). The first recognized claimant under The Homestead Act of 1862 was a man named Daniel Freeman, who staked his claim to a piece of land near Beatrice, Nebraska before leaving for duty as part of the Union Army (Potter and Schamel 1). Thousands of settlers headed west for hopes of a new life, following the passage of this act. In addition to the lands to be had under The Homestead Act, large swatches of land became available for purchase from the railroad companies working on the new Transcontinental Railroad line from Omaha, Nebraska to Sacramento, California (Combs and Russell 13; PBS Online). The building of the railroad also drew people looking for work from around the world, not only to work directly on the railroad, but in related fields.
Upon reaching the new state of Nebraska, the Gallaway family chose to settle in the Omaha (Becker 3). Presumably, the family would have traveled into the city of Omaha via either the Missouri River steamboat route, or one of the overland routes, like the Mormon Trail that passed through Omaha seeking the west. Why had the Gallaways chosen to settle Omaha as opposed to another of Nebraska's fledgling cities? Perhaps William Gallaway had a job opportunity in Omaha or had acquaintances. Perhaps the family felt that there were opportunities to be had in this steamboat port and railroad hub. At any rate, they did not take heed a poem published in Harper's Magazine in September 1869, the year the Gallaways made Nebraska their home, which had this to say of Omaha:
Hast Ever been in Omaha
Where rolls the dark Missouri down,
And four strong horses scarce can draw
An empty wagon through the town?
Where sand is blown from every mound
To fill the eyes and ears and throat—
Where all the steamers are aground
And all the shanties are afloat?
Where whisky shops the livelong night
Are vending out their poison juice;
Where men are often very tight,
And women deemed a trifle loose?
Where taverns have an anxious guest
For every corner, shelf and crack;
With half the people going west,
And all the others going back?
Where theaters are all the run,
And bloody scalpers come to trade;
Where everything is overdone
And everybody underpaid?
If not, take heed to what I say:
You'll find it just as I have found it;
And if it lies upon your way,
For God's sake, reader, go around it! (Bristow 132).
Whatever the reason, Omaha, a "Dirty, Wicked Town" as David L. Bristow presents nineteenth century Omaha in a book of the same title, failed to scare the new family away, at least not initially.
As a young child living in Nebraska during the 1870s, Claudia, along with her family, would have lived through some trying times. In 1873, The Easter Sunday Blizzard swept through the Nebraskan Plains. Central Nebraska was hit hardest and the stormed claimed the lives of livestock and human alike (Renschler 1-2). In 1874, a massive plague of grasshoppers overwhelmed the Great Plains region. Areas in western Minnesota, Iowa, and Missouri and eastern Nebraska, and nearly all of Kansas were hit the hardest (Map). In her semi-autobiographical series of books, Laura Ingalls Wilder, only one year older than Claudia Gallaway, recalled the plague of '74. She recalls seeing the sun begin to dim, a strange "glittering cloud" blocked out the light. Suddenly grasshoppers began falling from the sky.
Laura tried to beat them off. Their claws clung to her skin and her dress. They looked at her with bulging eyes, turning their heads this way and that. Mary ran screaming into the house. Grasshoppers covered the ground; there was not one bare bit to step on. Laura had to step on grasshoppers and they smashed squirming and slimy under her feet. (Wilder 195)
The grasshoppers destroyed fields of crops and family gardens. They ate the leaves of the trees until they were winter bare. The grassland prairies became grasshopper fodder (195-199). Some victims even noted clotheslines being stripped of their wash (Topics 6). If not traumatic to a young child for the economic heartache caused, the grasshopper plague would almost surely have been frightening.
Another important event in Nebraska and United States history occurred in 1879. The Trial of Chief Standing Bear, of the Ponca Tribe began in Omaha on May 1, 1879 (Bristow 169). Claudia Gallaway, then nearly eleven years old, had since moved from Omaha to Neligh, Nebraska with her family (Becker 3). However, news of this case, the first of its kind in the United States, spread all over the country as the trial wore on (Bristow 168). Essentially, the trial boiled down to the question as to whether or not an Indian was a "person," under the letter of the law. Chief Standing Bear had been forcibly removed from his native homelands in Nebraska with his people. During the brutal trek to Indian Country in Oklahoma, Standing Bear lost his adult daughter, Prairie Flower and his infant granddaughter (Starita 72-73). Upon making it to the "Warm Country," he soon lost another of his daughters, his mother-in-law, and his wife's grandmother (95). In the final days of 1868, Standing Bear made a promise to his only son, Bear Shield, who lay dying on the ground beside him (Ponca 1). On January 2, 1879, Chief Standing Bear along with thirty other members of the Ponca Nation, started back to Nebraska to bury the young man in his homeland at his final request (Starita 104-105). The Poncas were arrested upon arriving on the Omaha Reservation and were set to be returned to Oklahoma.
However, Thomas Tibbles, an editor at the Omaha Herald set into action what would become the case, Standing Bear v. Crook, during which Standing Bear, assisted by Tibbles and others, sued the United States government. In its most essential form, the case was whether or not Chief Standing Bear was a person, and therefore whether or not he even had the right to sue the government (Bristow 163-169). Judge Elmer Dundy, presiding over the case, ruled that "an Indian is a PERSON within the meaning of the laws of the United States" (Starita 157). This is an admittedly poor representation of a landmark piece of history; however, such a statement was a big deal at the time. Undoubtedly, the folks in Neligh, Nebraska would have known about the case and would have had opinions concerning it. Did young Claudia begin forming her own opinions at this time? What were they? We can never know. However, we do know on May 23, 1877, the baby daughter of another Ponca Chief, Black Elk, died of pneumonia near Neligh where the Gallaways lived, toward the beginning of the Ponca Trail of Tears. The eighteen-month-old baby, White Buffalo Girl, was buried in Laurel Hill Cemetery. A local carpenter constructed a white cross to adorn her grave and a number of locals attended a funeral service for her. Black Elk, knowing that he could not stay and care for his baby in her final resting place, asked that she be looked after in his stead. For over 125 years, the grave of White Buffalo Girl has been adorned with fresh flowers, placed anonymously by the residences of Neligh, who have never forgotten a promise (Starita 67-69). Could Claudia Galloway been one of those who attended White Buffalo Girl's service? Could she have been one of the hundreds to place a handpicked bouquet of wildflowers on her grave?
Time went on and Claudia Gallaway grew into a young woman. When she was about fifteen years old, Omaha held the first of what would become many of Buffalo Bill's Wild West Shows. A spectacular success at the time, over eight thousand people attended the event, which had been widely publicized in Omaha. The Wild West Show was a huge event (Bristow 193-4, 196). Was Claudia one of the eight thousand to attend? Did she want to make the trip from Neligh to Omaha to see it? Did she care? A few years later when she was about twenty-three, Claudia Gallaway took a step in what must have seemed like a big event in her own life. She packed her bag and left her family, friends, home, and the life she had always known in Nebraska, to attend school in Massachusetts.
Education
Claudia Gallaway attended Wellesley College for Women from 1891-1893 (Graham). Wellesley College was founded in 1870. According to the college's website, its founders, Henry and Pauline Durant "were passionate about the higher education of women." The first president of the college and almost all of its instructors were women during the early years of the university, and in its inaugural year 314 women enrolled and began classes in 1875. Over the years, Wellesley expanded its course offerings. In 1891, Wellesley had one of the first psychology laboratories in the country, established under Mary Whitin Calkins (Trustees). It would seem that Wellesley would have been a reputable choice for any woman seeking higher education. Claudia Gallaway must have thought so, and she packed up and headed to Massachusetts.
Why did she choose Wellesley? It certainly could have been for academic reasons; Wellesley, one of the Northeast's "Seven Sisters Schools," would have been a well-known institution geared toward women's education. In the nineteenth century, seven major private schools for women opened across the Northeast: Oberon, Vassar, Smith, Wellesley, Radcliffe, Mount Holyoke, Barnard, and Bryn Mawr (Conway 205, 209). By this time, many women were eager to receive the same types of formal training that men had been receiving in the university system. Particularly, courses in rhetoric were in high demand (Conway 203). At these universities, women could be trained to think rhetorically and argumentatively and to express their thoughts logically (Conway 204). The Seven Sisters Colleges also provided for women the opportunity to live, work, and associate with other women, both through their daily study routines as well as through clubs and societies organized by the students themselves (Conway 204, 215-17). These, among other reasons, would probably have been attractive forces for women wishing to gain cultural and educational edification.
Why also did she not attend one of Nebraska's other universities? She had attended Gates College in Neligh, but we do not know if it was before or after attending Wellesley. Gates was shut down in 1899 after suffering financial difficulties, which may indicate academic troubles as well. The University of Nebraska, Creighton University, and Wesleyan University had all been founded on Nebraska soil as well, however. Perhaps Claudia wished for a change of scenery, and a change of pace from the Nebraska life in which she had grown up.
We know that Claudia came home from Wellesley for summer break in 1893 and that she did not return (Becker 7). We do not know why. We know that she held various teaching positions between the time she returned and the time she graduated from Omaha University. We also know she taught at various schools upon graduation (7-8, 10). Why did Claudia Gallaway decide to return to school relatively late in life to earn a degree? She had been able to find employment teaching without a degree. She went on similarly to teach after. Did she wish to obtain a degree for a sense of accomplishment? Did she have a deep-seated love of learning that led her to continue her education?
Claudia Gallaway's accomplishment as the first graduate of this University is not one to be overlooked. If she had been the first woman graduate alone, it would have been an accomplishment. However, as the first ever graduate, Claudia Gallaway forever holds a place in UNO'S history. She was the first, of thousands in Omaha, to dedicate her time, her energy, and her mind to academia and the pursuit of knowledge. Did she feel like you or I will feel upon completing a chapter of our lives? Did she feel like the billions of Americans who have graduated from Universities across the country, men and women, throughout time? What did she do, additionally, with her newfound degree? What will we do with ours?
Who was Claudia Gallaway? As a child, was she playful or serious? Was she adventurous? Was she a bookworm? Was she athletic? Was she loud and bold or meek and mild? Was she a good girl, or was she mischievous? As an adult did she carry on with conventional wisdom of the day, or did she buck trends? Was she independent? Courageous? Was she strong or sensitive? Was she a hard worker? Was she brilliant? For as many questions as we can issue, there are that many that we cannot answer. Nevertheless, the fact remains that Claudia Gallaway was alive. She had a personality and a spirit all her own, as shaped by the various regional, social, and educational experiences that would have influenced her. That we have lost the essence of her character, now, is no matter. For, we can always wonder. Moreover, the wonderment is what makes it all worthwhile. Because, in ninety-five years, wouldn't it be nice to know that someone was remembering and wondering about us?