Harry Di Lise Interview
Harry Di Lise interview by Luke Wegener for LGBTQ+ Voices: The Queer Omaha Archives Oral History Project now available in UNO Libraries' Archives and Special Collections.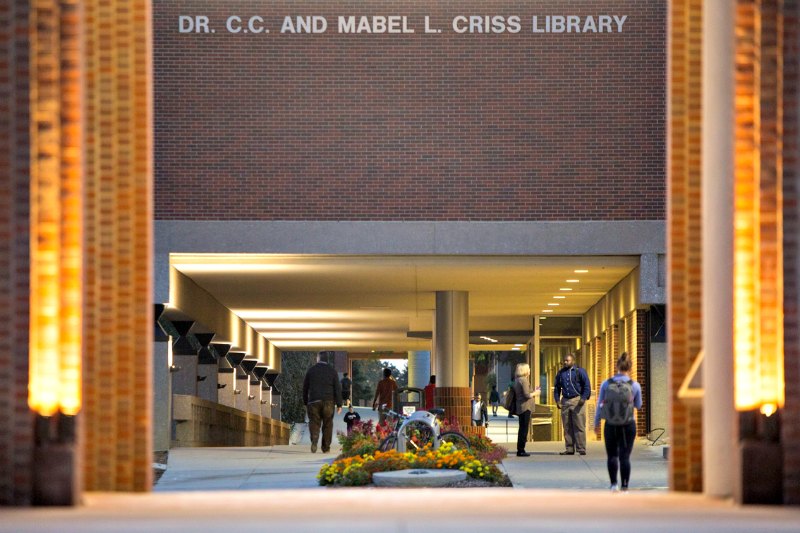 Criss Library
In November 2017, Harry Di Lise, retired social worker and founding member of Nebraska AIDS Project, was interviewed by Luke Wegener, UNO Libraries Oral History Associate, for LGBTQ+ Voices: The Queer Omaha Archives Oral History Project.
Harry Di Lise was born in Chicago, Illinois to Genevieve and Anthony Di Lise and grew up in a conservative, Italian Catholic Family with his brother, Charles. Not interested in the "typical" sports as a young boy, Harry experienced frequent put-downs about his masculinity. Passionate about his faith from a young age, Harry knew he wanted to be a Catholic priest and would later spend 9 years in seminary. After graduating with a BA in Sociology and Philosophy from Creighton University in 1971, Harry left the seminary and went on to earn his MA in Social Work from the University of Nebraska Omaha in 1978. While beginning his career at Nebraska Child Protective Services in 1971 and starting to understand his sexuality, Harry experienced a life changing moment when he discovered his first gay bar while overhearing a coworker's conversation. Unable to walk through the front door the first several times, Harry finally worked up the courage to enter and experienced great relief, finally feeling at home. He would later have his first date and romantic experiences as a result of the connections to other gay men he developed there. He became involved with Omaha's Holy Family Church, Metropolitan Community Church, and DignityUSA, a Catholic organization that works to promote the inclusion of LGBTQ+ Catholics.
On Christmas Eve of 1978, Harry's father used anti-gay slurs against him in an argument and he was disowned by his parents, who he did not see again for 15 years. After reconnecting, Harry's relationship with his parents and brother was always strained and awkward.
In 1984, Harry was a founding member along with Ray Hoffman, Mike Thorphinnson, Jim Schumacher, Barry Landes, and Marta Hopkinson, of what would later be known as Nebraska Aids Project (NAP). Harry designed the hotline manual, trained and screened volunteers, and did fundraising for the hotline. In 1987, after operating for years out of bars and kitchens, NAP received funding to open an office space on 37th and Leavenworth St. and began to grow.
While at Nebraska Child Protective Services from 1971-2010, Harry worked tirelessly to advocate for neglected and abused children in the foster care system. An overall positive workplace environment, Harry still experienced numerous instances of discrimination for his sexuality. After retiring in 2010, Harry spends his time volunteering for Nebraska AIDS Project, supporting River City Mixed Chorus, and enjoys the company of his friends and community. He resides in Dundee neighborhood of Omaha with his albino cat, Bianca, and two schnauzers, Misty and Coco.
Mr. Di Lise's interview is available on the Queer Omaha Archives website and in UNO Libraries' Archives and Special Collections.
This post is part of a series sharing previews of the new oral history interviews gathered as part of LGBTQ+ Voices: The Queer Omaha Archives Oral History Project.
Support Oral Histories
We rely on external funding to conduct oral history interviews, so once we have exhausted our grant funding and private gifts made by community members, collecting new interviews will be paused until we are able to raise additional funding. We need to hear from community members soon to ensure your stories are captured, preserved, and available for future generations to learn from and enjoy. If you have been contacted by the archives and are considering sharing your story, we hope to hear from you!
If you would like to support continuing the collection of and access to oral history interviews, please consider making a donation to the Queer Omaha Archives or contact us to volunteer with the project.
About Oral History and the Queer Omaha Archives
From the first conversations between students, faculty, community members, and archivists about creating the Queer Omaha Archives, there were plans to include an oral history component in the collecting initiative. Oral history has the ability to share the memories of people and communities who lived through those events with the present and future through the voices of people from our communities. LGBTQ+ Voices: The Queer Omaha Archives Oral History Project is currently collecting oral history interviews from members of the greater Omaha LGBTQ+ communities, sharing their wide-ranging experiences with their fellow Nebraskans and the world through the University of Nebraska at Omaha's Queer Omaha Archives website.
About the Queer Omaha Archives
The Queer Omaha Archives is part of UNO Libraries' Archives & Special Collections and officially launched in 2016. The Queer Omaha Archives collects and preserves materials relevant to the LGBTQ+ community in the region. Archives & Special Collections' material is available for the university community and general public at both the Dr. C.C. and Mabel L. Criss Library and online.
Visit the Omaha Oral History Blogs to learn more.