Annual Service Learning Showcase: The Impact of Innovation, Collaboration, and Meaningful Service
Join the UNO Service Learning Academy in celebrating the contributions of students made through service learning and in the community. Each year the UNO SLA presents a new theme, with new student presentations that involve P-12 students and community partners.
date: 04/06/21 - 04/08/21
time: Daily schedule provided below
location: Virtual • maps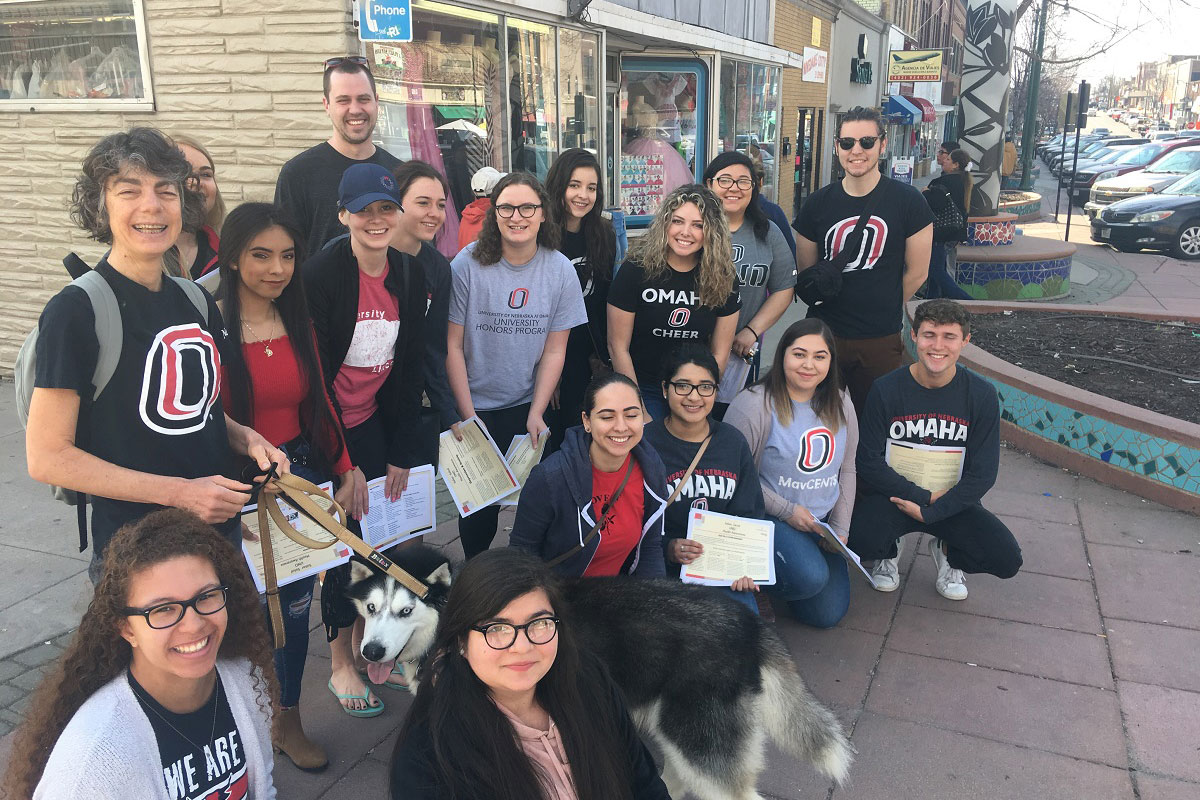 This year's Showcase is going virtual, with the theme: Maverick Strong: The Impact of Innovation, Collaboration, and Meaningful Service.
This year the UNO Service Learning Academy (SLA) is highlighting the various ways in which people have worked together to create innovative, collaborative, and meaningful service learning experiences. These experiences have also positively influenced students' educational journeys and advanced community-building efforts in the Omaha metropolitan area.
Event Details and Registration:
The virtual three-day event provides several learning opportunities about the use of service learning, its impact, and different ways to get involved.
This annual event is open for anyone to attend.
Please register using the information provided below for each day.
The first 100 RSVPs for the Keynote (April 6) and Maverick Philanthropy Initiative sessions (April 8) receive a sweet treat from SLA. Register by March 31 to receive the item before Showcase.
Tuesday, April 6
Keynote Speaker | 11 A.M. to 12:15 P.M.
Kick-off the week with a presentation and discussion with Barbara Holland, one of the world's foremost community engagement scholars. Learn more about service learning and how UNO is uniquely positioned to carry out its metropolitan university mission to transform and improve the quality of life locally, nationally, and globally through this practice.
Wednesday, April 7
Virtual Student Poster Presentation and Digital Archive | Live at 11 A.M.
Visit Padlet to access the digital collection and see examples of service learning in action. Vote and comment on the submissions to be entered into a raffle to win a prize!
Watch the video below to learn more about the event!
Thursday, April 8
SLA's Maverick Philanthropy Initiative Presentation | 11 A.M. to 12:30 P.M.
Curious about philanthropy and civic engagement? Wrap up the week with a deep dive into our Maverick Philanthropy Initiative. This session will include an overview of the program, as well as an interactive Q&A session with faculty and partners who have previously participated in the initiative.
Event Contacts
Madeline Hagar
mhagar@unomaha.edu
Claire Fischer
cefischer@unomaha.edu
Contact Us
If you are sponsoring a special or public event happening in the CEC or would like to share a news tip or story please contact Robyn Loos via email rloos@unomaha.edu or by phone at 402.554.2173.