Annual Service Learning Showcase: Impact of innovation, collaboration, and meaningful service
Join the UNO Service Learning Academy for this year's annual Service Learning Showcase on April 6, 7, and 8, 2021. Showcase celebrates the contributions of students made through service learning and in the community.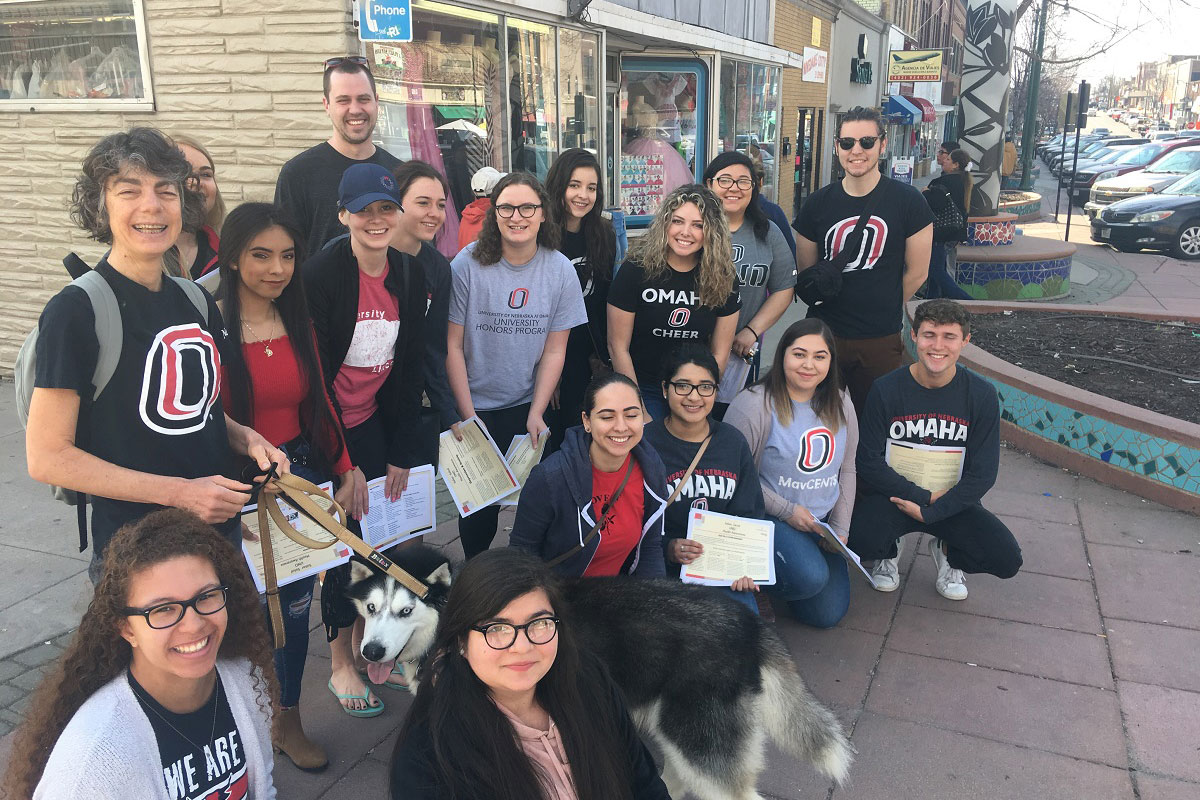 This year's Showcase is going virtual, with the theme: Maverick Strong: The Impact of Innovation, Collaboration, and Meaningful Service.
This year the UNO Service Learning Academy (SLA) is highlighting the various ways in which people have worked together to create innovative, collaborative, and meaningful service learning experiences. These experiences have also positively influenced students' educational journeys and advanced community-building efforts in the Omaha metropolitan area.
The annual showcase is open for anyone to RSVP to attend. Proposal participation varies each year. Please review the proposal submission details below.
---
UNO and P-12 Students, Submit Your Proposal
There are two opportunities for both UNO and P-12 students to submit proposals. Students should submit proposals in the same form (1 submission per student). Submissions are due by March 1, 2021. 
Virtual Poster Presentation Proposals 
You can submit a short proposal detailing research related to your service learning class. Some students may be asked to record a short video presentation as well.
Digital Archives Collection Proposals
In addition to making a poster, students are invited to share end-products, such as essays, video or audio recordings, presentations, etc., that were created through a service learning course. 
Support for Proposals
The SLA will provide ongoing support and additional details for accepted submissions.
---
Contacts:
Madeline Hagar
mhagar@unomaha.edu
Claire Fischer
cefischer@unomaha.edu
---
Participant Benefits:
Learn about the importance of service learning courses and projects in higher education
Celebrate the accomplishments students have achieved through service learning
Connect with other civically-minded students, educators, and community members
Reflect on educational experiences and discover how to incorporate service learning in higher education
Learn about SLA's Maverick Philanthropy Initiative
---
Daily Schedule:
Tuesday, April 6
Keynote Speaker from 11 A.M. to 12:15 pm
Wednesday, April 7:
Virtual Student Poster Presentation and Digital Archive (time TBA)
Thursday, April 8: 
SLA's Maverick Philanthropy Initiative Presentation from 11 A.M. to 12:30 P.M.
Contact Us
If you are sponsoring a special or public event happening in the CEC or would like to share a news tip or story please let us know.
Robyn Loos
Special Projects Associate
Email: rloos@unomaha.edu
Phone: 402.554.2173