Math Interventions and Strategies that Work
The Down Syndrome Alliance of the Midlands (DSA) invites you to a seminar on math interventions and strategies for children, Dec. 10. This event is part of the DSA Education Series (DSES).
date: 12/10/19
time: 6:30 PM - 8:30 PM
location: CEC 230 and 231 • maps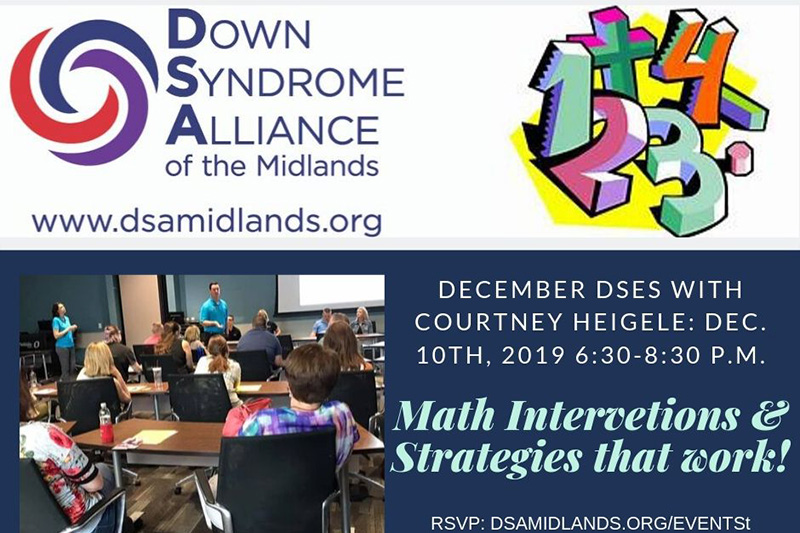 This month, the DSA welcomes Courtney Heigele as she discusses curriculum and instructional support for math and literacy. She uses these strategies, based on her children's learning curves, with her own students. The seminar will also cover research on best practices, as well as trial and error in the classroom.
---
Launched in October 2014, the Down Syndrome Alliance of the Midlands (DSA) Education Series (DSES) is an educational seminar for families of children with Down syndrome.
Each month, a speaker experienced in the field of Down syndrome comes to discuss education, healthcare, or research on the disability to DSA members and Omaha families, hoping to positively impact the well-being of their children. The series was created as an unconventionally-formatted conference and will bring in speakers that one could expect to find at one of the major 3-day DS conferences across the nation.
DSA families, educators, therapists, healthcare workers, students, and other professionals are invited to attend.
Sessions are free but please register on the DSA event calendar. Sessions are held at 6:30 PM at the University of Nebraska Omaha unless otherwise noted on the DSA calendar.
Please note: Childcare is not provided. With the exception of infants, we request that you do not bring children to the presentations.
The program received a Global Down Syndrome Foundation Educational Grant and continues to receive funding from local philanthropists and corporations.