Dialogue with Muslim Communities in Omaha
UNO Islamic Studies Program and the Tri-Faith Initiative host Dr. Asma Afsaruddin as she speaks about Islamic perspectives, Oct. 17, 2019.
date: 10/17/19
time: 6:00 PM - 8:00 PM
location: CEC 230 and 231 • maps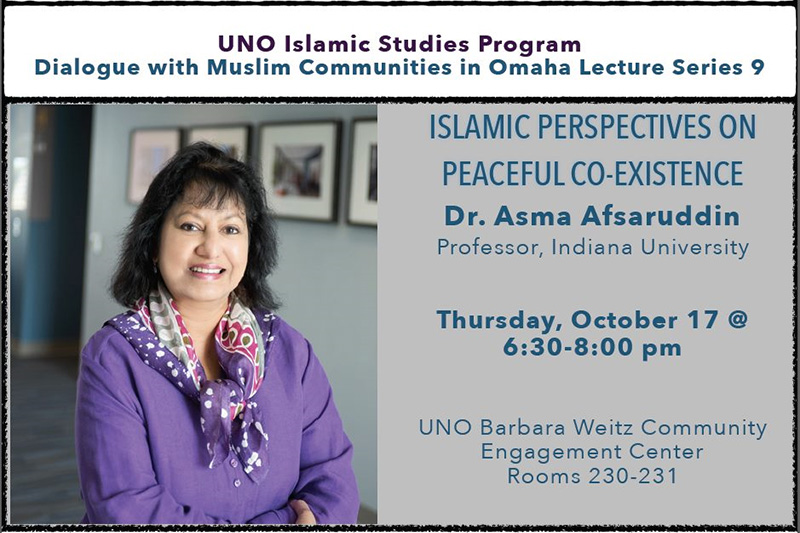 With the support of Humanities Nebraska, the UNO Islamic Studies Program, and the Tri-Faith Initiative welcome Dr. Asma Afsaruddin, Professor of Near Eastern Languages and Cultures in the Hamilton Lugar School of Global and International Studies at Indiana University Bloomington. Dr. Afsaruddin will present a lecture and lead a discussion on "Islamic Perspectives on Peaceful Co-Existence."
Asma Afsaruddin is the author and editor of nine books, including her forthcoming Jihad: What Everyone Needs to Know (Oxford University Press, 2020); the award-winning Striving in the Path of God: Jihad and Martyrdom in Islamic Thought (Oxford University Press, 2013), which has been translated into Indonesian; and The First Muslims: History and Memory (OneWorld Publications, 2008), which has been translated into Malay and Turkish. Her research has been funded by the Harry Frank Guggenheim Foundation and the Carnegie Corporation of New York, which named her a Carnegie Scholar in 2005.
This lecture is part of the "Dialogue with Muslim Communities in Omaha" project. This is the ninth event in the series.
This program is co-sponsored by the Tri-Faith Initiative; Religious Studies, History, and Political Science Departments; and International Studies Program at UNO. For more information, contact Dr. Ramazan Kilinc at rkilinc@unomaha.edu or at 402-554-2683.
Contact Us
If you are sponsoring a special or public event happening in the CEC or would like to share a news tip or story please contact Robyn Loos via email rloos@unomaha.edu or by phone at 402.554.2173.