Human Rights Week 2019
Human Rights Week kicks off in the CEC on Sept. 23, 2019, with more events to follow. Events take place in different locations on campus.
date: 09/23/19
time: 6:30 PM - 8:00 PM
location: CEC 201, 205, and 209 • maps
---
contact:  Laura Alexander - Goldstein Family Community Chair in Human Rights - The Leonard and Shirley Goldstein Center for Human Rights • 402.799.1799 • lealex@unomaha.edu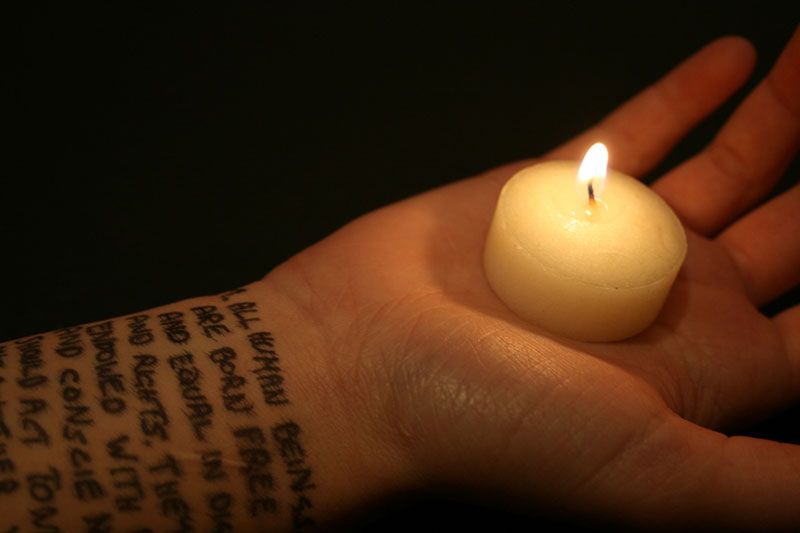 Monday, Sept. 23 
Evening Lecture: "Human Rights and the Christian Right: What Today's Conflicts Reveal about 'Human Rights' and 'Religion'"
Featuring Dr. Jenna Reinbold, Associate Professor at Colgate University and author of Seeing The Myth in Human Rights (University of Pennsylvania, 2017)
When people talk about conflicts between religion and human rights, they often have just one straightforward idea in mind, often involving "Islam" or "fundamentalism." Drawing upon her research on secular mythmaking and recent developments in U.S. politics, including a "Commission on Unalienable Rights" recently appointed at the Department of State, Reinbold will show how both "religion" and "human rights" are much more complex ideas than is often recognized.
Dr. Jenna Reinbold is a scholar of religion law, politics, and human rights. Her work Seeing the Myth in Human Rights won the American Academy of Religion's prestigious Award for Excellence in the Study of Religion: Analytical-Descriptive studies.
---
Check out the full list of events scheduled during Human Rights Week. 
Sponsored by the Goldstein Family Community Chair in Human Rights, Human Rights Week is a series of events intended to educate the community about human rights concerns and to highlight the work of scholars, students, and community organizations in promoting human rights. Events include lectures and panels with scholars of human rights, workshops with community partners, a special Goldstein Lecture in human rights, and tours of an art exhibit by internationally renowned artist Samuel Bak. Topics for this year include current debates in the United States about religion and human rights; Latinx art and cultural rights; and the legacy of the Holocaust expressed through the visual arts.