UNO Transitions Program: Moving From Awareness to Acceptance
Join the Transitions Program to learn about experiences with autism spectrum disorder (ASD).
date: 04/13/17
time: 1:00 PM - 2:00 PM
location: Weitz CEC, OPPD Community Dialogue Room 230 • maps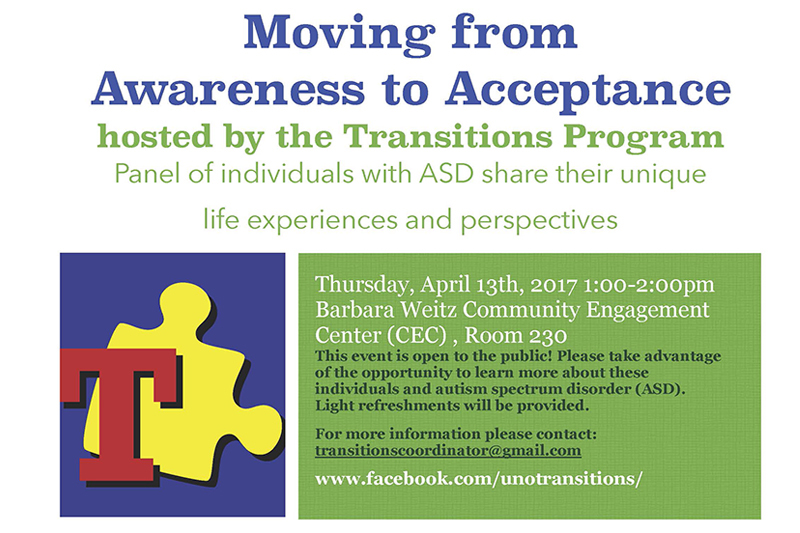 The Transitions Program invites you to learn more about experiences with Autism Spectrum Disorder (ASD).
Transitions participants and alumni serving as panelists give attendees the opportunity to learn more about their experiences with ASD. Light refreshments will be provided. This complimentary event is open to the public!
Learn more or contact Transitions by visiting their Facebook page.
About Transitions
The Transitions program is a joint effort between Autism Action Partnership and the University of Nebraska Omaha to provide opportunities for young adults to expand their social connections and skills in a safe environment. Our program is set up with two young adults with Autism placed in a group with two typically developing peers. Within their groups of four, they are encouraged to get together at least once a month to engage in social activities. In addition, the young adults with Autism receive monthly social skills lessons. Lastly, each month the program sponsors large group social events for everyone to practice the skills learned at the social skills meetings. Transitions is a UNO-based organization housed in the Weitz CEC.
---