American Society for Public Administration Nebraska | Annual Conference
The ASPA Conference to highlight bold public service, with panels focusing on service in communities and healthcare.
date: 04/14/17
time: 9:00 AM - 12:00 PM
location: Weitz CEC, Large Meeting Rooms 201 and 205 • maps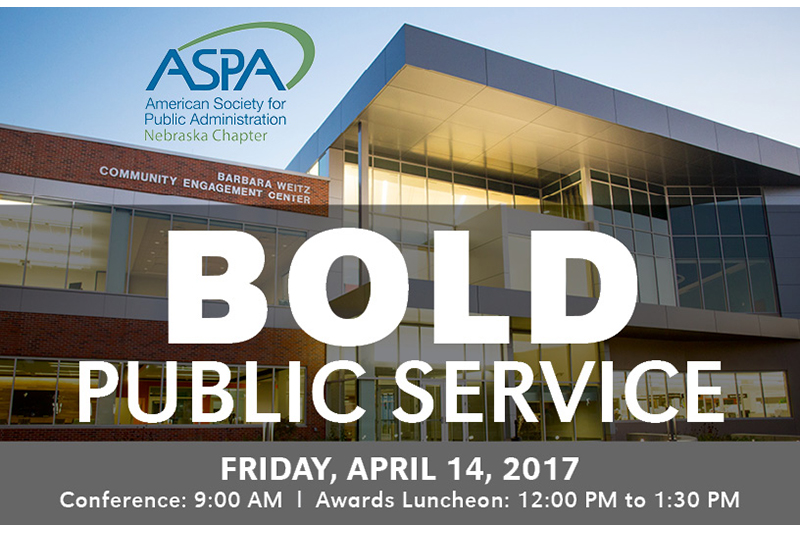 ASPA-Nebraska Invites You to Collaborate on Friday, April 14, 2017.
Part One of the Conference
Join us from 9 A.M. to Noon on Friday, April 14, for the American Society of Public Administration (ASPA) Nebraska Annual Conference. This year's conference highlights Bold Public Service, with panels focusing on service in communities and healthcare. Conference registration is free to attendees.
Part Two of the Conference
Public Service Awards Luncheon to Follow
From Noon to 1:30 P.M., at the Milo Bail Student Center Dodge Rooms, ASPA-Nebraska honors and recognizes this year's outstanding elected official, public administrator, and a small and large nonprofit administrator. This Celebration Luncheon and Awards Ceremony requires registration and costs $20 to attend. Register today!
Award Nominations Due Friday, March 17
We are soliciting nominations for awards to honor those in the Public Service...the people doing those bold and noble activities. We know there are many deserving issues, so we would like to hear from you. The Nomination Form can be found here. Please submit nominations no later than Friday, March 17!
Need more information? Contact Megan Nelson at megnelson@unomaha.edu with questions.
---
Contact Us
If you are sponsoring a special or public event happening in the CEC or would like to share a news tip or story please contact Robyn Loos via email rloos@unomaha.edu or by phone at 402.554.2173.